Toilet rooms launched at Refah E Aam School by Mitta Foundation Trust
27-03-2021 Sat 13:48
A Kind gesture towards Poor students
Toilets inaugurated at Refa-a-Am Government Aided School
Construction with financial assistance from the Mitta Foundation Trust
Hyderabad, March 27, 2021: A Kind gesture towards poor Students. Toilets in Refa e Am Government Aided School were Constructed by the Financial help Mitta Foundation. School Correspondent Sripathi Pullareddy along with Mitta Foundation Managing Trustee Vinod Mitta, foundation representatives Ramesh Mitta and Manohar Kosha and School teachers inaugurated the newly constructed student toilets at the school in Haribouli in Hyderabad old city on Friday. On this occasion Correspondent, Pullareddy said that the school was started to educate the poor and weaker sections of the society and has paved the way for a great future for the students. Despite many setbacks, the school is developing day by day, has earned great fame in the old city. Unfortunately, the Government neglects the school and it was deteriorating over time. He said he was happy to see the alumni respond and do so great for the school. Refa e Am Government Aided School, which runs is a shed has been transformed into a corporate school with the help of Mitta Foundation and alumni of the school Mr Pulla Reddy praised.
The correspondent lauded Mitta Srinivasrao the founder of the Mitta Foundation, which has been instrumental in the development of the school. "Mitta Srinivas Rao and his wife working as doctors in the United States. They accustomed to the social service perspective since childhood has been working for the development of the school for the last two years. The appearance of the school has changed. With a budget of Rs 15 lakh, it has also set up classroom buildings, a knowledge skill centre and playgrounds with sophisticated facilities. On this occasion, I would like to thank Mr Srinivas Rao, and Mrs Swatantra the founders of the Mitta Foundation Trust said the School Correspondent.
Vinod Mitta, Managing Trustee, Mitta Foundation Trust, said, "We are not just financing the development of the school, we are also focusing on every project here. we had completed development work without any delay even in Corona time. If necessary, we will make it a multi-model school with all the necessary facilities in future Mr Vinod Promised.
Skill Development Center employing youth
On other hand, the Mitta foundation set up the Skill Development centre in 2018. The Center providing employment opportunities to hundreds of young people in the old City. Training in Computer Applications and other technical disciplines. Over the past two years, 300 students have been trained and employed at the skill development Center Mr Vinod told. We will start training technical skills like plumbing and AC technicians in the coming days he added. The event was attended by Mitta Foundation trustees, retired school principal Yadamma, teachers, alumni and others.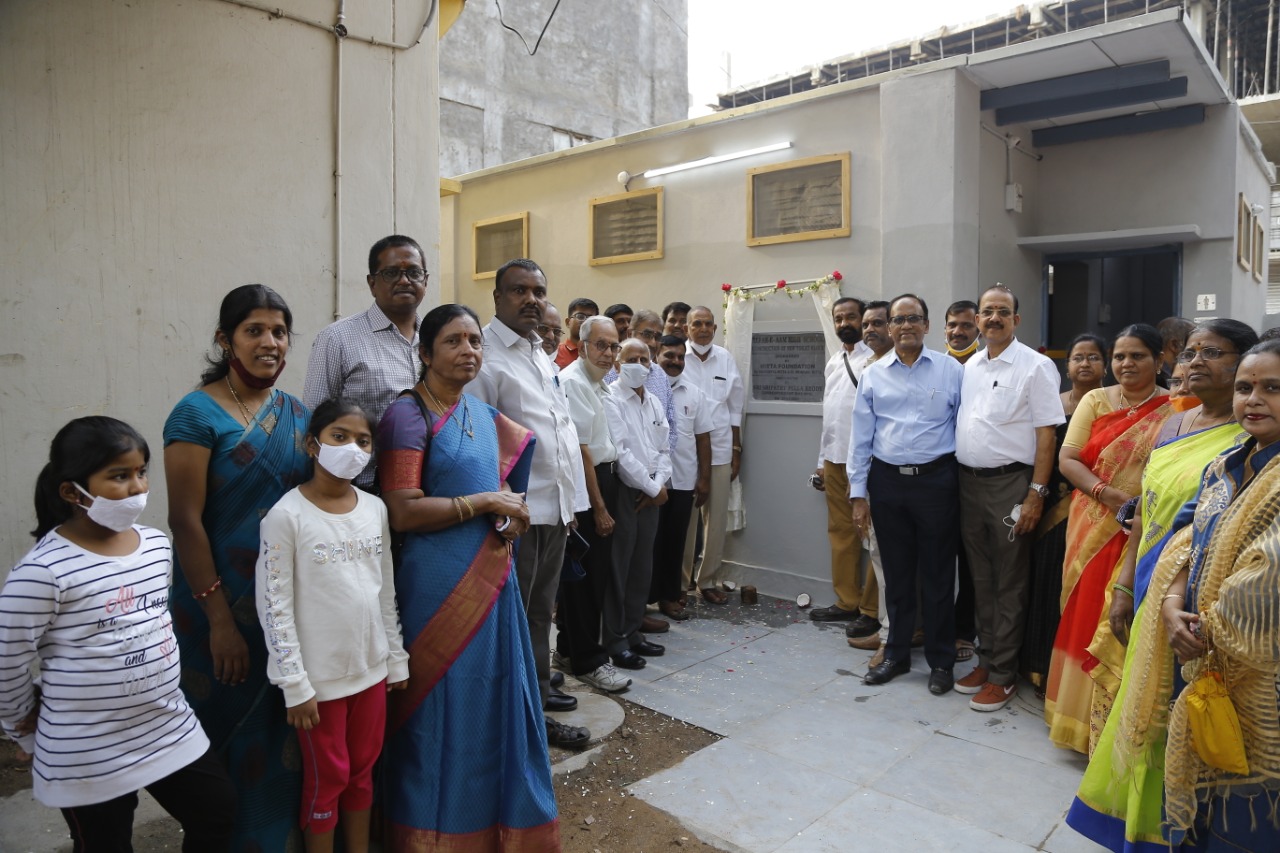 ---
More Press Releases
ప్రపంచంలోనే మొదటి భారీ నీటి పారుదల ప్రాజెక్టు నిజాంసాగర్: సభాపతి పోచారం
2 hours ago
శామీర్ పేట ప్రాథమిక ఆరోగ్య కేంద్రం ఆధ్వర్యంలో టీకా ఉత్సవ్
2 hours ago
Nexzu Mobility launches the new and improved Roadlark, India's first and only e-cycle
2 hours ago
Infinix bolsters its popular HOT series; Unveils the stylish new upgrade HOT 10 Play
3 hours ago
Kalyan Jewellers to open first showroom in Karim Nagar
3 hours ago
Everyone above the age of 18 shall be eligible for COVID19 vaccination from May 1st - Registration starts on April 28
6 hours ago
MHA issues orders to ensure an uninterrupted supply of oxygen across country
6 hours ago
PM holds a high level meeting on oxygen supply and availability
6 hours ago
ప్రతీ ప్రాణమూ విలువైనది, స్వీయ జాగ్రత్తలే కరోనా నుంచి శ్రీరామ రక్ష: మంత్రి ఇంద్రకరణ్ రెడ్డి
7 hours ago
Sony Introduces Three New High-Performance G Lenses to Full-Frame Lens Series
7 hours ago
ప్రపంచ ధ‌రిత్రీ దినోత్సవం సందర్భంగా శుభాకాంక్షలు తెలిపిన సీఎం కేసీఆర్
9 hours ago
RapiPay to provide free AEPS (Aadhaar Enabled Payment System) services to its merchants
10 hours ago
విజ‌య‌వాడ న‌గ‌రాన్ని మోడ‌ల్ సిటీగా తీర్చిదిద్దుతాం: మంత్రి వెల్లంపల్లి శ్రీ‌నివాస‌రావు
11 hours ago
నేల తల్లి బాగుంటేనే.. భవిష్యత్తు: మంత్రి ఇంద్రకరణ్ రెడ్డి
12 hours ago
Union Government allocates supply of Remdesivir to 19 States/UTs with High Burden of COVID cases
13 hours ago
Telangana Covid Vaccination update as on 21.04.2021 at 9PM
13 hours ago
Finance Minister Nirmala Sitharaman assures ramp up in supply of Oxygen & Remdesivir to States
1 day ago
The Academy Awards – India's shining moments
1 day ago
రోజూ 2 గంటల పాటు నగరంలో పారిశుధ్య కార్యక్రమాలను క్షేత్ర స్థాయిలో పర్యవేక్షిద్దాం.. కార్పొరేటర్లకు మేయర్ పిలుపు
1 day ago
Kalyan Jewellers to open first showroom in Khammam
1 day ago
Amrita Vishwa Vidyapeetham Only Indian University to Figure in World's Top 100 Universities in Times Higher Education Impact Rankings
1 day ago
Land Rover Defender crowned 2021 world car design of the year
1 day ago
Vitero Tiles strengthens its product portfolio, launches 56 new shades of Wall Tiles across India
1 day ago
Acer launches Spin 7 - India's first 5G enabled laptop
1 day ago
Soundcore by Anker announced its most advanced TWS - 'Liberty Air2Pro'
1 day ago