Minister KTR Inaugurates 150 Bed ICU Project at TIMS by HYSEA
04-06-2021 Fri 15:59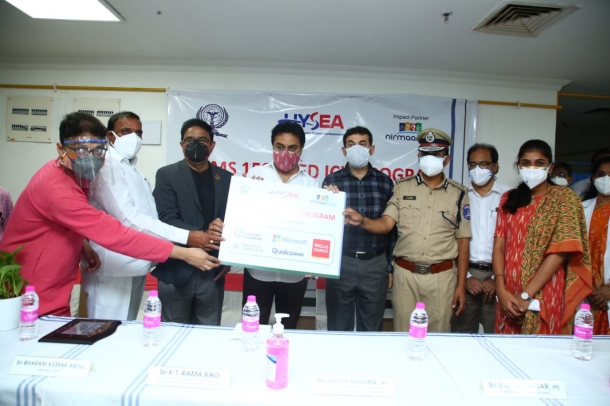 Mr. K. T. Rama Rao, Minister for IT, Industries & Commerce and Municipal Administration & Urban Development was the Chief Guest
Microsoft, Qualcomm, Franklin Templeton, Cognizant and WellsFargo sponsor the 150 bed ICU project
4th June 2021, Hyderabad: India has been in the grip of a devastating second wave of the Corona virus since March 2021, with several cities in fresh lockdowns. The situation called for an urgent intervention to support our Overwhelmed Health Care System.
HYSEA did just that, without wasting any time, chalked out a multi-pronged approach to help govt hospitals cope with the situation by tying up with itsNGO partner NIRMAAN on the ground and reaching out to member companies to join the efforts. Key Govt hospitals were identified to augment staff, critical lifesaving equipment&medicines. Home Isolation kits, Livelihood Restarter Kits, Ration & Hygiene Kits were distributed to the needy.
TIMS, Gachibowli, Kondapur Dist. Hospital, Sarojini Devi Hospital, Niloufer Hospital, Gandhi Hospital, King Koti, and Fever Hospital have been extended help by HYSEA and its member companies in every way possible. HFNCs, Ventilators, Oxygen cylinders, Oxygen Concentrators, Beds, Masks, Flow meters etc. every request has been fulfilled. An Oxygen Plant sponsored by our member company Qualcomm India Private Limited("Qualcomm") is being set up in Nizamabad at a cost of Rs. 2.5crores.
HYSEA's Covid response initiative has made a significant progress in increasing ICU beds. We were able to upgrade 75 Existing ICU Beds in TIMS, and 20 ICU Beds in Fever Hospital. We will be setting up 75 New ICU Beds in TIMS Gachibowli by mid-July. Such an impact has been made possible with the support of our member companies. Thanks to the 35+ Corporate partners who believed and contributed more than 14.5 Crores to the mission.
Mr. K. T. Rama Rao, Hon'ble Minister for IT, Industries & Commerce and Municipal Administration & Urban Development formally inaugurated the 150 bed ICU project at TIMS, Gachibowli. This project is sponsored by HYSEA Member companies: Microsoft, Qualcomm, Franklin Templeton, Cognizant & WellsFargo.
Speaking on the occasion, the Mr. K T Rama Rao praised HYSEA and the entire IT Industry of Hyderabad for stepping up to support the overwhelmed health care system and hoped it will have a lasting impact. World over he said, the pandemic has exposed the gaping inadequacies in the health care systems. While govt will be working towards strengthening the medical infrastructure in the state, he called upon the IT Industry to help in this endeavour as part of their CSR. The Hon'ble minister also thanked the medical and non-medical staff of TIMS for their exemplary dedication in serving the patients during these very difficult times.
Mr. Jayesh Ranjan, IAS, Principal Secretary of the Industries & Commerce (I&C) and Information Technology (IT),Mr. V. C. Sajjanar, IPS Additional Director General of Police of Telangana & Cyberabad Police Commissioner,Mr. Amoy Kumar, IAS, District Collector and Magistrate, Rangareddy, and Mr. K Ramesh Reddy, Director of Medical Education, Telangana were guests of honour on the occasion.
Dr. Vimala Thomas, Director, TIMS, speaking on the occasion said, "On behalf of TIMS, Gachibowli we would like to whole-heartedly thank Mr. Bharani , President, HYSEA and all the sponsoring corporates and members of HYSEA for supporting the "PROJECT-ICU" at TIMS. Our special thanks to Mr. Mayur, CEO-NIRMAAN Organization and his team for their zeal and constant support in pursuing the implementation of "PROJECT-ICU" at TIMS. We look forward for their continued support in the future too".
Mr. Bharani K Aroll, President, HYSEA, speaking on the occasion, reiterated the support of the Industry to tide over this difficult period. He said, "HYSEA thanks 35+ member companies and countless individuals who have contributed more than 14.5+ crores to help augment the Health Infrastructure in govt hospitals". A key focus for HYSEA and its NGO Partner NIRMAAN has been to augment the ICU capacity both in the city and in districts. The 150 bed ICU project in TIMS, 20 Bed ICU upgradation project at fever hospital, 25 bed Paediatric ICU setup at Niloufer Hospital and the 10 bed ICU Project in the districts is a step in that direction. We hope to create medical infrastructure that will outlast the pandemic, he said.
Mr. Mayur Patnala, Founder and CEO, NIRMAAN organization, speaking on the occasion shared that HYSEA in partnership with Nirmaan, and other NGOsis working to set up 10-bed ICUs in 28 hospitals in 28 districts. HYSEA & Member companies are directly working inthe following districts: Kamareddy, Medchal – Malkajgiri, Medchal – Ghatkesar, Mulugu, Ranga Reddy - Vanasthalipuram &Mahbubnagar – Jadcherla.
---
More Press Releases
PM delivers keynote address at the UN 'High-Level Dialogue on Desertification, Land degradation and Drought'
6 hours ago
Minister Harish Rao holds a meeting on cultivation of Oil Palm
6 hours ago
Alumni of IIT Madras donates over 200 Oxygen Concentrators to Telangana
6 hours ago
GO FIRST inks partnership with DreamFolks, introduces Departure Lounge service
6 hours ago
Digital Showroom, India's first O2O brand providing businesses their own website through phones
9 hours ago
Salute to all the blood donors: Governor Tamilisai
10 hours ago
Flipkart Wholesale sees 3x increase in digital adoption among kiranas in India
10 hours ago
Centre allocates Rs 3,183cr to Andhra Pradesh under Jal Jeevan Mission in 2021-22
11 hours ago
Shyam Steel India becomes the Official Partner of ICC World Test Championship Final
14 hours ago
PAYBACK India Supports 'YouWeCan' Mission 1000 Beds Drive
14 hours ago
PM congratulates Naftali Bennett on becoming the PM of Israel
15 hours ago
Telangana Covid Vaccination update as on 13.06.2021 at 09PM
17 hours ago
StanPlus to expand its Red Ambulance network pan-India
2 days ago
TCL gears up for new TV launch
2 days ago
Recommendations of 44th GST Council Meeting
2 days ago
Telangana Covid Vaccination update as on 11.06.2021 at 09PM
2 days ago
Maa TV announces the fourth season of Sixth Sense
2 days ago
Flipkart to conduct pilot on drone deliveries of vaccines in Telangana
3 days ago
Governor and CM extend a warm welcome to CJI at Raj Bhavan - Hyderabad
3 days ago
10 రోజుల్లో ఇళ్లు శుంకుస్థాపన‌కు సిద్దం కావాలి: ఏపీ మంత్రి వెల్లంపల్లి
3 days ago
Minister Talasani holds a review meeting with Engineering officials
3 days ago
తెలంగాణ అటవీ కళాశాల, పరిశోధనా సంస్థకు మరో గుర్తింపు
3 days ago
Sony announces BRAVIA X90J series
3 days ago
CS Somesh Kumar reviews progress of Haritha Haram
3 days ago
Livinguard AG protects Indians from Black Fungus
3 days ago