Kangaroo Kids launches new centre in Hyderabad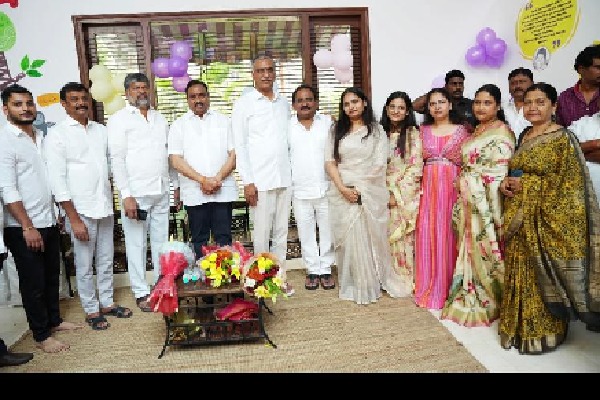 Telangana's Hon'ble Minister of Finance and Medical Health Shri Harish Rao inaugurated the new centre

Hyderabad, March 16, 2023: Kangaroo Kids International Preschool, India's leading premium early childhood education brand, launched its new centre in Jubilee Hills, Hyderabad. The centre was inaugurated by Hon'ble Minister of Finance and Medical Health of the Government of Telangana, Shri Harish Rao in the presence of Shri Danam Nagender, MLA Khairatabad; Shri L. Ramana, MLC and Shri V. Venkatesh, Corporator, Jubilee Hills. The new centre aims to offer innovative learning environment and an international iCan Learning System to help each individual learner with opportunities to maximise their inherent potential.

With more than 30 years of experience, Kangaroo Kids International Preschool is known for its path-breaking pedagogy and learner-centric approach that seeks to make young children lifelong learners. The iCan Learning System focusses on imparting 9 future skills and 15 habits of mind in young children through a well-researched and meticulously executed curriculum design within an emotionally safe environment that encourages children to reflect, think, and apply their learnt skills while having lots of fun.

Commenting on the launch of the new centre, K V S Seshasai, CEO, Pre-K Division, Lighthouse Learning said, "In our endeavour to provide transformative learning experiences to young children, we are glad to expand our network and launch the new centre in Jubilee Hills in addition to 15 centres in Hyderabad. We have started the admission process for the new academic year. We welcome all parents to come and take admission to provide their children with best early childhood education. We at Kangaroo Kids focus on the overall and holistic development of children and provide them high quality education through immersive learning."

By establishing new centres in Hyderabad, Kangaroo Kids International Preschool aims to deliver enriching educational qualification to the young learners and amplify each child's individuality with a fluidic learning methodology that allows them to learn and transition to the next level learning by using their strengths and consistently working towards age appropriate skills and habits. Along with its best in class teacher-child ratio and immersive learning spaces, Kangaroo Kids International Preschool creates an environment that blends with the learning needs of the child; one of the many reasons why the preschool has been a raging success among children and parents for 30 years.

About Kangaroo Kids
Kangaroos Kids is India's Most Desired Preschool Education Brand, with over 30 years of experience, and has a presence in 36 cities & 6 countries. It has pioneered a whole new concept in learning and kick-started a movement that has transformed the face of preschool education in India. With its iCan Learning System, Kangaroo Kids aims to prepare children to not just live but thrive in an extremely disruptive external world by harnessing their inner selves with the right skills and habits. Kangaroo Kids focuses on offering a high quality-learning environment to foster every child's individuality.

The Group
Kangaroo Kids is a part of Lighthouse Learning, one of India's Leading Early Childhood & K-12 Education groups. The group is committed to building a robust foundation & new-age skills in future generations with student-centered goals that align its network of over 1,200 Pre-Schools and 45 Schools. Lighthouse Learning Group delivers the joy of learning to over 150,000 children every day, empowers more than 1000 women entrepreneurs and employs a talented workforce of over 10,000 people across its offices and campuses.