Infinix augments its HOT portfolio; Launches HOT 12 Play for a fully-loaded entertainment experience
24-05-2022 Tue 20:26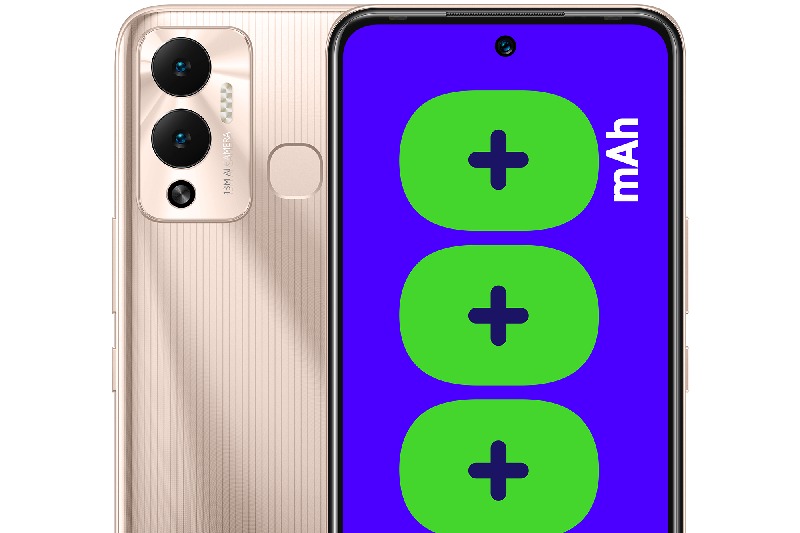 Highlights

● Biggest screen resolution: 6.82" HD display and only device in the segment with a punch-hole screen type
● Ultra Smooth display: A display with afirst-in-segment 90 Hz refresh rate and 180 Hz touch sampling rate
● Power-packed performance: Operating on Android 11 XOS 10, device backed by UniSoc T610 processor
● Bigger Storage: Comes in a 4GB RAM 64GB memory variant with 3 GB of expandable RAM
● Superior camera experience: Comes with 13 MP dual rear camera and only device in the segment with Quad LED flash; 8MP in-display selfie camera & only device with dedicated dual LED flash
● Massive battery backup: Backed by the biggest 6000 mAh battery in the segment along with 10W Type C charging, the only device to have it in the segment
● Colour variants: four colours- Racing Black, Horizon Blue, Champagne Gold and Daylight Green

New Delhi, May 2022—After the grand success of its HOT 10 Play last year, Infinix – the premium smartphone brand from TRANSSION Group – has today unveiled a new addition to its fully loaded budget-friendly smartphone segment with first-in-segment upgrades. The newest entrant in the block, HOT 12 Play, promises an uninterrupted entertainment experience to the new-age users and will be available on Flipkart on sale from May 30th onwards at an introductory price of Rs.8499/-. Available in 4GB RAM/64GB with 3GB of expandable memory variant, HOT 12 Play will come in four exciting colour alternatives: Racing Black, Horizon Blue (Hero Colour), Champagne Gold and Daylight Green.
HOT 12 Play will have the best display, best battery, the best performance in the segment, and some key upgrades from its precursor in the HOT series. Packed with an array of outstanding features, a powerful processor, the latest OS, expandable memory and an improved camera, the fully-loaded smartphone promises an immersive, engaging and all-rounder experience.

Bigger and Brighter Display: Infinix's refreshing new HOT 12 Play stands out for its 6.82" display with HD resolution, biggest in the segment with a first-in-segment 90 Hz Refresh Rate & 180 Hz of Touch Sampling rate, making the device supremely smooth. It is also the only device in the price segment to have a middle punch-hole display. Along with the big screen, the smartphone also has one of the brightest displays in the category of 480 NITS and a 1500:1 contrast ratio for a superior visual experience. Meanwhile, a 90.66% screen-to-body ratio will deliver an immersive viewing experience. The Panda King MN228 glass protection on top of the display makes the device absolutely durable.

The engaging viewing experience of HOT 12 Play is backed by a superior audio experience enabled by the DTS Surround Sound speaker for maximum engagement.

Refreshing design: HOT 12 Play has been designed keeping in mind the aesthetics and comfort factor while using a big-screen smartphone. The premium and the stylish smartphone comes with a Fingerprint sensor on the back panel.

Superior performance and Massive storage: Operating on the latest Android 11, Infinix HOT 11 2022 comes installed with a UniSoc T610 processor with a CPU clock speed of Upto 1.82 GHz speed and a highly efficient 12nm production process. Available in a 4GB RAM/64 GB memory variant, the device comes with an expandable virtual RAM of up to 3GB. It also comes with the latest XOS 10 skin enabling users to enjoy a smooth and faster software UX with refreshed icons, colour theme design, refreshing wallpapers, and a cleaner interface.
Improved Camera: The all-new HOT 12 Play continues the tradition of Infinix in offering the best-in-class camera. It features a 13 MP Dual rear camera with a dedicated quad-LED flash, the only device in the segment with the feature. On the front, the smartphone has an 8MP in-display selfie camera with a dedicated Dual LED flash, yet again the only device in the segment with this feature.
Massive Battery: HOT 12 Play is backed by the biggest battery in the segment of 6000mAh, which keeps the smartphone operational even after long hours of heavy usage. It is also the only device in the segment to have a 10W charge support with a Type C cable, giving users the freedom to do their favourite things, for as long as they want, without bothering about frequently recharging the phone.

Commenting on thelaunch, Mr. Anish Kapoor, CEO – Infinix India, said, "The Infinix HOT series was launched in 2017 to bring meaningful innovation to consumers and has since gained a phenomenal fan base with its many FIST(First In Segment Technology) features like superior display, performance and battery. The HOT Series epitomises that belief by making flagship-like features accessible at aggressive price points. By democratizing technology, we strive to create strong connections with our customers through game-changing innovations and enhanced smartphone experience. Our fans have shown a strong affinity towards the HOT Series consistently and this has led to us being recommended by their friends and family, which is our core strength. The immersive and robust experience of the HOT 12 Play is a result of constant fan and consumer engagements to craft a device that is the right fit for the larger audience. This aspirational device backed with a virtual RAM, heavy-duty 6000mAh battery and the 6.82-inch punch hole screen boasts of a perfect amalgamation of performance and aesthetics, making it a power-packed- offering under 9K"

Considering the customer-centric approach, Infinix has developed a robust network with 915 service centres across 700 towns in India. This allows users to enjoy after-sales experiences. Infinix devices come pre-installed with the Carlcare App that empowers the users to locate their nearest service centre and also indicates to them the availability of parts at the service centres.

About Infinix Mobile

Infinix Mobility is an emerging technology brand that designs, manufactures and markets an expanding portfolio of devices worldwide under the Infinix brand, which was founded in 2013. Targeting today's youth, Infinix focuses on developing cutting-edge technology embodied in meticulously designed mobile devices that offer refined style, power and performance. Infinix devices are trendy and attainable with the end-user at the forefront of every step forward.

With "THE FUTURE IS NOW" as its brand essence, Infinix aims to empower today's youth to stand out from the crowd and show the world who they are. The company's portfolio of products is sold in more than 40 countries around the world, covering Africa, Latin America, the Middle East, Southeast Asia, and South Asia. Expanding at a phenomenal rate, Infinix grew an unprecedented 157% during 2019-2021 and has huge plans to continue creating flagship-level devices offering striking designs and strong value propositions.

In 2020, the company launched its first Android Smart TV series Infinix X1 in 32-inch and 43-inch variants and forayed into the audio gadget segment under its brand 'SNOKOR' offering a stylish and affordable range of TWS earbuds, earphones, and soundbar. Recently Infinix has also entered the laptop segment by launching its first laptop, INBook X1, in the Indian market.



---
More Press Releases
India's Rapidly growing edtech brand Infinity Learn introduces 'Infinity Learn Festival'
3 hours ago
AP CM YS Jagan Mohan Reddy disburses Vidya Kanuka school kits for the third consecutive year
8 hours ago
GoDaddy launches new campaign aimed at giving 'visibility' to Indian small business
8 hours ago
మహిళలు, పిల్లల ఆరోగ్య సంరక్షణలో అగ్రగామిగా నిలిచిన తెలంగాణ
8 hours ago
FTCCI bestows prestigious Excellence in Information Technology Award to Quixy
8 hours ago
హాకా భ‌వ‌న్‌లో ఉచిత వైద్య‌శిబిరం నిర్వ‌హించిన సెంచురీ ఆస్ప‌త్రి
8 hours ago
Access Healthcare accelerates hiring in major cities and smaller towns across India
8 hours ago
RaphaCure launches revolutionary health product 'RaphaNeu' for Indian education sector
12 hours ago
సివిల్స్ 2వ హబ్ గా హైదరాబాద్ - బిసి సంక్షేమ శాఖ ముఖ్యకార్యదర్శి బుర్రా వెంకటేశం, ఐఎఎస్
3 days ago
Press Photos: PM Modi visit to Hyderabad - Arrival at Begumpet Airport
3 days ago
తెలంగాణ సంస్కృతికి ప్రతీక.. బోనాల ఉత్సవాలు..!
3 days ago
నూతన క్యాంటిన్ భవన నిర్మాణానికి భూమి పూజ నిర్వహించిన విజయవాడ నగర మేయర్
3 days ago
మానవ అక్రమ రవాణాను అరికట్టేందుకు సమిష్టి కృషి: సునీతాలక్ష్మారెడ్డి
3 days ago
లబ్దిదారులకు సత్వరమే రుణాల మంజూరుకు చర్యలు చేపట్టాలి: విజయవాడ మేయర్
3 days ago
National Level Learn-shop on development of the MSME ecosystem organised by SIDBI & Grant Thornton Bharat (its PMU)
4 days ago
Press Release: ICAR-Directorate of Poultry Research, Rajendraagar, Hyderabad
4 days ago
పనితీరు మార్చుకోకుంటే కఠిన చర్యలు: మహిళాభివృద్ది , శిశు సంక్షేమ శాఖ సంచాలకురాలు డాక్టర్ సిరి
4 days ago
Union Bank of India launches a charity initiative 'U Smile - Spread Smiles'
4 days ago
ఓల్డ్ సిటీ బోనాల కోసం 70 కోట్లతో వివిధ అభివృద్ధి పనులు: మంత్రి తలసాని
4 days ago
CS Somesh Kumar held a meeting with officials of all welfare departments
4 days ago
Prime Minister Narendra Modi speaks on telephone with Russian President Vladimir Putin
4 days ago
₹1,44,616 crore gross GST Revenue collection for June 2022; increase of 56% year-on-year
4 days ago
TCL unveils cinematic advances
4 days ago
PM congratulates IN-SPACe and ISRO for successfully launching two payloads of Indian Start-ups in Space by PSLV C53
4 days ago
On the occasion of State Festival - Bonalu, CM KCR extends greetings to Telangana people
5 days ago