7 early signs of hair fall and a preventive solution to tackle the same
09-05-2022 Mon 17:29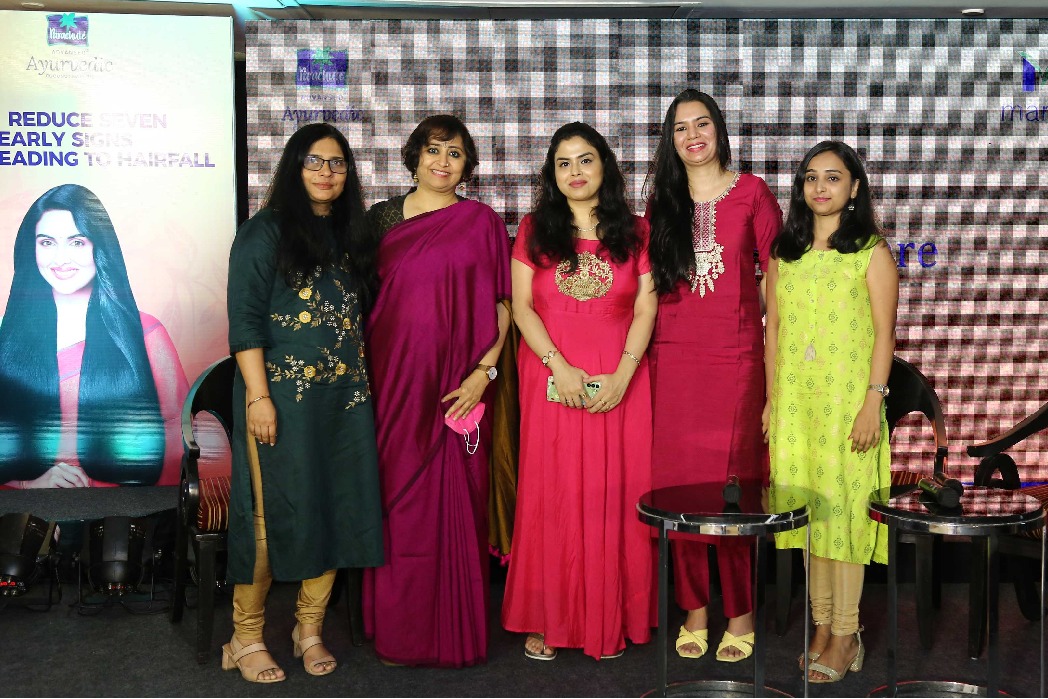 Hyderabad, 09 May, 2022: Parachute Advansed Ayurvedic Coconut Hair Oil, the No. 1 brand in the hair fall category and one of the most iconic brands in south India, associated with credible local and national hair care experts to lead an educative session on hair fall, this Saturday at Vivanta Hyderabad, Begumpet. With nurturance as one of the brand's core pillars, the brand hosted an influencer led campaign which concluded in this event, to educate their consumers on how best can they tackle the growing concern of hair fall, before it gets severe.

The brand brought on board, Popular TV anchor Nadia Hakani to host this insightful event organized for a select group of top digital influencers in Hyderabad. The experts and influencers discussed the 7 early signs of hair fall and a preventive solution to tackle the same. Gracing this session with their insightful and honourable presence were Dr. Tanya Dubey (MBBS DDVL) - Dermatologist, Skin, Hair & Nails Specialist, Dr. Shalini Patodiya (MBBS, DDVL, DNB, FAGE), Consultant Dermatologist, Trichologist & Cosmetologist at Citizens hospital, Nallagandla, Hyderabad, Varsha Bhanoor – Masters in Clinical Nutrition and Dietitics and Dr. Aparna Santhanam (MD, DNB) Consultant Dermatologist, Marico India Limited.
Dr. Tanya Dubey – MBBS DDVL, Dermatologist, Skin, Hair, Nails Specialist said, "Your hair and skin health is to a good extent a reflection of your overall health. From the air we breathe to the food we eat; our lives are very different from that of our ancestors and so is our hair health. To add to this, our stressful jobs, increased screen time, irregular sleeping habits, unhealthy eating routines just further take a toll on our hair health. In Hyderabad, I have noticed my patients complain a lot about roughness, hair thinning and eventually hair fall. A major contributing factor is the over treated water supplied to apartments. While these are factors that we cannot control, what we can do is try to get good sleep, eat healthy and regularly oil your hair".

Educating us further from a dietary intake point of view, Varsha Bhanoor – Masters in Clinical Nutrition and Dietitics from Manipal University with 4 years of experience in the field of Nutrition and fitness said, "Diet plays a very crucial role in hair health. Hair grows approximately about 6 inches every year and there are some major factors that influence your hair: genetics, age, hormones, nutrient deficiencies, external factors and more. What you eat is one of the few things you can do to control your hair's appearance. A lack of the right nutrients including vitamins A, C, D and E, zinc, B vitamins, iron, biotin, protein and essential fatty acids may slow down hair growth, cause hair breakage, dullness, roughness and eventually cause hair loss. Our current lifestyle warrants us to take even more care of our hair and overall health. So, ensure you have a nutrient rich diet and nourish your hair regularly".

Dr. Aparna Santhanam – (MD, DNB) - Consulting Dermatologist at Parachute Advansed shared, "There are 7 early signs of hair fall which largely go unnoticed because people don't associate them with greater harm as they are perceived to be common hair problems that most women face. So, it becomes extremely important to see these 7 problems as warning signs and act on them now rather than wait till they lead to hair fall in the future. These 7 signs of hair fall include: Roughness, Dullness, Thinning, Breakage, Dandruff, Split-ends and Tangling. So now that you know of the 7 signs to watch out for, here is a one-stop solution that can help tackle all these signs. It is an age-old fact that when it comes to hair fall, nothing beats Coconut based hair oil. It penetrates up to 10x deeper into your scalp than any other hair oil, nourishing your hair from deep within. To enhance the long-term nourishment for your hair by reducing the early signs, choose a coconut-based hair oil that is infused with rich Ayurvedic ingredients such as amla, heena, methi, kadi patta, kalonji, tulsi, etc. All these potent Ayurvedic ingredients when infused into good old coconut-based hair oil will not only help strengthen your hair from its roots, but also provide you with a long-lasting hair fall solution."

The brand also unveiled their new product packaging with a new brand messaging.





---
More Press Releases
Legrand India announces its first state-of-art studio in Telangana
9 hours ago
Governor lauds the services of the banking staff
9 hours ago
Medanta brings world-class, affordable cancer care to Visakhapatnam
13 hours ago
Governor Tamilisai exhorts people to celebrate Yoga Day as the Festival of Health
13 hours ago
Kia EV6 now displayed at Automotive Kia, Hi-tech City
14 hours ago
విద్యుత్తు రంగంలో విప్లవాత్మక మార్పులు తెలంగాణ విజ‌యం.. దేశానికే ఆద‌ర్శం
15 hours ago
Asteria Aerospace participates in the Drone Festival of India 2022
16 hours ago
Thousands in Hyderabad join Yoga Utsav to mark 25 days countdown to International Day of Yoga
16 hours ago
aha to premiere Vishwak Sen's family - entertainer film 'Ashoka Vanamlo Arjuna Kalyanam' on June 3rd
18 hours ago
PM pays tributes to Pandit Jawaharlal Nehru on his death anniversary
18 hours ago
పల్లె ప్రగతి 5వ విడత కార్యక్రమ నిర్వహణపై మంత్రి ఎర్రబెల్లి సమీక్ష
1 day ago
ముఖ్యమంత్రి కె.చంద్రశేఖర్ రావు మాజీ ప్రధాని దేవెగౌడ, మాజీ సీఎం కుమారస్వామితో సమావేశం - ఫొటోలు
1 day ago
Watch: PM Narendra Modi Program at ISB Campus, Gachibowli, Hyderabad-Exclusive pics
1 day ago
Forever 21 unveils its all-new flagship store at Sarath City Capital Mall in Hyderabad
1 day ago
త్వ‌ర‌లో వరంగల్ సైన్స్ సెంట‌ర్ లో టీఎస్‌కాస్ట్ ఆద్వర్యంలో ఎస్సీ, ఎస్టీ సెల్‌ ఏర్పాటు
1 day ago
Governor Tamilisai Soundararajan receives PM Modi at Begumpet Airport in Hyderabad,
1 day ago
బెంగళూర్‌లో ముఖ్యమంత్రి కేసీఆర్‌ను కలిసిన తెలంగాణ రాష్ట్ర బి.సి. కమిషన్‌ చైర్మన్‌, సభ్యులు
1 day ago
Aakash+BYJU'S launches its New Classroom Centre at Kondapur in Hyderabad; 7th in the city
1 day ago
World's first synthetic jaw-bone graft developed, gets Govt. nod for clinical trial
1 day ago
SLG Hospitals to hold '5K Running & Cycling' event to raise awareness on deadly effects of tobacco on Health
1 day ago
Free education offered for students suffering with Thalassemia in Telangana
1 day ago
AICGIM to host Defence India Startup Challenge at ICG
1 day ago
Safety Audit on Monsoon preparedness for safety of citizens – Certain instructions
2 days ago
Infinity Learn by Sri Chaitanya (Asia's largest Education group) acquires Wizklub for $10 million
2 days ago
కర్ణాటక కమిషన్ తో భేటీ అయిన తెలంగాణ బీసీ కమిషన్
2 days ago