Mahindra announces 'Get Highest Mileage or Give Truck Back' guarantee on its entire HCV, ICV & LCV Truck Range
18-01-2022 Tue 15:27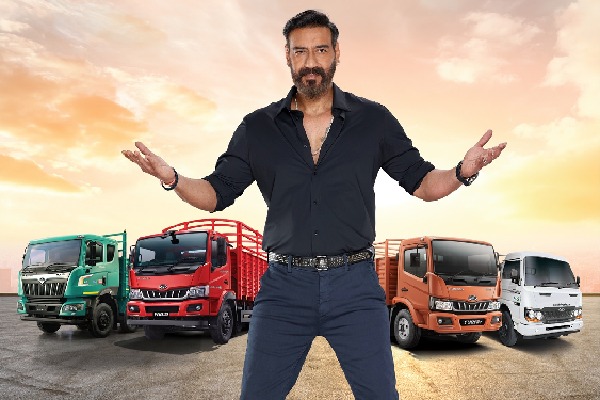 Continues its Service Guarantee:
Back on Road in 48 hours or get Rs. 1000 per day.
36 Hours Turnaround Time from Dealership Workshop or get Rs. 3000 per day.
The Mileage Guarantee to be applicable on the entire range of Mahindra BS6 trucks (HCVs to ILCVs) – BLAZO X, FURIO, FURIO7 and JAYO.
Bollywood Superstar Ajay Devgan to be the face of this disruptive guarantee promise
To be supported by an ever-growing and wide service and spares network comprising over 90 3S Dealerships, 210 Authorized Service Centers, a spares network of 1,600 retail outlets and 34 strategically located M Parts Plazas.
Mumbai, January 18, 2022: Mahindra's Truck and Bus Division (MTB), a part of the Mahindra Group, today announced their unique and disruptive customer value proposition "Get More Mileage or Give Truck Back" Guarantee for their entire BS6 range of BLAZO X Heavy, FURIO Intermediate, and Light Commercial trucks including FURIO7 and JAYO.
The new range features the proven 7.2L mPower Engine (HCVs) and mDi Tech Engine (ILCV) with FuelSmart Technology, Mild EGR with proven Bosch After Treatment System that leads to lower Ad Blue Consumption and many other technological advancements, besides the cutting-edge iMAXX Telematics solution, all of which together, ensure guaranteed higher mileage. Given the fact that fuel is a major component of a transporters' operating cost (over 60%), Mahindra BS6 truck range, with this competitive advantage will provide them an edge, complete peace of mind and scale up their transport business, delivering higher prosperity.
Speaking on the occasion, Veejay Nakra, Chief Executive Officer, Automotive Sector, Mahindra & Mahindra Limited, said, "The 'Get More Mileage or Give Back Truck' Guarantee across the range of trucks is a landmark move for the light, intermediate and heavy commercial vehicle industry. Given the spiraling fuel prices, there wasn't a better time to introduce this Customer Value Proposition. I firmly believe that it will reaffirm our customers' faith in Mahindra's ability to create technologically advanced, class-leading products and set higher standards for the Indian CV industry, while reflecting our commitment to the segment."
Jalaj Gupta, Business Head, Commercial Vehicles Business Unit, Mahindra & Mahindra Limited, added, "The Mileage Guarantee, 'Get More Mileage or Give the Truck Back' was first offered on our HCV truck BLAZO in 2016 and not a single truck has come back. All our new introductions ever since i.e., BLAZO X, FURIO ICV range and FURIO 7 have delivered higher fuel efficiency, which is the outcome of Mahindra's superior technological prowess rooted into a deep understanding of the Indian customer. Additionally, MTB is offering Service guarantee to ensure higher uptime for our customers through guaranteed speedier turnaround of the truck, be it on the highway or at the dealership workshop. The state-of-the-are iMAXX Telematics technology is further helping lower the Cost of Ownership by providing a firm control to the transporter over his trucks, remotely. All this and the guaranteed higher mileage would eventually translate into higher prosperity of our customers."
The Company believes that this disruptive customer value proposition will help in its journey of becoming a formidable player in the large CV Segment. The mileage guarantee is governed by Terms and Conditions which are readily available on the company's website, www.mahindratruckandbus.com.
---
More Press Releases
Safety Audit on Monsoon preparedness for safety of citizens – Certain instructions
1 hour ago
Infinity Learn by Sri Chaitanya (Asia's largest Education group) acquires Wizklub for $10 million
4 hours ago
కర్ణాటక కమిషన్ తో భేటీ అయిన తెలంగాణ బీసీ కమిషన్
5 hours ago
పారిశుధ్య నిర్వహణ విధానంలో సమయపాలన పాటించాలి: వీఎంసీ కమిషనర్
5 hours ago
అన్వితా రెడ్డికి నిరంతర ప్రోత్సాహం: బొప్పన అచ్యుత రావు
6 hours ago
KFC got people screaming with new smart feature in app 'Howzzat'
9 hours ago
Adivi Sesh, Shobitha Dhulipala to grace as special guests in Sarkaar 2 and Telugu Indian Idol
10 hours ago
మహిళా చట్టాలు కేవలం మహిళలే కాదు పురుషులు కూడా తెలుసుకోవాలి: సునీతా లక్ష్మారెడ్డి
11 hours ago
సెంట్రల్ లో రూ. 3 కోట్లతో పార్కుల అభివృద్ధి: ఎమ్మెల్యే మల్లాది విష్ణు
11 hours ago
Infinix augments its HOT portfolio; Launches HOT 12 Play for a fully-loaded entertainment experience
1 day ago
Now fulfil your travel dreams with a flat 50% off on all domestic flights & hotels with Cleartrip Tatkaal!
1 day ago
USATA launches ARIA LifeWater - the world's first atmospheric mineral water
1 day ago
Indian terrain strengthens its footprint in TS-AP with the launch of two new flagship stores in Hyderabad
1 day ago
I look forward to further strengthening the Olympic Movement in our country: Nita Ambani
1 day ago
జగనన్న ఇళ్ళ లే అవుట్లను పరిశీలించిన వీఎంసీ కమిషనర్.. అధికారులకు పలు ఆదేశాలు
1 day ago
PM to visit Hyderabad and Chennai on 26 May
1 day ago
BOB Financial and HPCL launch co-branded contactless RuPay Credit Card
1 day ago
Rare surgeries for a woman who is at risk of recurrence of cancer
1 day ago
Prime Minister's meeting with President of the United States of America
1 day ago
నేడు కర్ణాటకలో తెలంగాణ బీసీ కమిషన్ పర్యటన
1 day ago
అమీర్ పేట, సనత్ నగర్ లలో స్విమ్మింగ్ పూల్ లను ప్రారంభించిన మంత్రి తలసాని
1 day ago
Medica, the first hospital in Kolkata to use Rotapro Atherectomy Device for treating Triple Vessel Disease
1 day ago
డాక్టర్ ఎంసీఆర్ హెచ్ ఆర్ డీ ఇనిస్టిట్యూట్ లో అధికారులతో మంత్రులు హరీశ్ రావు, తలసాని శ్రీనివాస్ యాదవ్ సమీక్షా సమావేశం
2 days ago
Bye Election to the Council of States (Rajya Sabha), 2022 from TS has been elected uncontested
2 days ago
సాహిత్య అకాడమిని సందర్శించిన సుల్తానియా
2 days ago