Telangana Home Minister inaugurates Mufaddal Covid care centre
29-05-2021 Sat 20:23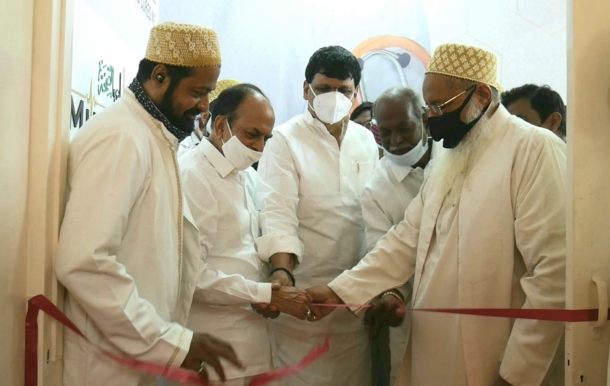 Hyderabad: Mohd Mahmood Ali, Minister for Home inaugurated 10 bed COVID Care Centre organized by Dawoodi Bohra Community at RTC colony of Malkajgiri constituency, today.

Malkajgiri MLA Mynampally Hanumanth Rao also graced the Occasion.

Home minister addressed the gathering and praised the community for the Social initiatives, he also extended his support for all community development activities. He advised that every body should be careful on this pandemic situation. Wearing mask ,maintaining social distance, sanitization should be done to control this corona virus.

Minister appreciated Dr Syedna Mufaddal Saifuddin for his philanthropy and the dawoodi bohra community for their entrepreneurship, patriotism and for their contribution in nation building.

Arif, Aamil , Juzer, Shaik Manan Habib, Secretary and Shaik Ammar Shakir Co Ordinator of Public relations organized the Inauguration event.

HOME MINISTER EXPRESSED HIS GRATITUDE TO CHIEF MINISTER ON THE EXTENSION OF BC RESERVATIONS FOR 10 MORE YEARS:

Mohd Mahmood Ali, Minister for Home expressed his gratitude to Kalvakuntla Chandrashekhar Rao, Chief Minister for extending 4 % Muslim reservation facility under BC -E category ten more years. He said that Chief Minister KalvaKuntla Chandrasekhar Rao is thinking seriously regarding the development and welfare of Muslims. In addition, Chief Minister strives for the overall development of Muslims, especially in the field of education for Muslims.

Home Minister said that due to extension of Muslim reservations , hundreds of Muslim students will be benefited in education and employment areas and their economy will be improved. Minister said that Muslim reservations are a golden opportunity for Muslims in the present times due to which poor Muslim children are getting tremendous benefits in getting education and employment.

He thanked Chief Minister K. Chandrasekhar Rao from the bottom of his heart for extending 4% reservations to BC -E category and congratulated the Muslims. Home Minister has requested parents and guardians of students to send their children to higher education. Minister appealed Muslims to Make use of the extension of reservations to brighten the economy and the future of students.

HOME MINISTER SPOKE TO MINORITY WELFARE SECRETARY:

Mohd Mahmood Ali, Minister for Home while talking to Ahmad Nadeem, Principal Secretary, Minority Welfare, on the non-payment of salaries of Mecca Masjid employees, said that the issue should be solved as soon as possible. The principal secretary assured that the issue would be finalised immediately.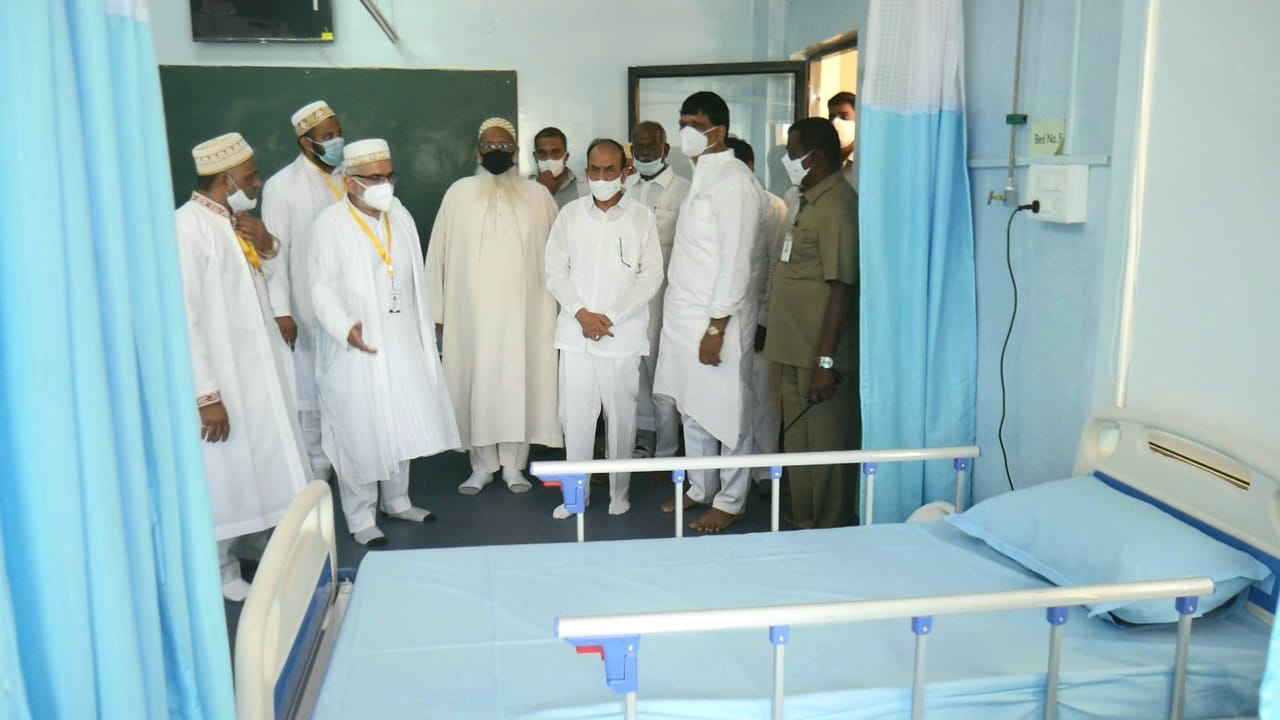 ---
More Press Releases
టోక్యో ఒలంపిక్స్ కు ఎంపికైన తెలంగాణ క్రీడాకారుడు.. ఘనంగా సన్మానించిన మంత్రి శ్రీనివాస్ గౌడ్
2 hours ago
Jaguar land rover to develop hydrogen powered defender fuel cell prototype
2 hours ago
Hero MotoCorp announces the fourth edition of Hero colabs
3 hours ago
Chingari announces 'Chingari World Music Day Concert'
3 hours ago
Godrej and Boyce launches Mobile calibrations service van in Telangana and AP
4 hours ago
Innoviti launches G.E.N.I.E, India's first smart marketing app for local mobile retailers
4 hours ago
UST Hyderabad celebrates 1000 employees
5 hours ago
PM delivers keynote address at the UN 'High-Level Dialogue on Desertification, Land degradation and Drought'
22 hours ago
Minister Harish Rao holds a meeting on cultivation of Oil Palm
22 hours ago
Alumni of IIT Madras donates over 200 Oxygen Concentrators to Telangana
22 hours ago
GO FIRST inks partnership with DreamFolks, introduces Departure Lounge service
23 hours ago
Digital Showroom, India's first O2O brand providing businesses their own website through phones
1 day ago
Salute to all the blood donors: Governor Tamilisai
1 day ago
Flipkart Wholesale sees 3x increase in digital adoption among kiranas in India
1 day ago
Centre allocates Rs 3,183cr to Andhra Pradesh under Jal Jeevan Mission in 2021-22
1 day ago
Shyam Steel India becomes the Official Partner of ICC World Test Championship Final
1 day ago
PAYBACK India Supports 'YouWeCan' Mission 1000 Beds Drive
1 day ago
PM congratulates Naftali Bennett on becoming the PM of Israel
1 day ago
Telangana Covid Vaccination update as on 13.06.2021 at 09PM
1 day ago
StanPlus to expand its Red Ambulance network pan-India
2 days ago
TCL gears up for new TV launch
2 days ago
Recommendations of 44th GST Council Meeting
3 days ago
Telangana Covid Vaccination update as on 11.06.2021 at 09PM
3 days ago
Maa TV announces the fourth season of Sixth Sense
3 days ago
Flipkart to conduct pilot on drone deliveries of vaccines in Telangana
3 days ago