Transasia Bio-Medicals' largest IVD manufacturing facility of its kind in Asia at AMTZ, inaugurated
12-04-2021 Mon 20:07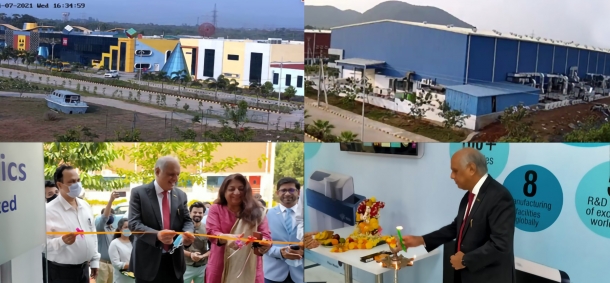 Shot in the arm for Atmanirbhar Bharat with the 35000 sft. facility reducing import dependence
Largest of its kind facility in Asia to produce ELISA-based antibody detection test kits, RT-PCR kits and rapid test kits for India and other emerging markets
Initial plans to hire 500 employees which will grow with plant production
Integrated facility housing manufacturing, testing & supply chain functions for optimal efficiency
Vizag, April 12, 2021: Transasia Bio-Medicals Ltd., India's No. 1 In-vitro Diagnostic Company today announced the formal inauguration of its state-of-the-art medical devices manufacturing plant at the Andhra Pradesh MedTech Zone (AMTZ) in Visakhapatnam. The largest of its kind facility in Asia spread over 35000 sft. will manufacture ErbaLisa COVID-19 IgG ELISA test kits, RT-PCR kits and rapid test kits for India and other emerging markets. The new facility was virtually inaugurated today by Mekapati Goutham Reddy, Hon'ble Minister for Industries, Commerce & IT, Andhra Pradesh; Dr. P D Vaghela, Chairperson, Telecommunications Regulatory Authority of India (TRAI) and Dr. Arabinda Mitra, Scientific Secretary to Principal Scientific Adviser, Govt. of India; R. Karikal Valaven, Special Chief Secretary to Government, Industries & Commerce in the presence of Dr. Jitendra Sharma, MD & CEO, AMTZ, Suresh Vazirani, Founder & Chairman, Transasia-Erba International Group of Companies and Dr. Manoj Chugh, Vice President, R&D Reagents, Transasia Bio-Medicals Ltd.
Transasia's 5th manufacturing facility in India besides plants in Baddi, Daman, Sikkim and Mumbai, the new facility entailed initial investment of over 30 crore. Truly integrated, the facility with an annual capacity of 2 million Molecular & Serology test kits has face recognition system, cold room, storage area, clean rooms of BSL-II/BSL-III grade, large lyophilizers, protein purification equipment, advanced QC equipment and automated machines. The facility will significantly reduce India's current import dependence for such testing kits.
In his comments, Suresh Vazirani, Founder & Chairman, Transasia-Erba International Group of Companies, said, "We are truly delighted to partner AMTZ under the visionary leadership of Dr. Jitendra Sharma, in contributing our bit to realize the dream of making India atmanirbhar and a global export hub for IVD products and solutions. With worldclass infrastructure for manufacturing, testing and certification of medical devices available in the park, the facility would play a key role in import substitution of medical devices. The new facility reinforces Transasia's track record of enabling better healthcare outcomes for over 40 years by offering total solutions for clinical diagnosis."
"We are pleased that Transasia chose AMTZ to set up Asia's largest IVD manufacturing facility. It gives me further pleasure being there for the inauguration of Transasia's world-class IVD manufacturing facility. Addition of this facility further enhances AMTZ appeal as an ecosystem with huge upsides for industry players. Wholeheartedly congratulate Mr. Vazirani and the Transasia team for this worldclass facility," added Dr. Jitendra Sharma, MD & CEO of AMTZ.
In his comments, Dr. Manoj Chugh, Vice President, R&D Reagents, Transasia Bio-Medicals Ltd., said, "Several new offerings are on the anvil as we step up to meet the diagnostic needs of doctors and patients. The plant will have the flexibility to scale up manufacturing capabilities on demand, while driving greater operational efficiency."
Operations will start immediately at this new plant with product roll outs expected in early September. The new facility has the capacity to produce 6 lakh Elisa-based antibody detection test kits per day besides RT-PCR and rapid test kits. To address the growing need for serological tests as disease prevention spurred by greater awareness of infectious diseases due to covid-19, this facility will manufacture testing kits for other immunology products as well. To meet the growing demand, Transasia will significantly invest in R&D and manpower at the facility for its immunology products with total hiring estimated at 500 employees as of now.
---
More Press Releases
సివిల్స్ 2వ హబ్ గా హైదరాబాద్ - బిసి సంక్షేమ శాఖ ముఖ్యకార్యదర్శి బుర్రా వెంకటేశం, ఐఎఎస్
13 hours ago
Press Photos: PM Modi visit to Hyderabad - Arrival at Begumpet Airport
13 hours ago
తెలంగాణ సంస్కృతికి ప్రతీక.. బోనాల ఉత్సవాలు..!
14 hours ago
నూతన క్యాంటిన్ భవన నిర్మాణానికి భూమి పూజ నిర్వహించిన విజయవాడ నగర మేయర్
14 hours ago
మానవ అక్రమ రవాణాను అరికట్టేందుకు సమిష్టి కృషి: సునీతాలక్ష్మారెడ్డి
16 hours ago
లబ్దిదారులకు సత్వరమే రుణాల మంజూరుకు చర్యలు చేపట్టాలి: విజయవాడ మేయర్
22 hours ago
National Level Learn-shop on development of the MSME ecosystem organised by SIDBI & Grant Thornton Bharat (its PMU)
1 day ago
Press Release: ICAR-Directorate of Poultry Research, Rajendraagar, Hyderabad
1 day ago
పనితీరు మార్చుకోకుంటే కఠిన చర్యలు: మహిళాభివృద్ది , శిశు సంక్షేమ శాఖ సంచాలకురాలు డాక్టర్ సిరి
1 day ago
Union Bank of India launches a charity initiative 'U Smile - Spread Smiles'
1 day ago
ఓల్డ్ సిటీ బోనాల కోసం 70 కోట్లతో వివిధ అభివృద్ధి పనులు: మంత్రి తలసాని
1 day ago
CS Somesh Kumar held a meeting with officials of all welfare departments
1 day ago
Prime Minister Narendra Modi speaks on telephone with Russian President Vladimir Putin
1 day ago
₹1,44,616 crore gross GST Revenue collection for June 2022; increase of 56% year-on-year
1 day ago
TCL unveils cinematic advances
1 day ago
PM congratulates IN-SPACe and ISRO for successfully launching two payloads of Indian Start-ups in Space by PSLV C53
1 day ago
On the occasion of State Festival - Bonalu, CM KCR extends greetings to Telangana people
2 days ago
CS Somesh Kumar reviewed the arrangements made for the PM Modi's visit to Hyderabad
2 days ago
పదో తరగతి ఫలితాల్లో బిసి గురుకుల విద్యార్థుల ప్రభంజనం
2 days ago
Chairman of Telangana Foods, Chairman of Telangana Official Language Association, President of Telangana Urdu Academy appointed by CM KCR
2 days ago
RBS' first foray into food & beverage retail with popular global food chain
2 days ago
విద్యార్థులు అత్యుత్తమ ప్రతిభ కనబర్చడం పట్ల సంతోషం వ్యక్తం చేసిన మంత్రి కొప్పుల ఈశ్వర్
2 days ago
ఆంగ్ల మాధ్యంలోనూ టీ-శాట్ గ్రూప్-1 పాఠ్యాంశాలు
2 days ago
St. Francis College, New York to provide scholarships up to USD 6800 to students from Hyderabad
2 days ago
Aakash+BYJU'S launches its first Classroom Centre in Kadapa in Andhra Pradesh
2 days ago