Hrithik Roshan, Deepika Padukone's pics from Italy schedule of 'Fighter' goes viral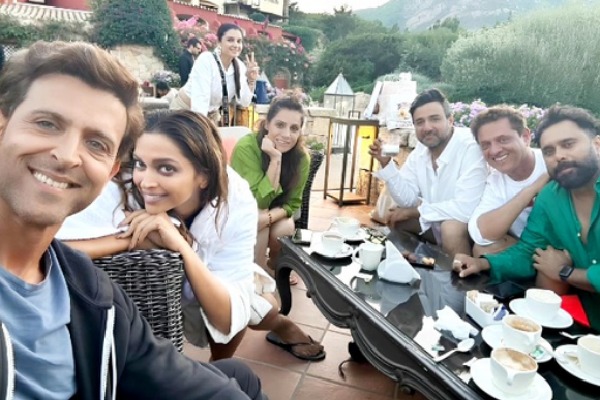 Mumbai, Oct 4: A picture of Bollywood stars Deepika Padukone and Hrithik Roshan from the Italy schedule of their upcoming film 'Fighter' has gone viral on social media.
The two actors are busy filming song sequences for the film.
'Fighter' is helmed by Siddharth Anand, who delivered a blockbuster earlier this year in the form of the Shah Rukh Khan-starrer 'Pathaan', and has a proven track record with three blockbusters in a row with 'Bang Bang!', 'War' and 'Pathaan'.
The photograph in question is shared by actor Arfeen Khan on Instagram and it is a selfie clicked by Hrithik featuring Deepika, Siddharth and his wife Mamta Bhatia Anand, and choreographer Bosco Martis, among others.
The team can be seen enjoying coffee together.
In the picture, while Hrithik is dressed in a casual blue t-shirt and black hoodie, Deepika is seen wearing a bathrobe.
Sharing the picture on Instagram Arfeen Khan wrote, "Fighter in action…amazing people, amazing shoot".
Earlier, entrepreneur Luciano Guidi also shared a photograph with Deepika with the caption: "With the beautiful and talented Deepika Padukone…Looking forward to seeing you on the big screen."
'Fighter', which also stars Anil Kapoor and Akshay Oberoi, has been shot at multiple real locations and has used the latest cinematic technology to achieve a spectacle for global screens.
The real life Indian Air Force cadets have worked for the film, and its soundtrack album composed by the duo Vishal-Shekhar consists of five songs, with Satchith Paulose as the cinematographer.
'Fighter' was originally scheduled for a theatrical release on September 30, 2022 but was delayed due to the production delays owing to Covid-19 pandemic.
The film is set to arrive in theatres on the occasion of India's 75th Republic Day, January 25, 2024
(The content of this article is sourced from a news agency and has not been edited by the ap7am team.)