US Speaker Kevin McCarthy removed from office in historic first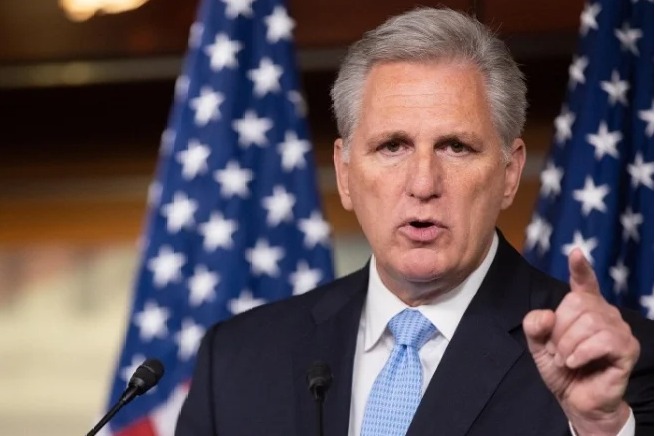 Washington, Oct 4 : Kevin McCarthy, the Republican Speaker of the US House of Representatives, was removed from office in a historic legislative vote for the first time in the history of the country.

McCarthy later told reporters that he will not run again for the Speaker's post and that he had not yet decided if he would resign from the Congress. He went on to rail against both the Democrats who voted en bloc to remove and the eight Republicans who joined them.

The effort to remove McCarthy was spearheaded by fellow Republican Matt Gaetz, a member of a group of hardliners often called the MAGA wing for their association with former President Donald Trump, whose campaign slogan "Make America Great Again" gives them the name.

McCarthy's exit was written into the script that saw him ascend to the Speakership, a lifelong ambition, in a prolonged fight within his own party in January. He won in the 15th round of voting in a deal with the same hardliners who extracted a concession that any one member could move to have him removed. And Gaetz used that rule to introduce a resolution to vacate the office of the Speaker.

He was removed in a 216 to 210 vote, with eight Republicans voting with the Democrats.

"The office of the Speaker of the House of the US House of Representatives is hereby declared vacant," said the Republican, who presided over the vote.

Representative Patrick McHenry of North Carolina took over as interim Speaker till a new Speaker was elected by the Republicans.

McCarthy's removal marked another chapter in the chaotic Republican leadership of the House as he struggled to lead, torn between the bulk of the party and the hardliners, who were just a handful but their clout was significantly outsized because the thin majority enjoyed by the party. He never had much elbow room. A good example of that was the impeachment inquiry he ordered giving in to the hardliners despite the absence of any real evidence of any wrongdoing by President Joe Biden and, remarkably, opposition from fellow Republicans.

The present round of McCarthy's trouble began over funding of the federal government. The two parties were deadlocked over funding for Ukraine and other issues. The Speaker reached a deal with the Democrats and managed to pass bills keeping the government funded till mid-November.

As Gaetz used that to announce his intention to move a resolution to remove McCarthy, there was talk he might be bailed out by the Democrats, who would easily give him the numbers to make up for members of his own party who would vote to remove him. But it became clear later that was not happening.
(The content of this article is sourced from a news agency and has not been edited by the ap7am team.)