Between Bharat and India, Rahul chooses India that is Bharat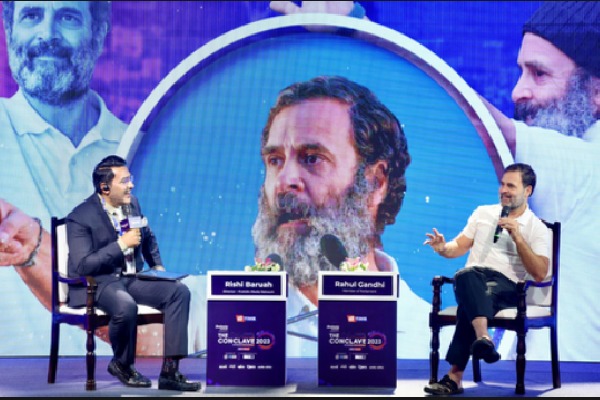 New Delhi, Sep 24: Former Congress President Rahul Gandhi on Sunday said choosing between 'Godfather' and 'Dark Knight' is a difficult choice and he would go with both.
He also said that between and Bharat and India, he will go with India that is Bharat.
He made the remarks at a conclave, a video of which was shared on Congress official X platform.
In the video, Rahul Gandhi can be seen taking the rapid fire quiz.
When asked if whom he will choose between Godfather and Dark Knight, Rahul Gandhi said he would go with both as it's a difficult choice and both are very deep movies.
On another choice between Bharat and India, Rahul Gandhi's answer was 'India that is Bharat'.
Between Messi and Ronaldo, Rahul Gandhi chose Ronaldo and said he likes Ronaldo's kindness but as a footballer, Messi is better than Ronaldo. "If I was running a football team and I am asked who would I prefer, I would probably prefer Messi," Rahul Gandhi said.
Between Netflix and workout, Rahul Gandhi chose workout; could not choose any between Indian cuisine and Chinese as both are his favourite.
Between Bharat Jodo beard and a clean-shaved look, the Congress MP said he is not attached to these things.
"I am never too concerned about beard hai, nahi hai. I am okay with everything," the Congress leader said.
To another question if he would not been a politician, he could have been 'anything', he said.
"When I am talking to my nephew and his friends, I am a teacher. When I am in the kitchen, I am a cook. Politician is just one frame of me. We all have many different frames," Rahul Gandhi explained.
The Congress MP took this rapid-fire quiz at a media conclave where he said he prefers football to cricket. And hence, when he was asked to choose between Virat Kohli and Rohit Sharma, Rahul Gandhi said, "Either one as I am not a huge cricket fan. I know that's not a good thing to say."
He also spoke about his motorcycle tour of Ladakh, Leh and Kargil and said, "Political tours typically involve holding public meetings and then returning. I don't think that format is powerful anymore."
He emphasised that when we conduct tours now, we think deeper about the message we are trying to convey.
"The message we wanted to give to the people of Ladakh is that we are not going to let inaccessibility or bad roads stop us from reaching every corner of Ladakh. We won't allow people to feel that they are so far away that we can't reach out to them," the Lok Sabha MP from Kerala's Wayanad said.
He asserted that tourism is vital for Ladakh and it's the lifeline of the region.
"It's so beautiful, and we wanted to convey multiple messages through the Ladakh tour, which proved effective. It continued the idea of Bharat Jodo Yatra format. This is the best way to connect with people," he said.
He also said that in 21st-century India, the communication architecture is so heavily influenced by the BJP that it is practically impossible to reach people through it.
"It's very clear that all my social media handles are being suppressed, and you can see it. So, the yatra was a necessity to communicate with the people. Regardless of what we say in the opposition, it doesn't get through without distortion in the national media," he said while talking about his Bharat Jodo Yatra.
"For me, the big learning was the old-style communication, which Mahatma Gandhi ji pioneered - going and meeting people," he said.
"No matter how much effort the BJP puts in or how much the media tries to distort it, it doesn't work. It's almost like a reversal of mass media capture. The personal learning was that where you think your limit lies, it is nowhere near where it actually lies. Your limit is much further than you can imagine," he added.
(The content of this article is sourced from a news agency and has not been edited by the ap7am team.)