Democracy being 'demolished' brick by brick in Andhra Pradesh: Nara Lokesh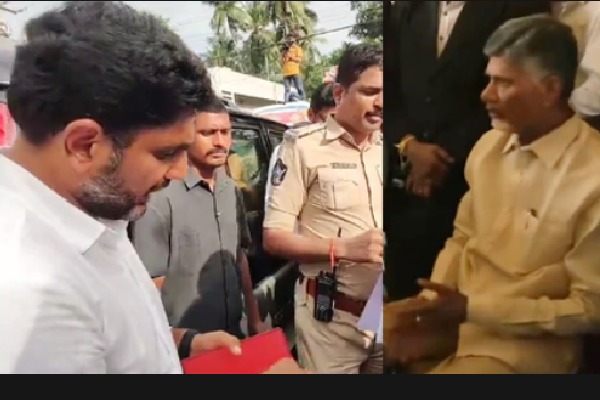 Vijayawada, Sep 24: Telugu Desam Party (TDP) general secretary Nara Lokesh on Sunday alleged that democracy is being demolished brick by brick in Andhra Pradesh.
He slammed the state government for deploying a large number of police personnel on the state border to stop a rally of IT professionals from Hyderabad to Rajahmundry in support of TDP supremo and former chief minister N. Chandrababu Naidu.
"Deployment of a large police force to halt a car rally and the intrusion into the WhatsApp messenger app on the phones of everyday citizens raise significant concerns. Even in the most critical situations, an innocent individual's privacy should not be violated," Lokesh posted on X, formerly Twitter.
"The situation in Andhra Pradesh is eroding democratic principles, akin to oppressive regimes like North Korea. Democracy is being demolished brick by brick," wrote Lokesh, who is son of Chandrababu Naidu.
Meanwhile, Lokesh's wife Nara Brahmani also posted on X that encroachment of fundamental rights and human rights is at its peaks in Andhra Pradesh. She said it was shocking that Andhra Pradesh police are resisting hard working IT professionals' peaceful car rally from Hyderabad to Rajahmundry to express their support for Chandrababu Naidu. She thanked the techies for the rally.
In another development, leaders of Jana Sena Party (JSP) of actor politician Pawan Kalyan called on Brahmani in Rajahmundry. The JSP leaders conveyed solidarity with Naidu's daughter-in-law. They discussed the latest political situation in the state.
Leaders of both the parties discussed plans to organize joint protest programmes against the arrest of the former chief minister.
Meanwhile, JSP leader and Pawan Kalyan's brother Nagababu said in Tirupati that their party cadres were pained over Naidu's arrest. He said JSP leaders and workers welcomed the decision to have an electoral alliance with the TDP. He hoped that BJP will also join hands with them.
Nagababu said he would beat up with footwear anybody calling Pawan Kalyan a package star.
Leaders of ruling YSR Congress Party (YSRCP) often target Pawan Kalyan over his friendship with TDP and call him a package star.
(The content of this article is sourced from a news agency and has not been edited by the ap7am team.)