Ageas Federal Life Insurance reimagines the future in its new brand campaign - Sachinverse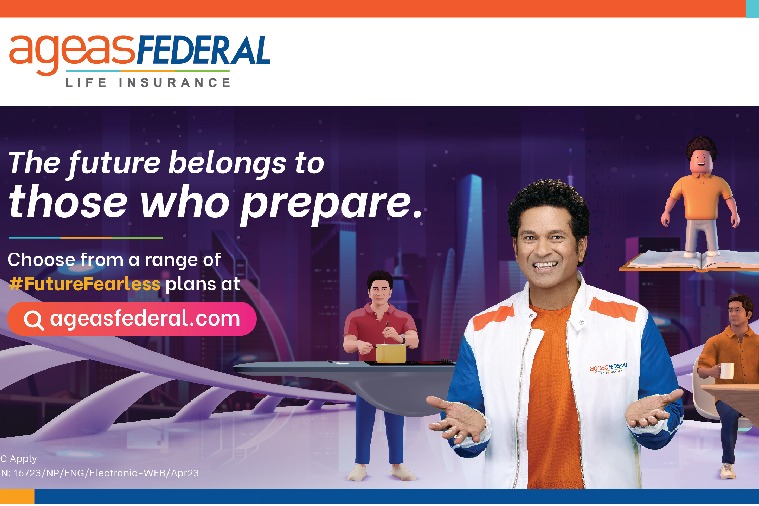 Hyderabad, May 26, 2023: Ageas Federal Life Insurance, one of India's most reputed private life insurance companies today, launched its new brand campaign – 'Sachinverse', an optimistic vision of the future.

The campaign launched with a film featuring cricketing legend and brand ambassador, Sachin Tendulkar that highlights how technology will deeply disrupt each and every aspect of life from education to social interaction, to mobility, to household chores and even cricket.

In a virtual 'Sachinverse', the different avatars of Sachin Tendulkar take viewers through various scenarios including a virtual cricket stadium, onion-chopping robots, holographic cafes and a driverless car all rendered in a heady mix of animation styles.

Driving home the message that while the future might be exciting, evolving and uncertain, by focusing on financial planning and investing in life insurance, one can face the future with optimism, hope and confidence.

Karthik Raman, Chief Marketing Officer and Head – Products, Ageas Federal Life Insurance said, "At Ageas Federal Life Insurance, we believe in staying ahead of the curve and doing things differently. A recent study* by McKinsey suggests that in the next five years, Gen Z, millennials and Gen X consumers may spend between four and five hours a day in the metaverse, using Augmented Reality (AR) and Virtual Reality (VR) devices.

As we gear up for a very different future, our latest campaign, Sachinverse talks about being prepared for a landscape that is rapidly being reshaped by technology. Building on our long-term brand philosophy of #FutureFearless, we continue to remind people that with timely investment in life insurance, they can be adequately prepared for any uncertainties or disruptions that life throws at us."

To execute the Sachinverse, multiple renditions of sketches were created to ensure that the physique and facial features closely resembled Sachin. Extra care was also taken to bring alive and recreate not only Sachin's character but also the different realms of the metaverse.

The Sachinverse campaign was conceptualized and created in partnership with VMLY&R India. It is a completely digital-led campaign using social media platforms, influencer pages, and different digital media like OTT platforms and news sites.

Rajshekar Patil, National Creative Director at VMLY&R said, "Ageas Federal Life Insurance's communication has been refreshing when compared to how the insurance segment communicates, with films like Young Sachin and The Boy Who Dreamed. Sachinverse is yet another refreshing take on the category. The idea of using the theme of technology and animation came naturally because audiences today want to see stories that reflect their world and also borrow from popular culture."

About Ageas Federal Life Insurance

Ageas Federal Life Insurance is one of India's growing life insurance companies and offers a diverse range of wealth management, protection, and retirement solutions to individual and corporate customers. Ageas Federal Life Insurance Co Ltd is a joint venture of Ageas, a multinational insurance giant based out of Europe and Federal Bank, one of India's leading private sector banks.

Having commenced operations in 2008, Ageas Federal was able to achieve breakeven within just five years; the Company's passion for innovation and growth helped it achieve this feat. Through a nationwide network of 3,200 branches including partner bank branches, and a sizeable network of advisors, Ageas Federal Life Insurance has achieved presence across the length and breadth of the country. As of March 31, 2023, the Company has issued over 16 lakh policies with a sum assured of over ₹1,37,632 crores. Ageas Federal Life Insurance has total assets under management of over ₹15,129 crore and a robust capital base of over ₹800 crores as of March 31, 2023.