Hyundai announces pandemic support initiatives
05-06-2021 Sat 16:59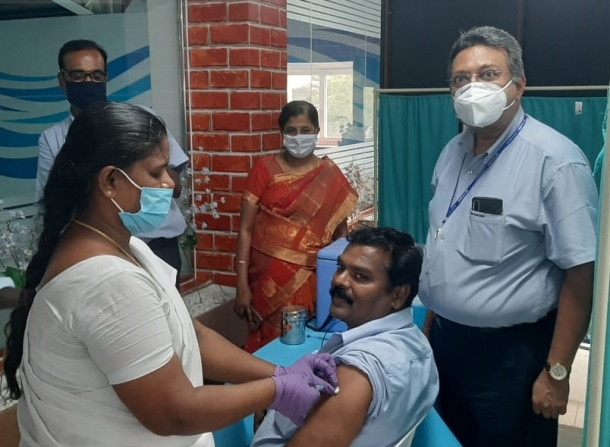 Empowering, Enabling and Supporting Employees; Hyundai Announces Pandemic Support Initiatives
Access to COVID-19 vaccine & insurance cover for employees & their families
Timely increments and promotions for employees
Continuous safety protocols are reiterated for wide awareness among employees and families
Chennai, June 5, 2021: Hyundai Motor India Ltd, country's First Smart Mobility Solutions Provider and largest exporter since inception, announced a series of initiatives undertaken to help and support its employees across the country during the ongoing second wave of COVID- 19 pandemic. As a responsible and caring brand, Hyundai Motor India always prioritizes health and safety of its employees and workforce. Adhering to the strict safety guidelines and compliance of State Government, we have resumed our plant operations in two shifts from May 31, 2021.
Commenting on employees centric measures, Mr. Stephen Sudhakar, Sr. Vice President & Unit Head – People Strategy and Business Support, Hyundai Motor India Limited, said, "Hyundai is built on the strong foundation of a value system which defines our ultimate purpose and encourages us to achieve our goals. As the country continues to respond to COVID-19, we are working to do our part by ensuring the safety and well-being of our employees. We are closely monitoring the pandemic situation in the state and supporting the communities for an early recovery. We remain hopeful and confident that together we can overcome this crisis, and will continue to play our part in the solidarity to fight COVID-19."
During both the first wave and second wave, we have ensured we create proactive, robust policies and practices to benefit our employees and help drive economic recovery and normalcy in the country.
Vaccine drive & Insurance cover for all eligible employees & families
Vaccination is the way to build confidence, HMI has been organising in-house camp to drive vaccination with the support of hospitals and now has commenced a vaccination drive for employees, dependants and personnel. In addition, HMIL has announced to extend the vaccination and insurance cover to all dependent family members of employees.
Emergency paid special leave benefit
To encourage employees to take care of themselves and their loved ones, HMIL is providing adequate paid leave with a confirmed COVID-19 diagnosis, a presumptive diagnosis, or who are exhibiting symptoms consistent with COVID-19.
Timely execution of Compensation Benefits
On-time annual incentives and bonus followed by implementation of promotion and compensation revisions announced and implemented effective April 1, 2021. HMIL also announced increments higher than the proposed industry increase including contract workers.
Supporting employees' physical, emotional, financial & social well-being
Hyundai also announced COVID 3.0 benefits to ensure company stands with its people in such tough times to ensure their wellbeing. A number of programs include:
Virtualization and digital workspace solutions help drive business continuity. Placing employees' health and safety as top priority, all functions including sales & marketing workforces are now operating on hybrid work modes. To ensure interpersonal interaction, all meetings, conferences and employee engagements have been moved to the virtual platform
Help Desk which works 24/7 to provide COVID-19 Health care to employees and their dependents
Strategic tie-ups with hospitals, procurement of oxygen and critical medicines, exclusive COVID-19 Care Centre with 20 oxygen-supported bed facility and a COVID-19 ward with 50 beds at Saveetha hospital near HMIL plant
Enhanced medical coverage specially for COVID-19, providing immunity and safety kits periodically for employees and their families to recuperate. All employees at the factory are given a Self-Monitoring Health Kit comprising of pulse oximeter and infrared thermometer
Regular awareness sessions conducted by our in-house Chief Medical Officer and other medical experts (external) for employees, apprentice & trainees, service provider personnel
Interest-free loan up to Rs. 3 lakh is offered additionally to all employees for any Covid-related expenses
In the unfortunate case of loss of life, additional death benefits are provided for the deceased employee's family
Hyundai (+) – is a specially developed app for all employees with features like – social distancing, COVID-19 related information & government guidelines, etc
Ensuring basic COVID-19 related SOPs are adhered to by increasing the bus fleet and canteen seating arrangements for employees along with recommendation for strict observance of personal hygiene practices. Structured disinfection and sanitisation schedules covering all touch-points at the workplace
Continuous safety protocols are reiterated for wide awareness among employees and families through various platforms to be safe at work, during commute to work and at home
Mandatory RT-PCR test for all new recruits
Hyundai has a deep commitment to our communities in times of need. We truly believe that through these sustained efforts we try to reach and touch the lives of people not just in the Hyundai family but across societies & communities at large.
---
More Press Releases
PM delivers keynote address at the UN 'High-Level Dialogue on Desertification, Land degradation and Drought'
5 hours ago
Minister Harish Rao holds a meeting on cultivation of Oil Palm
5 hours ago
Alumni of IIT Madras donates over 200 Oxygen Concentrators to Telangana
6 hours ago
GO FIRST inks partnership with DreamFolks, introduces Departure Lounge service
6 hours ago
Digital Showroom, India's first O2O brand providing businesses their own website through phones
8 hours ago
Salute to all the blood donors: Governor Tamilisai
9 hours ago
Flipkart Wholesale sees 3x increase in digital adoption among kiranas in India
10 hours ago
Centre allocates Rs 3,183cr to Andhra Pradesh under Jal Jeevan Mission in 2021-22
10 hours ago
Shyam Steel India becomes the Official Partner of ICC World Test Championship Final
13 hours ago
PAYBACK India Supports 'YouWeCan' Mission 1000 Beds Drive
13 hours ago
PM congratulates Naftali Bennett on becoming the PM of Israel
15 hours ago
Telangana Covid Vaccination update as on 13.06.2021 at 09PM
16 hours ago
StanPlus to expand its Red Ambulance network pan-India
2 days ago
TCL gears up for new TV launch
2 days ago
Recommendations of 44th GST Council Meeting
2 days ago
Telangana Covid Vaccination update as on 11.06.2021 at 09PM
2 days ago
Maa TV announces the fourth season of Sixth Sense
2 days ago
Flipkart to conduct pilot on drone deliveries of vaccines in Telangana
3 days ago
Governor and CM extend a warm welcome to CJI at Raj Bhavan - Hyderabad
3 days ago
10 రోజుల్లో ఇళ్లు శుంకుస్థాపన‌కు సిద్దం కావాలి: ఏపీ మంత్రి వెల్లంపల్లి
3 days ago
Minister Talasani holds a review meeting with Engineering officials
3 days ago
తెలంగాణ అటవీ కళాశాల, పరిశోధనా సంస్థకు మరో గుర్తింపు
3 days ago
Sony announces BRAVIA X90J series
3 days ago
CS Somesh Kumar reviews progress of Haritha Haram
3 days ago
Livinguard AG protects Indians from Black Fungus
3 days ago