Doctors successfully removed an orbital tumor in a Woman's eye
24-02-2021 Wed 14:46
"Doctors successfully removed an orbital tumor in a Woman's eye through nose endoscopy surgery by KIMS ICON Hospital Vizag."
Visakhapatnam, February 24, 2021: A Woman suffering from a tumor sized about a size of an amla in her left eyeball by Kims Icon hospital doctors by performing a rare nose endoscopy surgery here in Visakhapatnam. Housewife (34) from Yalamanchili suffering from headache and bleeding from her left nostril. has consulted Kims Icon Hospitals ENT department head and consultant surgeon Dr.T. Sai Balarama Krishna. The doctor said he identified a tumor in her eye after performing various tests and removed it with nose endoscopic surgery.
Dr.T. Sai Balarammakrishna explains about this rare surgery 'when the woman complained of bleeding from her left nostril . However, such nasal problems are usually diagnosed with nose endoscopy and we did a nose endoscopy and didn't find a problem, then a CT scan of nose and sinuses was taken and noticed a tumor in the left orbit or the eye ball socket, pushing the eyeball outwards and will cause pressure on the eye ball muscles and the nerve supplying the vision if left unattended
The tumor from the inner aspect of the eye was removed by nasal endoscopic approach after in consultation with ophthalmologist and taking all precautions.
Previously eye surgeries like DCR , optic nerve decompression are performed by nasal endoscopic route, but removal of eye ball tumour through nose is first of its kind in his experience and as a rare surgery which requires skill and precision apart from high end endoscopy equipment and instrumentation said the surgeon. Another sensitive aspect of this surgery is that the inner membrane of the tumor is tightly attached to the muscles of the eye ball and it was removed in total without any damage to the surrounding tissues. Such surgeries have been very rare till date. The patient said that she had suffered a minor head injury six years ago. If the tumor had not been removed, the pressure on the eye would have increased and there would have been a risk of complete loss of vision.
The patient recovered rapidly after the surgery. She said the bleeding had stopped and the headache had completely subsided. She was subsequently discharged' he added.
Dr. Sai Balaramakrishna said that the tumor biopsy has reported it as Epidermoid cyst. However, it has been confirmed that there are no cancer features in the histopathlogy examination by the pathology lab.
Nose endoscopy usually clears the problems in the nose and sinuses and also if there is any fluid leak from the brain or any tumors in the brain from skull base area . However clearance of eye tumour in the eye through nose endoscopy method by avoiding any scar on the face and with preservation of the eye sight is very satisfying " Dr. Sai Balaramakrishna expressed his happiness.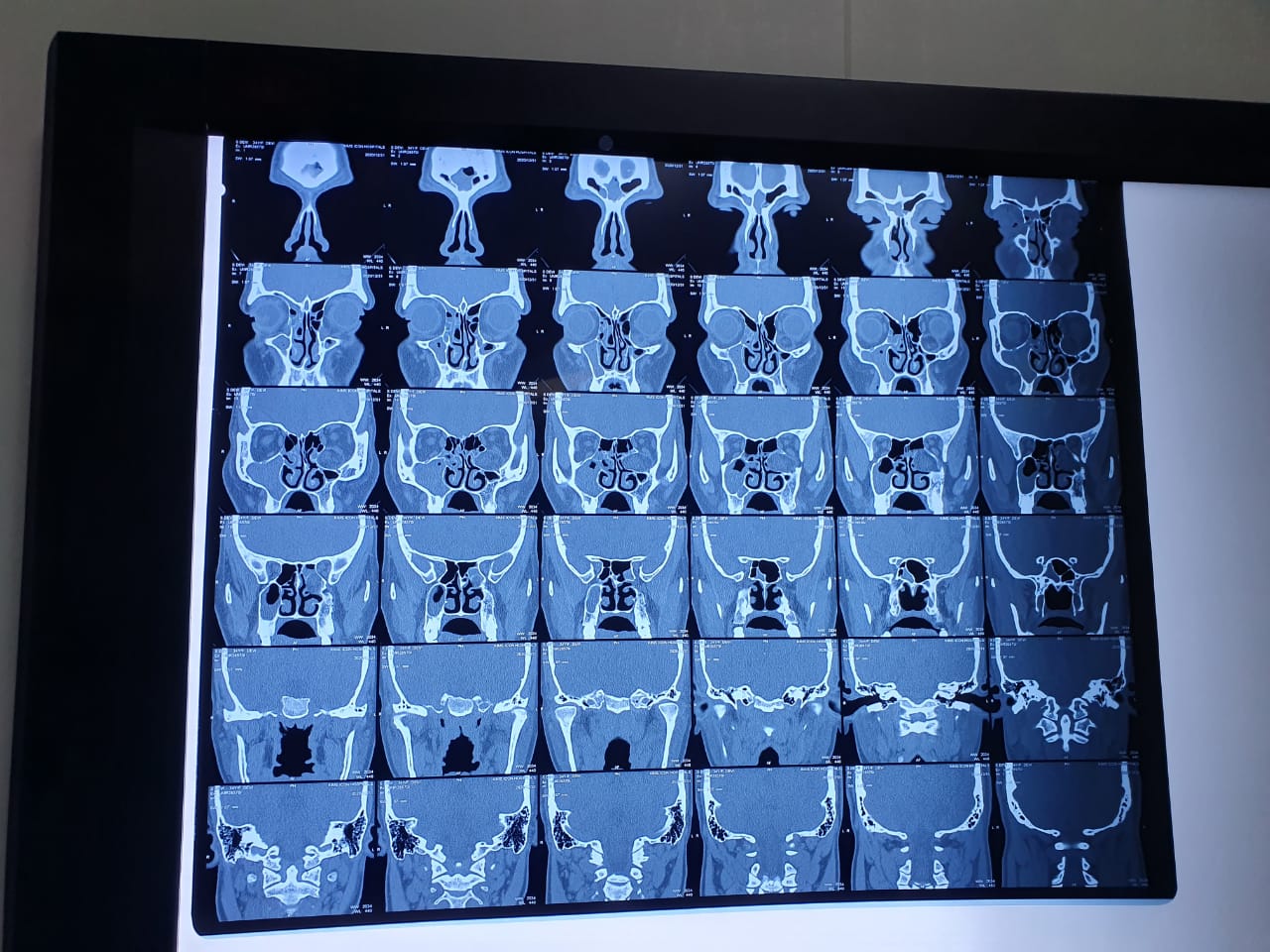 ---
More Press Releases
Union Minister launches "World 1st affordable and long-lasting hygiene product DuroKea Series", developed by IIT Hyderabad
5 hours ago
మాజీ మంత్రి చందూలాల్ మృతి పట్ల హోంమంత్రి మహమ్మద్ మహమూద్ అలీ తీవ్ర సంతాపం
5 hours ago
Shyam Steel India embarks on a vision to build the nation; Launches their new TVC Campaign
6 hours ago
Hyundai Motor India Continues Leadership in Exports
9 hours ago
PM reviews status of oxygen availability to ensure adequate supply
11 hours ago
Governor Tamilisai directs IRCS to intensify COVID service activities
11 hours ago
Five-fold increase in cases of advanced cataract and dry eyes during the pandemic
12 hours ago
నిమ్స్ మాజీ డైరక్టర్ డా.కాకర్ల సుబ్బారావు మృతి పట్ల సీఎం కేసీఆర్ సంతాపం
14 hours ago
Telangana Covid Vaccination update as on 15.04.2021at 9PM
16 hours ago
Union Health Ministry issues Regulatory Pathways for foreign produced COVID-19 Vaccines
1 day ago
SpeedForce Football Academy crowned Mini HFL Champions
1 day ago
పర్యాటక, చారిత్రక నేపథ్యం గల ప్రాంతాల అభివృద్ధికి ప్రణాళికలను రూపొందించండి: అధికారులకు మంత్రి శ్రీనివాస్ గౌడ్ ఆదేశం
1 day ago
Pension Fund Regulatory and Development Authority (PFRDA) FY 2020-21 Big Data Disclosure
1 day ago
రానున్న రెండు, మూడు నెలలు కరోనా విస్తరణపై అప్రమత్తంగా ఉండాలి: మంత్రి ఇంద్రకరణ్ రెడ్డి
1 day ago
Unforgettable Oscar moments over the last 2decades
1 day ago
Godrej & Boyce:Godrej material handling launches the new PRO Series Reach Truck
1 day ago
Fifth Convocation of PJTSAU to be held on 17th April 2021
1 day ago
ప్రతి ఒక్కరు టీకాను విధిగా వేసుకోవాలి: ఐసీఎంఆర్ సలహాదారు బిపి ఆచార్య విజ్ఞప్తి
1 day ago
TECNO ropes in Bollywood Superstar Ayushmann Khurrana as its Indian brand ambassador for 2021
1 day ago
Experience The Laptops Of Tomorrow with the newest edition of ASUS ZenBook Dual Screen Laptops in India
1 day ago
AdmitNXT to revolutionise the admission process in India
1 day ago
World's rarest endoscopic treatment was successful in Kims Kurnool
1 day ago
PM interacts with the Governors on Covid-19 situation and Vaccination Drive in the country
1 day ago
Telangana CS holds a meeting on Covid-19 situation in the State
1 day ago
Funskool India Ltd. launches 40 new products across various categories
1 day ago