CVoter Survey reveals 60% think Modi has improved India's global image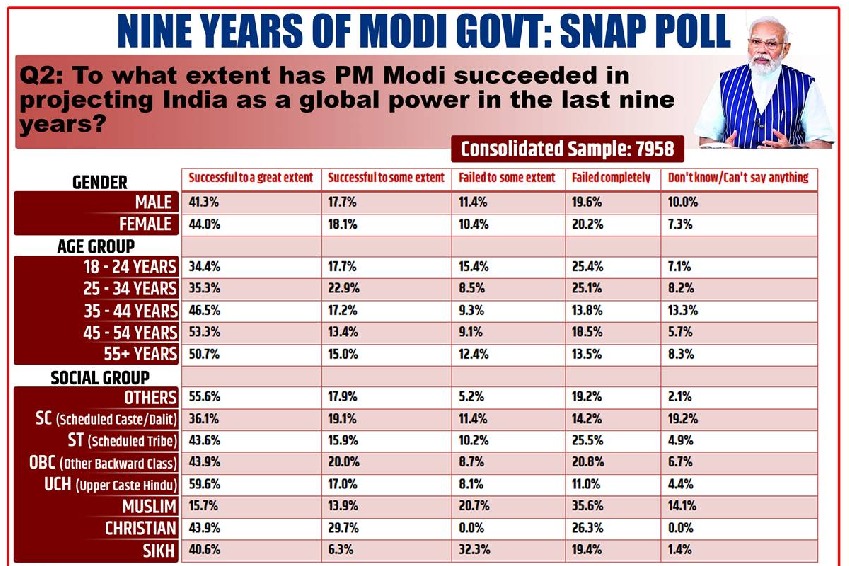 New Delhi, May 26 : Three out of every five Indians are of the opinion that Prime Minister Narendra Modi has been successful in projecting India as a global power over the last nine years.

This was revealed during an exclusive pan-India survey conducted by CVoter to mark nine years of the NDA regime headed by Modi.

Modi was sworn in as the Prime Minister on May 26, 2014, after leading the BJP to a historic majority of its own in the Lok Sabha elections.

Since then, Prime Minister Modi has continuously and aggressively promoted the interests of India in scores of bilateral and multilateral meetings with leaders of other countries.

The impact of this outreach has been so significant that 50 percent of Indians who voted for the opposition also agree with the contention.

This is rare because supporters of opposition parties have usually given a thumbs down to the Modi regime on various issues not just in this survey, but many others conducted by CVoter over the years.

The only category of Indians who think Modi has failed to project India as a global power in the last one years is Muslims; close to 56 percent of them are of the opinion he has failed.

Apart from that, a big majority of Indians across demographics and ethnic identities are of the opinion that Modi has been successful in projecting India as a global power.

One of the more interesting findings of the survey is that more rural Indians (61.4 percent) agree with the contention than their urban counterparts (58.3 percent).

From his first visit as Prime Minister to the US in August 2014, Modi has maintained an extremely hectic schedule of diplomatic engagements.