Trump won't be handcuffed when he surrenders: Lawyer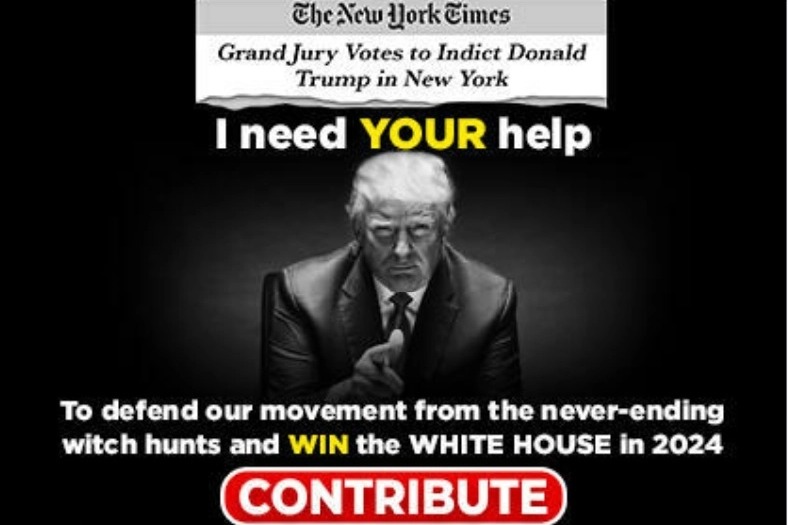 New York, April 1: When former US President Donald surrenders to authorities in New York on April 4 he will not be handcuffed, according to his lawyer Joe Tacopina. "The (former) resident will not be put in handcuffs," he told ABC News on Friday. He will be accompanied by Secret Service Agents who are required to protect him as a former President making the surrender complicated.

"I don't think they're going to allow this to become a circus, as much as humanly possible", Tacopina said. On a CBS TV programme he said that Trump is "not worried at all", but added, "he's upset, angry he is being persecuted politically".

Trump will be produced in a New York State Supreme Court, which despite its name is the first-level judicial body in the state.

Acting State Supreme Court Justice Juan Merchan, who is expected to preside over the case, can either release him with or without bail, or order him held in custody.

Trump faces charges relating to hush money paid to adult film star Stormy Daniels who alleged he had an affair with him in 2006.

A grand jury indicted him in the case on Thursday, but the charges will be announced only when he surrenders and it is unsealed in court.

The $130,000 payment and the affair -- which Trump has denied -- are not illegal, but he faced allegations of bookkeeping irregularities in recording the payments and of violating election finance laws.

The payments were allegedly recorded as fees to his former lawyer Michael Cohen who had given Daniels the money.

Cohen was convicted in a federal court on charges of violating election laws by making the payments while Trump was running for president in 2016 and sentenced to three years in prison.

He is the prime witness in the case being pursued against Trump in local courts by Manhattan prosecutor Alvin Bragg, who was elected to the post as a Democratic Party nominee.

"While our country was going to hell," Trump posted on social media, "the radical left Democrats" have "gone too far indicting a totally innocent man in an act of obstruction and blatant election interference".

President Joe Biden refused to be drawn into the indictment controversy as that would only back Republican assertions about a politically motivated case.

"I'm not going to talk about the Trump indictment", he told reporters who asked him about it and stuck to "no comment" as they kept rephrasing the question.

Vice President Kamala Harris took the same line.

At a news conference in Zambia, where she was on a tour of Africa, Harris said: "I am not going to comment on an ongoing criminal case as it relates to the former president."

Former Speaker Nancy Pelosi said: "No one is above the law, and everyone has the right to a trial to prove innocence. Hopefully, the former president will peacefully respect the system, which grants him that right."

But Republicans rallied around Trump and even his rivals for the party's presidential nomination came out with messages of support.

Florida Governor Ron DeSantis, considered Trump's main rival in the 2024 polls, said: "The weaponisation of the legal system to advance a political agenda turns the rule of law on its head."

Former Vice President Mike Pence, who has been heavily criticised by Trump, called it an "outrage".

Nikki Haley said on Fox TV: "This is more about revenge than it is about justice."

Vivek Ramaswamy called it "un-American for the ruling party to use police power to arrest its political rivals".

When a person facing charges surrenders to a New York court, the person is fingerprinted, photographed and handcuffed.

Often the alleged "perpetrator" is also paraded in handcuffs before news cameras in a ritual known locally as "perp walk".

Trump will likely be fingerprinted and photographed.

"As far as a mugshot's concerned, perp walk, as I said, I'm sure they'll try to make sure they get some joy out of this by parading him," Tacopina said of the prosecutors.

"We'll proceed to see a judge at some point, plead not guilty, start talking about filing motions, which we will do immediately and very aggressively regarding the legal viability of this case."

Politico reported that according to Trump's campaign, he will go to New York from Florida, where he lives at his Mara-a-Lago resort, on April 3night.

He will appear in court at 2.15 p.m. on April 4 and return to Florida the next day, with no public events scheduled in New York.

Trump attacked Merchan saying he "hates me" and claimed that Bragg had "handpicked" him for the "witch hunt case".

A court official said that Merchan was randomly picked for the case.

Merchan presided over two tax cases involving two Trump Organization companies that ended in their conviction and in a case involving the former chief financial officer of a Trump company, Allen Weisselberg, admitting he was guilty of charges of tax fraud.