Telangana BJP chief refuses to apologise to KTR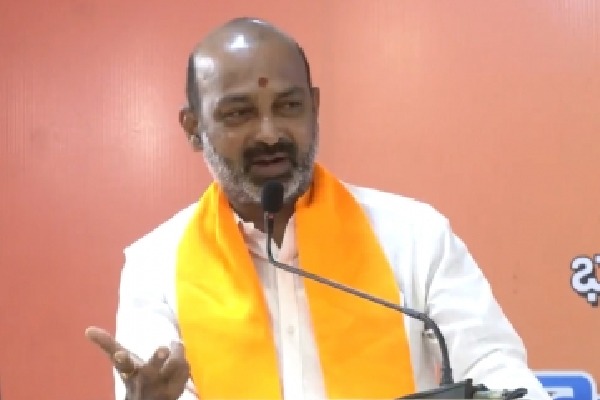 Hyderabad, March 29: Telangana BJP President Bandi Sanjay Kumar on Wednesday said he would legally counter the notice served by Industries and Information Technology Minister K.T. Rama Rao but ruled out tendering an apology.

Rama Rao had Tuesday served legal notices to Bandi Sanjay and state Congress chief Revanth Reddy over their allegations against him in Telangana State Public Service Commission (TSPSC) paper leak issue, asking them to withdraw their allegations and tender public apology or face defamation suit to the tune of Rs 100 crore.

Reacting to this, Bandi Sanjay said he would legally counter the notice and made it clear that he will not be scared of "empty threats" of KTR, as the minister is popularly known. "If the damage to KTR's reputation is Rs.100 crore, what is the damage caused to the future of 30 lakh youth," he asked.

Sanjay remarked that attempting to make money in the name of defamation is shameful. The BJP leader said KTR had alleged that he was involved in paper leakage. "What is the damage I should claim from him," he asked.

He reiterated the demand that the paper leakage issue should be investigated by a sitting judge of the high court and that the state government should pay Rs 1 lakh compensation each to every unemployed person who suffered because of the paper leak. He said the BJP was also fighting for dismissal of KTR from the cabinet.

The BJP leader said KTR owes an answer to the people of Telangana how he amassed hundreds of crores after coming to politics.

KTR's lawyer had Tuesday sent legal notices to Revanth and Sanjay. The notice said that unless the leaders refrain from making such defamatory statements and tender a public apology, KTR will take forward the legal proceedings and file a defamation suit in the courts of competent jurisdiction.