TSPSC paper leak: SIT begins questioning three accused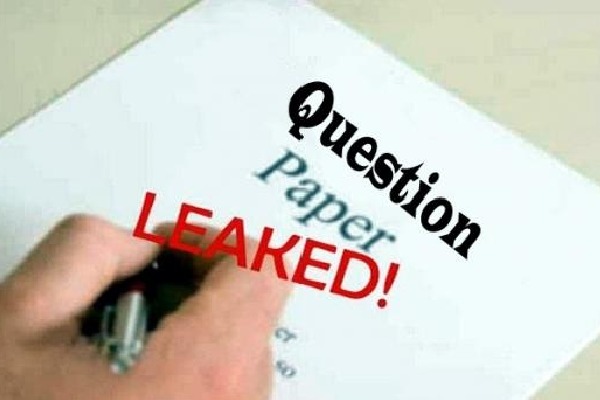 Hyderabad, March 29: The Special Investigation Team (SIT), probing the Telangana State Public Service Commission (TSPSC) question paper leak case on Wednesday began questioning three more accused in the case.

The SIT officials took custody of Shameem, Damera Ramesh Kumar and N. Suresh after a court sent them to police custody.

Shameem and Ramesh are employees of TSPSC while Suresh is a former outsourcing employee. They were arrested on March 23 and the police had found that they obtained the question paper of Group I prelims from the main accused.

The questioning of the trio began a day after police custody of four accused, including Praveen Kumar and Rajasekhar Reddy, both TSPSC employees, came to an end.

The SIT also grilled Lavdyavath Dhakya and Rajeshwar Nayak for three days. The four accused were sent back to jail after they were produced before the court.

A total of 15 people have so far been arrested in the case which came to light on March 13 with the arrest of nine accused. On Monday, the SIT arrested the 15th accused Thirupathaiah, who had helped Dhakya in finding the buyers for the Assistant Engineer (Civil) exam paper.

Praveen, who worked as an assistant section officer at TSPSC and Rajashekar Reddy, a network admin at TSPSC, had allegedly stolen question papers of some exams from a computer in a confidential section of the Commission and sold it to other accused.

Along with Praveen and Rajasehkar, the police had arrested Praveen's friend Renuka, a teacher and her husband Lavdyavath Dhakya, who took the papers and sold it to others with the help of Kethavath Srinivas, a police constable from Medchal.

The TSPSC scam came to light on March 12 which led to the arrest of 15 accused besides the cancellation of the Group 1 preliminary examination, Assistant Engineers, AEE, and DAO exams.

The TSPSC also postponed the written examination for the posts of Town Planning and Building Overseer and Veterinary Assistant Surgeon.

Meanwhile, the TSPSC rescheduled the written examination for the post of Horticulture Officer, which was originally scheduled to be held on April 4. The exam will now be conducted on June 17.