Congress in MP stages protest over Rahul's disqualification from LS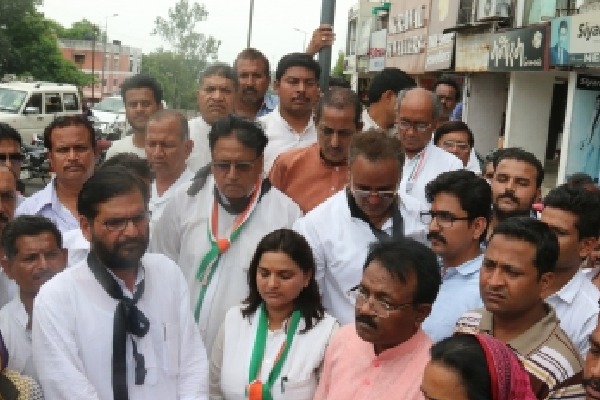 Bhopal, March 25: Enraged over Congress leader Rahul Gandhi's disqualification from the Lok Sabha following his conviction in a defamation case, party members in Madhya Pradesh staged a massive protest on Friday.

The Congress workers across Madhya Pradesh, holding party's flags, took out rallies on roads, blocked traffic and raised slogans against the BJP and Prime Minister Narendra Modi.

Hundreds of NSUI workers reached Rani Kamalapati Railway Station in Bhopal and blocked a couple of trains. However, railway officials later jumped into action and train services were started after disruption of around an hour.

The protest was not limited to the state capital Bhopal only. As per reports, Congress workers across Madhya Pradesh marched on roads holding 'mashals' (torches) in their hands and shouting slogans against Prime Minister Modi.

In Gwalior, youth Congress workers burnt the effigy of the BJP and blocked vehicular movements at several junctions in the city.

Similarly, in Rewa, hundreds of party workers holding 'mashals' marched on the road in support of their leader, Rahul Gandhi.

Reacting to the matter, former chief minister and Madhya Pradesh unit Congress chief Kamal Nath criticised Prime Minister Narendra Modi, stating "the BJP government has crossed all limits in hatching a conspiracy".

"The way his (Rahul Gandhi) Lok Sabha membership has been cancelled, it is clear that the Modi government is scared of Rahul Gandhi. Instead of answering the questions raised by him, the government was looking for a way to remove him from the Lok Sabha. Today is a day of great sadness and pain for Indian democracy," Kamal Nath said.

"Today, the people of India stand with Rahul Gandhi stronger than ever before. Justice will be done," he added.