Telangana Congress leaders placed under house arrest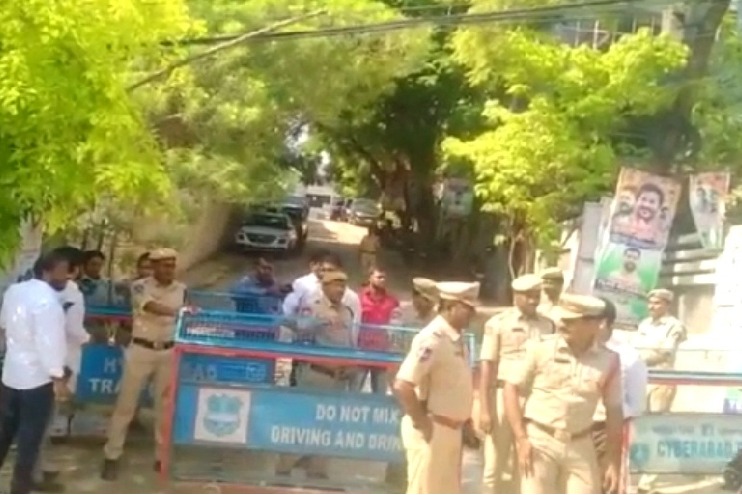 Hyderabad, March 24: Telangana Congress president A. Revanth Reddy and other party leaders were placed under house arrest on Friday to prevent them from joining a protest at Osmania University over Telangana State Public Service Commission (TSPSC) exams question paper leak.

Revanth Reddy was detained at his house in Jubilee Hills ahead of Vidyarthi Nirudyoga Maha Nirasana Deeksha or protest by students and unemployed at Arts College on Osmania University campus. Large number of police personnel were deployed outside his residence and barricades were erected to prevent him from leaving his residence.

The protest was planned by the Osmania University Students Joint Action Committee. Police, however, denied permission for the same.

Police have also placed under house arrest other Congress leaders like Mallu Ravi, Addanki Dayakar and leaders of JAC.

Revanth Reddy took to Twitter to condemn the house arrest. He said instead of sending police to house arrest him, Chief Minister KCR and minister KTR should come forward for a debate on the question paper leak in the presence of Osmania University students.

Revanth Reddy, who is also a Member of Parliament, said: "If CM KCR and KTR have no role in paper leak, they should accept his challenge."

TPCC spokesman Addanki Dayakar condemned the police action. He alleged that the BRS government was trying to muzzle the voice of opposition. He slammed the government for placing Congress leaders under house arrest for a second consecutive day.

Several Congress leaders were kept under house arrest on Thursday to prevent them from joining Revanth Reddy during the latter's appearance before the Special Investigation Team (SIT) which is probing the TSPSC paper leak case.

The SIT had summoned Revanth Reddy to provide evidence in support of certain allegations made by him in the paper leak case.