Kavitha leaves ED office after third round of questioning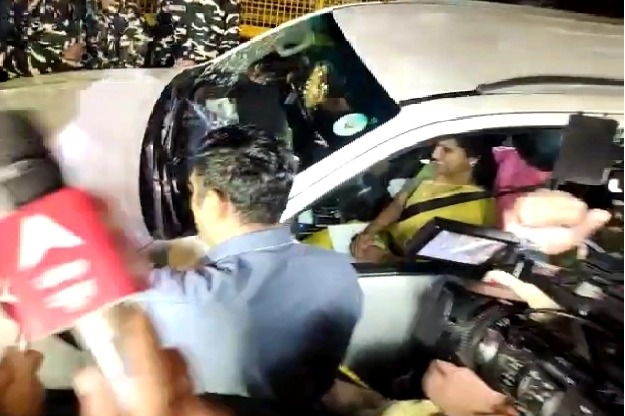 New Delhi: K. Kavitha, the daughter of Telangana Chief Minister K. Chandrasekhar Rao, left the Enforcement Directorate (ED) headquarters on Tuesday night after being grilled for hours for the third time in connection with the 2021-22 Delhi excise policy case.

Earlier on Tuesday, when she had reached the ED office, she was showing as many as nine cellphones which she handed over to the ED officials. The ED had alleged that the BRS MLC had destroyed around 10 cellphones connected to the case.

On Monday, Kavitha was grilled for almost 10 hours during her second round of questioning, in which she was confronted with co-accused and documentary evidence.

Kavitha had earlier said that she wouldn't join the probe at the ED office, but was ready to answer the queries through email and at her home. Later she changed her mind and joined the probe.

During her first appearance, she was reportedly confronted with Arun Pillai, who represented the 'South Group' which allegedly gave kickbacks of Rs 100 crore to AAP leaders which was allegedly used during the Assembly polls in Goa.

Pillai has reportedly said that he was Kavitha's associate.

Last Wednesday, the ED had recorded the statement of Buchchi Babu, Kavitha's former auditor and also a member of the South Group.

Kavitha has been maintaining that she has never met former Delhi Deputy Chief Minister Manish Sisodia, who has been arrested by the CBI and the ED in connection with the case, claiming that her name is being unnecessarily dragged into the matter.

According to the ED, Kavitha is also one of the representatives of South Group in the excise policy case.