TSPSC paper leak: Telangana SIT summons state BJP chief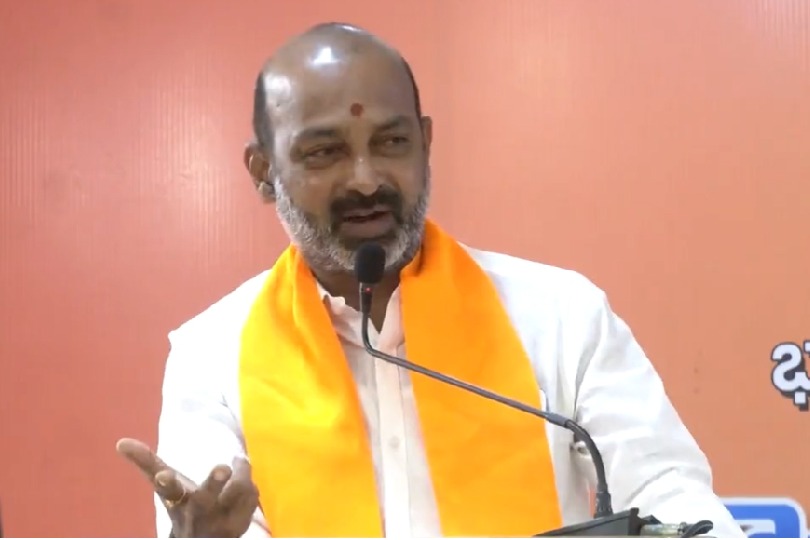 Hyderabad, March 21: The Telangana government's Special Investigation Team (SIT), probing the Telangana State Public Service Commission (TSPSC) question paper leak, on Tuesday summoned state BJP President Bandi Sanjay Kumar to appear before it on March 24 and submit evidence in support of the allegations he made.

This came a day after a similar summon was issued to Congress state chief A. Revanth Reddy. The Congress leader has been asked to appear on March 23.

In the notice issued to Bandi Sanjay, the SIT has asked him to share the information and claims made on paper leak and proof of the same. The BJP leader has been asked to provide proper evidence regarding the allegations.

The SIT issued the notice under Section 91 of CrPC (summons to produce a document or other things) recounting a statement made by him that more than 50 persons from one mandal in Jagtiyal district qualified in the exam conducted by the TSPSC. He had stated that six candidates from a small village qualified and they are all children or relatives of BRS leaders.

Reacting to the notice, Bandi Sanjay said he would not appear before SIT. He, however, said he would present all evidence only if a committee headed by a sitting judge of the High Court was formed on the paper leak issue.

The SIT had issued a notice to Revanth on Monday. It has referred to the statement made during a press conference on March 19 that candidates belonging to a mandal from which minister KTR's PA Tirupati, and the accused Rajashekar Reddy hail have secured over 103 marks in Group 1 prelims.

Revanth Reddy stated that he would bring all the information he had to the SIT's notice. He, however, alleged that the government served the notices with the objective to harass them.

The Congress leader also said that he would approach the High Court if the police do not issue notices to KTR and other ministers for declaring that only two individuals were responsible for the leakage of the question papers.

The police last week arrested nine persons in connection with the leakage.

The TSPSC had conducted the examination on March 5 for 833 vacancies of Assistant Engineer, Municipal Assistant Engineer, Technical Officer, and Junior Technical Officer in various engineering departments. A total of 55,000 candidates had written the exam.

However, the Commission suspected leakage of the question paper and lodged a complaint with the police.

Following the arrest of the accused, the Commission cancelled the exam and also postponed other exams scheduled to be held later this month.

Amid doubts that the accused may have leaked question papers of some other exams, the Commission on Friday decided to cancel three other exams including Group I Prelims.

Nearly 2.86 lakh aspirants of Group I posts had appeared in Group-I exam conducted on October 16, 2022.