SFI-led alliance sweeps Hyderabad University polls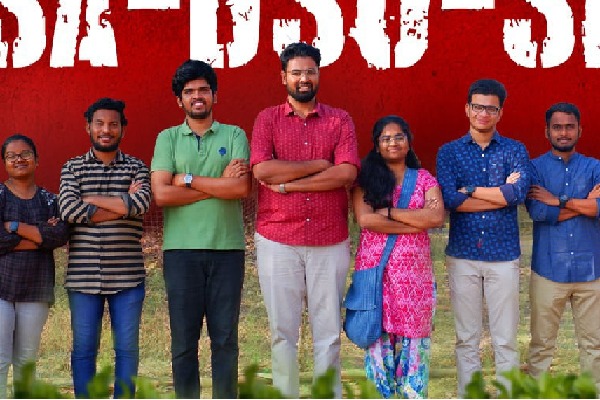 Hyderabad, Feb 26: ASA-SFI-DSU alliance has swept the elections for University of Hyderabad Students' Union for 2022-23, bagging all key posts.

For the first time, two Dalit queer persons have been elected, including for the post of president.

The Ambedkar Students' Association-Students' Federation of India-Dalit Students' Union (ASA-SFI-DSU) alliance trounced the panel of Akhil Bharatiya Vidyarthi Parishad (ABVP)-OBC Federation-Sevalal Vidhyarthi Dal alliance in the elections held on Friday.

The Alliance for Social Democracy comprising Bahujan Students Front, Fraternity Movement, Muslim Students Federation-National Students Union of India, and Tribal Students Forum finished third.

Prajwal Gaikwad, a Dalit queer person, has been elected as the president of the Students' Union.

Prajwal, who secured 1,838 votes, defeated his nearest rival Balakrishna of ABVP-led alliance by 608 votes

ASA-SFI-DSU alliance also won the posts of vice-president, general secretary, joint secretary, sports secretary and cultural secretary.

Pruthvi Sai of the ASA-SFI-DSU won the vice-president post with 1,860 votes.

Kripa Maria George was elected general secretary. Kathi Ganesh won the joint secretary's post. C.H. Jayaraj was elected as the sports secretary while Likith Kumar was elected to the post of cultural secretary.

Hritik Laxman Lalan, a Dalit trans woman, was elected as one of the three members to the Gender Sensitisation Committee Against Sexual Harassment.

The supporters of ASA, SFI and DSU took out a victory march on the campus of the central university.

ASA-SFI-DSU alliance had made the centralisation of education, corporatisation, stopping of universities' autonomy, revocation of fellowships, and the implementation of entrance examinations like the Common University Entrance Test for national admission as their election issues.

The polling day saw clashes between supporters of ABVP and SFI.

Leaders of the SFI alleged that ABVP goons attacked SFI members. They said the ABVP men tore posters of ASA-SFI-DSU alliance. When caught and questioned, they started beating cadres by chasing them room to room, the SFI said.

ABVP has also claimed that its cadres were attacked by the rival alliance.