1st Test, Day 1: Jadeja's 5/47, Rohit's 56 not out put India on top after Australia bowled out for 177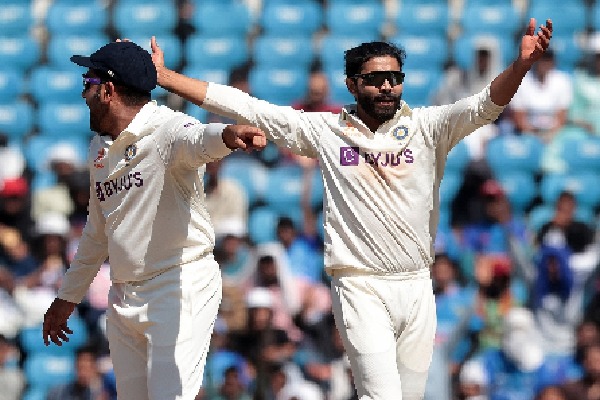 Nagpur, Feb 9: Skipper Rohit Sharma struck a breezy half-century after Ravindra Jadeja claimed a fifer in his first Test after a five-month injury break as India bowled out Australia for 177 in their first innings and shaved off 77 runs from that on the opening day of the first Test of the four-match Border-Gavaskar Trophy series at the Vidarbha Cricket Association Stadium, here on Thursday.

With the focus on the pitch described by the Australians as tailor-made for the Indian spinners, Jadeja put India on top by claiming 5-47 and Ravichandran Ashwin claimed 3/43 as India dominated the visitors.

Rohit slammed his half-century off 66 deliveries and shared a 76-run partnership with K,L Rahul as India set themselves up for a big total. But they let slip some of that advantage when Rahul (20 off 71 balls) was caught and bowled by debutant off-spinner Todd Murphy off the penultimate over of the day. At stumps, Rohit was batting on 56 off 69 balls, nine fours and 1 six, with Ravichandran Ashwin yet to score a run as India trailed Australia by 100 runs with nine wickets in hand.

Earlier, Australia skipper Pat Cummins won the toss and elected to bat first on a pitch with low bounce which offered occasional spin and were soon down to 2-2 in the third over. Their struggles on the opening day were interspersed by two half-century partnerships -- an 82-run stand between Marnus Labuschagne (49) and Steve Smith (37) for the third wicket and a 53-run stand for the sixth wicket between Peter Handscomb (29 batting) and Alex Carey (36). Though the pitch was difficult to bat on, Labuschagne and Smith showed that one can score runs on it as they carried Australia to 76/2 at lunch.

Jadeja made the breakthrough for India in the fourth over after lunch was taken with Australia 76/2, as he broke the 82-run partnership for the third wicket between Labuschagne and Smith. He enticed Labuschagne out of his crease and the ball spun away from the good length spot to avoid the bat. Bharat did a superb job to stump the Aussie batter smartly, getting out one run short of his half-century.

A delivery later, Australia were down to 84/4 when Matt Renshaw was caught plumb by Hadeja with a delivery that turned big and went past the edge to hit the front pad. Australia crossed the 100-run mark off 40.3 overs.

And when Jadeja claimed Steve Smith as his third victim of the afternoon session, Australia had half of their side inside the pavilion with 109 runs on the board. Jadeja got Smith out with a beautiful delivery that spun a little and straightened to rattle the off-stump as the Aussie batter played for a big turn and missed it completely.

Peter Handscomb and Alex Carey denied India the next success as they raised a 53-run partnership for the sixth wicket, upping the pace of scoring as they attacked the bowlers.Their partnership was in total contrast to the one by Smith and Labuschagne as it came in 63 balls while the one for the third wicket came off 128 balls.

Carey was the more aggressive of the two as he struck seven boundaries in Ashwin for his 450th victim in Test cricket as the Aussie keeper bottom-edged into the stumps. This was another delivery that stayed low and Australia were down to 162/6 in the 54th over.

Australia lost their last four wickets for 15 runs as India cleaned up the tail in quick time. Jadeja completed his five-wicket haul when he claimed Todd Murphy (0) lbw. Only four Australian batters made it to double figures as the Indian bowlers dominated.

Before spinners' show, pacers Mohammad Shami and Mohammed Siraj set the ball rolling by reducing Australia to 2/2 in the third over -- sending back Usman Khawaja and David Warner for one run each, both openers caught on the crease.

Smith and Labuschagne buckled down for a partnership and took Australia past the 50-run mark. They were severely tested by the Indian bowlers -- especially the spinners on a pitch of variable bounce as some deliveries were skidding and jumping while others were keeping low. Both the pacers bowled superbly as they provided the breakthrough, though the spinners could not get a wicket in the morning session despite all three being pressed into action.

Axar Patel could have got the third wicket but Virat Kohli dropped a sharp chance to his right off Smith when the batsman was on six runs. Patel went wicketless in the first innings.

The duo survived more than a few unplayable deliveries with the ball skidding on occasions. Labuschagne struck Siraj for two fours in the fourth over, one off a half-volley and another, a deliberate edge past the keeper along the ground. Siraj beat him all ends up off the last ball of the over, with an outswinger from wide off the crease.

He struck five more boundaries in the first session, the pick of them being a drive off Shami wide off mid-on. He was nearly out when a delivery from Axar Patel skid off the patch near the good length spot and Labuschagne just managed to keep it out. Australia went for lunch at 76/2 in 32 overs with Labuschagne batting on 47 and Smith on 19. Things went downhill once Labusagne was out.

His departure triggered a collapse from which Australia recovered thanks to the partnership between Peter Handscomb and Alex Carey only to lose wickets in a heap again, losing the advantage of the brave decision to bat first on the wicket.

Brief scores: Australia 177 all out in 63.5 overs (Marnus Labuschagne 49, Steve Smith 37, Alex Carey 36, Peter Handscomb 31; Ravindra Jadeja 5-47, Ashwin 3-42) lead India 77/1 in 24 overs (Rohit Shama batting 56; Kl Rahul 20, Murphy 1-13) by by 100 runs.