Turkey-Syria quake toll rises above 3,500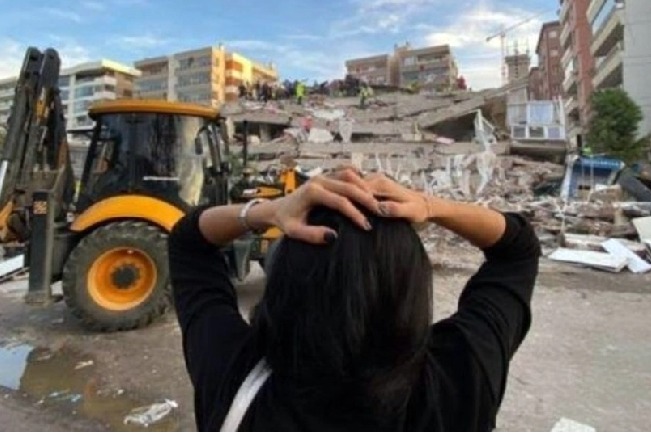 Istanbul/Damascus, Feb 7: Over 3,500 people were killed - more than 2,370 in Turkey and at least 1,400 in Syria, thousands more were injured, and extensive damage was caused in both countries, including fires in fuel pipelines and oil refineries, as a massive quake, measuring 7.8 on the Richter scale, struck the two countries' border region early on Monday.

As rescue teams scrambled in freezing weather to extricate trapped people from under debris of collapsed buildings and arrange shelter for the affected, another major earthquake, measuring 7.5, rocked the same region, as did dozens of after-shocks. Some of these were so powerful as to be classed as major quakes in their own right.

The death toll in Turkey has risen to 2,379, according to Vice President Fuat Oktay, while more than 14,483 people have been injured after the two quakes.

He said that there were as many as 145 aftershocks following both quakes, three of whose magnitudes were larger than 6.

Figures from Syria put the toll at above 1,444, across government and rebel-held areas, the BBC reported.

The 7.8 magnitude quake struck near Turkey's Gaziantep early on Monday (local time) and its tremors were said to be felt all around the Middle East region from Cairo to Beirut to Baghdad. It even prompted Italy to declare a tsunami warning.

The new 7.5-magnitude tremor hit at around 1.30 p.m. local time and was described, by officials, as a new quake, not an aftershock.

Pictures from the affected areas were harrowing, showing widespread destruction of public and private property, including some ancient cultural sites, and traumatised people. People, who were lucky enough to escape into the open, were seen crying about their kin still trapped under the debris of collapsed buildings as others tried to provide solace and assurance.

Turkish President Recep Tayyip Erdogan's adviser Inur Cevik, terming the disaster "widespread and devastating", said there was no shortage of resources in trying to find survivors, but rather that it was a race against time.

"The adverse weather conditions and people that are under the rubble, you have to save them before the weather drops in and kills these people because of the cold, so people who are now under the rubble, there's a mad rush to get them out," Cevik told the BBC.

"We have radars, body sensors, but you know there's so much widespread devastation that you can't reach everywhere - some of it you have to listen (for)... (People are asked to stay) silent so that they can hear some people calling for help."

The wave of destruction swept through 10 Turkish provinces, including Kahramanmaras, Gaziantep, Sanliurfa, Diyarbakir, Adana, Adiyaman, Malatya, Osmaniye, Hatay, and Kilis, while in Syria, northern Aleppo, Hama, Latakia, and Tartus were the affected areas, RT reported.

In both countries, the quake caused damage to key infrastructure. In Turkey's Kilis Province, natural gas pipelines ruptured, with the fuel bursting into large plumes of flame, according to footage circulating online. Operator BOTAS said it cut the flow, but pressurized gas in the pipeline continued to feed the fires.

In Syria, a refinery in the city of Baniyas, one of the largest in the country, had to be shut down for at least 48 hours due to cracks in the chimney of its power unit, the Ministry of Oil and Mineral Resources reported. Train services were also shut as a precautionary measure.