LS Speaker reviews preparations at Parliament ahead of Budget Session
28-01-2022 Fri 16:48 IST | IANS |
National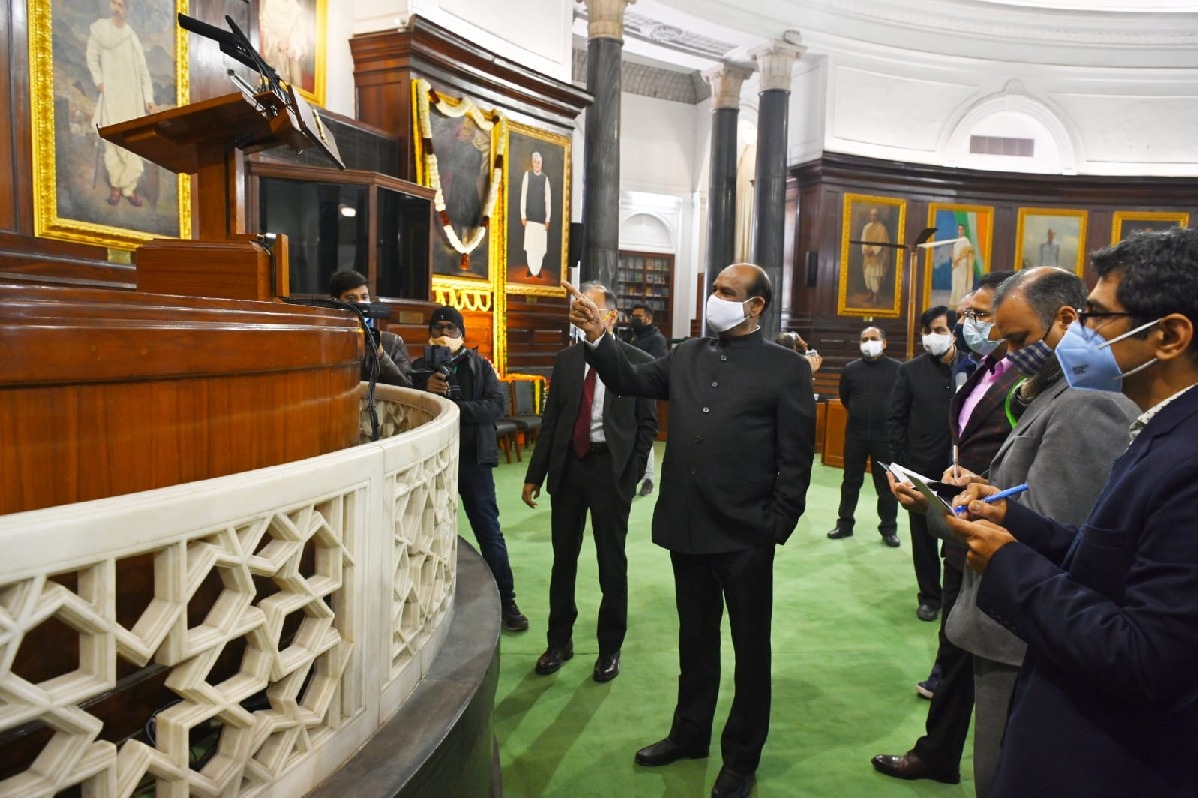 New Delhi, Jan 28: With the Budget Session of the Parliament scheduled to begin from January 31, Lok Sabha Speaker Om Birla on Friday took a stock of the preparations and also inspected various facilities in the Parliament House Complex.

Birla inspected the Lok Sabha Chamber, Central Hall and several other facilities in the Parliament House Complex.

The Speaker has issued instructions to ensure safety of the members, officials and the media persons during the Budget Session, keeping in view the necessary Covid-19 guidelines.

He was apprised about the implementation of the Covid protocol norms in Parliament House Complex by senior officials.

Birla was also briefed about the progress of the construction of the New Parliament Building.

He provided several inputs to ensure world class landscaping around the New Parliament Building. The Speaker also enquired about the building materials and architectural highlights of the building.

Birla directed the officials to ensure the maintenance work of Parliament House is taken up regularly, and stressed that the facilities should be improved with the use of latest technology.

He also directed the officials to undertake adequate safety measures for Members in both Lok Sabha and Rajya Sabha chambers.

During his inspection, Birla issued directions to ensure better facilities and maximum cleanliness in the media stands, lobbies and the Central Hall.

The Parliament will function in two shifts during the Budget Session from February under which the Rajya Sabha will function in morning, and the Lok Sabha in the evening, owing to the Covid situation.

The Budget Session will be held in two parts this year, from January 31 to February 11, and from March 14 to April 8. The Union Budget for FY23 will be tabled in the Parliament on February 1.

All Covid protocols will be in place in the Parliament to prevent the outbreak of the disease, officials said.

As per the schedule, President Ram Nath Kovind will address the joint sitting of both the Houses at 11 a.m. on January 31.

"During the sittings from 31.1.2022 to 11.2.2022, Lok Sabha and Rajya Sabha chambers and their galleries will be used for sitting of members in the wake of the Covid-19 pandemic," said a bulletin.

The bulletin said that members should arrive at the Parliament by 10.30 a.m. on January 31 in order to obviate any inconvenience.
---
More News
Andhra kept Covid mortality rate at lowest despite handicaps: Jagan
2 minutes ago
TRS leaders slam TPCC chief Revanth's comments on castes
13 minutes ago
Modi participates in event to launch Indo-Pacific Economic Framework for Prosperity
51 minutes ago
Kriti Sanon turns entrepreneur as she completes eight years in Bollywood
54 minutes ago
IPL 2022: Debutants Titans face off against Rajasthan Royals in direct ticket to final
57 minutes ago
Rolls-Royce India President Kishore Jayaraman receives honorary British award
59 minutes ago
Now get PAN card, driving licence via MyGov Helpdesk on WhatsApp
1 hour ago
Harish Rao makes surprise visit to Kondapur Area Hospital, suspends doctor
1 hour ago
Modi meets industry leaders in Japan, invites them to invest in India
2 hours ago
Naga Chaitanya discovers the best way to commemorate 'Manam' journey
2 hours ago
Chandrababu demands Jagan govt to slash taxes on fuel
2 hours ago
K'taka Cong MLA eats food removed from Dalit seer's mouth, video goes viral
2 hours ago
Class 10 exams begin in Telangana after 2-yr Covid gap
3 hours ago
Andhra joins WEF's global network of advanced manufacturing hubs
3 hours ago
Adivi Sesh's pan-India film 'Major' getting ready for nationwide previews
4 hours ago
Infosys reappoints Salil Parekh as CEO and MD
4 hours ago
I'm not running your Twitter account, Musk tells Pune techie
4 hours ago
NBK108: Anil Ravipudi reveals Sreeleela will play Balakrishna's daughter
4 hours ago
First schedule of Samantha-Vijay Deverakonda starrer 'Kushi' wraps up
4 hours ago
Global Covid caseload tops 525.5 mn
6 hours ago