R-Day: 'Abide With Me' hymn dropped from Beating Retreat ceremony
22-01-2022 Sat 22:53 IST | IANS |
National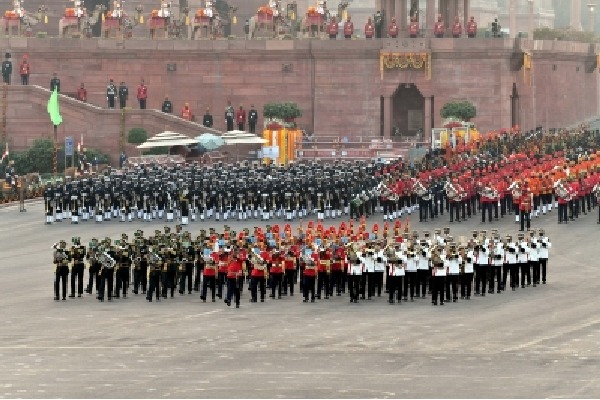 New Delhi, Jan 22: The iconic hymn 'Abide with Me', which was the key part of the Beating Retreat ceremony post Republic Day, has been dropped this year.

The hymn, known to be Mahatma Gandhi's favourite, triggered controversy in 2020 when it did not appear in the list of tunes.

'Abide with Me' is a military tune played after bugle was made to announce post sunset let's pick up injured and dead. It was mutually accepted war discipline across the world.

The tune 'Abide with Me' was played by military bands when the warriors were collecting their bravehearts.

It was rare that this solemn tune was not played during Republic Day.

The Beating Retreat on January 29 post Republic Day has been to pay respect to the fallen heroes. It was never celebration. And, 'Abide with Me' has been a respected tune.

Now with 'Abide with Me' missing in the Beating Retreat ceremony, and displaying of 1,000 drones is something which the forces have never imagined, said a source in the defence ministry. ....And this too when controversy of dousing of eternal flame at India Gate.

The tune 'Abide With Me' has been a regular feature in the band since 1950.

It has been noticed that over last few years, Indian compositions have made way in the military band termed as 'indigenisation' of tradition. Earlier, the force played mostly British martial tunes.

Interestingly, this year, Lata Mangeshkar-sung 'Ae Mere Watan ke logon' is on the list of tunes other than military compositions.

But removing of 'Abide with Me' has been questioned by many.
---
More News
Gautam Adani says PM Modi's Aatmanirbhar Bharat best way forward in new global conditions
51 seconds ago
Police complaints filed against Telangana BJP chief for hate speech
4 minutes ago
Nice to be back in Tamil Nadu, the land of Thiruvalluvar and Bharathi: Modi
1 hour ago
Centre is focused on infrastructure development: Modi
1 hour ago
'Dravidian Model': TN is state of inclusive growth, says Stalin
1 hour ago
PM Modi lays foundation stone for 11 projects worth Rs 31,500 cr in Chennai
1 hour ago
India women's cricket team to tour Sri Lanka in June for white-ball series
3 hours ago
PM Modi arrives in Chennai
3 hours ago
TRS banners with 17 questions greet Modi in Hyderabad
3 hours ago
IPL 2022: Security man lifts a fan who sneaks into field; Kohli reaction goes viral
4 hours ago
Kia to launch electric car with amazing features soon, bookings start
4 hours ago
Rajat Patidar postponed his marriage to take part in IPL 2022 after surprise RCB call-up
4 hours ago
CM Jagan accepted Chandrababu's proposal of renaming Konaseema district: GVL
5 hours ago
Reform, perform, transform define today's governance: PM Modi
5 hours ago
Vijay Devarakonda, Rashmika sizzle with style at Karan Johar's birthday bash
5 hours ago
Germany approves Bharat Biotech's Covaxin
5 hours ago
KCR, Deve Gowda discuss 'topics of national importance'
5 hours ago
Nation will hear sensational news within 2 to 3 months, says KCR
5 hours ago
Janhvi Kapoor to mark her debut in South with Jr NTR-Koratala film?
5 hours ago
CID case: AP High Court gives relief to former TDP minister Narayana
6 hours ago