Saints at Magh Mela want temples to be free from govt control
21-01-2022 Fri 09:08 IST | IANS |
National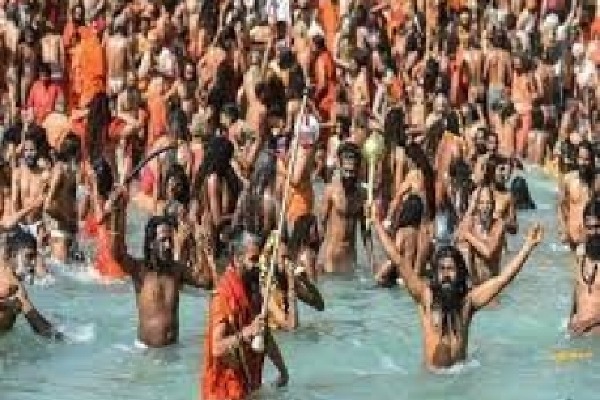 Prayagraj (Uttar Pradesh), Jan 21: Prominent seers, saints and religious organisations have demanded that Hindu temples and mutts across the country should be freed from the government control.

At a meeting held in the ongoing Magh Mela at the camp of Akhil Bhartiya Dandi Sanyasi Parishad, Peethadhishwar Swami Brahmashram Maharaj, along with seers and saints of different organisations demanded that temples and mutts should be free from government control.

Maharaj said that the government has no control over churches and mosques across the country, so why should Hindu temples and mutts be controlled by the government.

"There has been a 'sanatan dharam' tradition in which ashrams and Sanskrit schools are being run from temples. Government should adopt a similar policy and free temples from its control at the earliest," he said.

Brahmashram Maharaj further said that "Prominent seers, saints of the country would launch a mass movement soon to free Hindu temples and maths across the country from the control of governments."

He also said, "It's an irony that sanatan dharam and its followers have always been on the target of the government since post- Independence. Till now, not a single mosque or church across India was controlled by the government."

He stated that none of the governments had dared to look into the activities being done inside other religious places, except the temples.

Saints claimed that affairs of many prominent temples of our country are being looked after by the government.

Furthermore, there are some other temples and mutts which are being looked after by persons, who are of different religions and are not well aware of our religious practices and rituals.

Dandi sanyasi said that the governments should not have a say in managing funds, day-to-day affairs or for that matter the religious rituals and practices of temples and mutts.
---
More News
Nice to be back in Tamil Nadu, the land of Thiruvalluvar and Bharathi: Modi
38 minutes ago
Centre is focused on infrastructure development: Modi
41 minutes ago
'Dravidian Model': TN is state of inclusive growth, says Stalin
52 minutes ago
PM Modi lays foundation stone for 11 projects worth Rs 31,500 cr in Chennai
54 minutes ago
India women's cricket team to tour Sri Lanka in June for white-ball series
3 hours ago
PM Modi arrives in Chennai
3 hours ago
TRS banners with 17 questions greet Modi in Hyderabad
3 hours ago
IPL 2022: Security man lifts a fan who sneaks into field; Kohli reaction goes viral
3 hours ago
Kia to launch electric car with amazing features soon, bookings start
3 hours ago
Rajat Patidar postponed his marriage to take part in IPL 2022 after surprise RCB call-up
4 hours ago
CM Jagan accepted Chandrababu's proposal of renaming Konaseema district: GVL
4 hours ago
Reform, perform, transform define today's governance: PM Modi
4 hours ago
Vijay Devarakonda, Rashmika sizzle with style at Karan Johar's birthday bash
4 hours ago
Germany approves Bharat Biotech's Covaxin
4 hours ago
KCR, Deve Gowda discuss 'topics of national importance'
4 hours ago
Nation will hear sensational news within 2 to 3 months, says KCR
5 hours ago
Janhvi Kapoor to mark her debut in South with Jr NTR-Koratala film?
5 hours ago
CID case: AP High Court gives relief to former TDP minister Narayana
5 hours ago
Aamir Khan preps for hosting 'Laal Singh Chaddha' trailer event at IPL final
5 hours ago
Kamal Haasan to promote 'Vikram' in Hyderabad
5 hours ago