Andhra govt employees to serve strike notice on Jan 21
19-01-2022 Wed 21:53 IST | IANS |
Local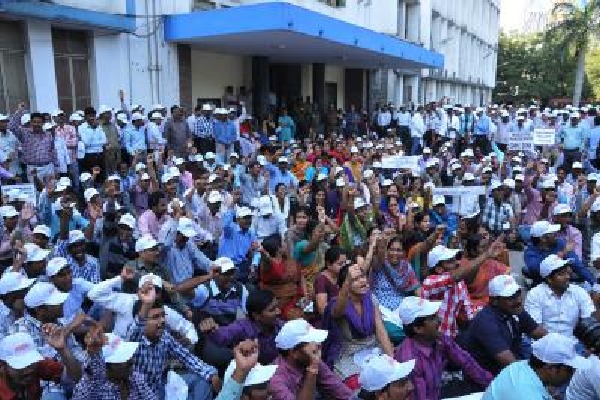 Amaravati, Jan 19: Andhra Pradesh Joint Action Committee (AP-JAC) of government employees on Wednesday ruled out talks with the government on pay revision and decided to serve strike notice on January 21.

While Chief Secretary Samir Sharma tried to pacify the employees saying the state lost huge revenues due to Covid-19 pandemic, the employees intensified the protest demanding the state government to roll back the Government Order (GO) relating to implementation of the Pay Revision Commission (PRC) recommendations.

The employees on Wednesday attended the offices wearing black badges while some protestors set afire the copies of GO at various places.

Leaders of AP-JAC on Wednesday set afire copies of GO at NGO office in Vijayawada.

AP-JAC chairman Bandi Srinivasa Rao told reporters that there will be no further talks with the government. The JAC executive council resolved at its meeting that the employees will never accept PRC.

He alleged that with the implementation of GO, each employee will lose Rs 6,000 to Rs 7,000 every month.

He said the strike notice would be submitted to the chief secretary on January 21. This will be 15-day notice. The employees' associations will chalk out protest programmes for this 15-day period on Thursday.

Stating that the pay revision announced by the government is far below the Interim Relief (IR), AP JAC chairman Srinivasa Rao and AP-JAC Amaravati chairman Bopparaju Venkateswarlu demanded that the government continue paying IR and also release the arrears of Dearness Allowance (DA).

They said there is no instance in the state's history of a pay revision being lower than IR.

Following the announcement made by Chief Minister YS Jagan Mohan Reddy early this month, the government on Monday issued a GO for 23 per cent hike in the basic pay. The employees had been receiving 27 per cent IR for last few months.

"Let the government continue paying earlier salaries with 27 per cent IR along with DA. We don't want pay revision,a said Srinivasa Rao.

Both Srinivasa Rao and Venkateswarlu made it clear that their protest will continue till the government rolls back the GO. The government would be responsible for the inconvenience caused to the public, they said.

They said the chief minister had promised 23 per cent fitment and Das but the salaries were far below the IR. A Central government scheme was introduced doing away with the House Rent Allowance (HRA).

The government had promised five DAs, but while implementing the same, it had done away with other benefits, they said.

Meanwhile, Chief Secretary Samir Sharma tried to pacify the employees. He told reporters that this is the best pay revision the government could offer in the present situation.

He appealed to employees to understand the circumstances in which the government had to take this decision. He said the state's revenues have slumped to Rs 62,000 crore from Rs 98,000 crore due to Covid-19 pandemic.

The chief secretary the employees need not have any apprehensions. He claimed that justice has been done to all and denied that there will be decrease in salary He hoped that all issues will be resolved soon.

Stating that the government was spending Rs 17,000 crore on IR, the chief secretary said employees also know that IR can't be treated part of salary. He pointed out that the government has also issued DA arrears and extended many other benefits.

Secretary general administration Sashibhushan Kumar said the implementation of PRC will impose an additional burden of Rs 10,247 crore on state exchequer. He said the PRC implementation will lead to substantial increase in the salaries of all employees from January.


---
More News
Telangana BJP aims big to poach on leaders of other parties
58 minutes ago
Venu Thottempudi's first look from Ravi Teja-starrer 'Ramarao On Duty' is out now
1 hour ago
Mukhtar Naqvi steps down as union minister, submits resignation to PM
1 hour ago
Punjab CM to tie the knot for second time
1 hour ago
'Godfather' team's blunder causes social media chaos
1 hour ago
'Thar' filmmaker Raj Singh Chaudhary shot ad film with Virat Kohli
1 hour ago
Admit Jai Maha Bharath Party chief in Erragadda hospital, VHP demands TS govt
2 hours ago
Consultative Committee of Defence Ministry to meet on Agnipath on July 8
2 hours ago
Car driven by minor runs amok in Andhra, 3 injured
2 hours ago
Bandi Sanjay submits 60 RTI applications seeking info on KCR salary & schemes
2 hours ago
India's squad for ODI series against West Indies announced, Dhawan to lead
2 hours ago
Shruti Haasan clarifies she is perfectly fine!
2 hours ago
Revathy on her 'Modern Love Hyderabad' role: She's someone I've played all my life
2 hours ago
SC declines urgent listing of plea seeking Nupur Sharma's arrest
3 hours ago
Assembly panel confirms TDP govt tried to remove 40 lakh votes using app
4 hours ago
Akhil Akkineni's 'Agent' release postponed again
5 hours ago
Jr. NTR consoles mother of fan died during treatment after road accident
5 hours ago
Aishwarya Rai's Queen Nandini look in Mani Ratnam's 'Ponniyin Selvan' released
5 hours ago
I-T raids Dolo-650 manufacturer Micro Lab office in Bengaluru
5 hours ago
Five civilians killed in Russian shelling in Ukraine's Donetsk Oblast
5 hours ago