30% people lose vaccine-acquired immunity after 6 months: AIG Hospitals Study
19-01-2022 Wed 18:03 IST | IANS |
Health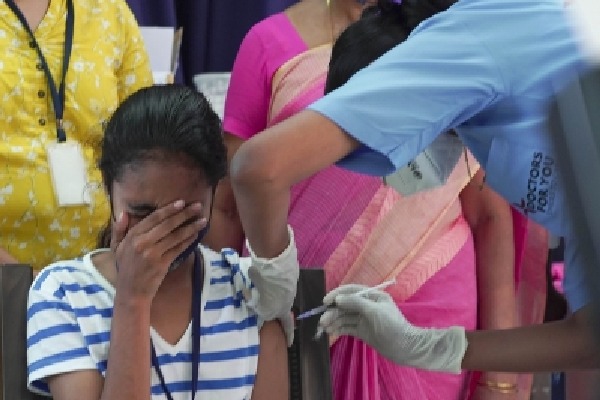 Hyderabad, Jan 19: Amid rising cases of Covid infection, even after record vaccination rate, a new study on Wednesday showed that about one in three individuals lose immunity post six months of taking the jab.

These individuals were majorly above 40 years and with co-morbidities like hypertension and diabetes, revealed the study led by AIG Hospitals along with the Asian Healthcare Foundation.

These people tend to have significantly less antibody response after six months of getting fully vaccinated and thus, are at a higher risk of SARS-CoV-2 infection.

The findings stress the need for boosters in these vulnerable people after six months.

"We are seeing a surge of infection across the country. Fortunately, the severity of the disease is mild because of multiple factors including the effect of vaccination, the intrinsic character of the variant itself, and natural immunity amongst the population," said Dr. D Nageshwar Reddy, Chairman, AIG Hospitals in a statement.

"The study aimed to understand the effectiveness of current vaccines over the long-term and see if there are specific population demography who need a booster at the earliest," he added.

The study was conducted on a large pool of 1,636 healthcare workers who were fully vaccinated.

Researchers measured the IgG anti-S1 and IgG anti-S2 antibodies to SARS-CoV-2 in all the participants.

It was estimated that an antibody level of 100 AU/ml is the minimum level for protection against the virus, which means any individual with less than 100 AU/ml antibody level is susceptible to getting infected.

Those who had antibodies levels less than 15 AU/ml were considered antibody negative, which means they didn't develop any protective immunity against the virus.

Out of the total, 6 per cent did not develop any immune protection at all, Dr. Reddy said.

The results clearly indicate that with age, immunity waning is directly proportional, which means that younger people have more sustained antibody levels than the elderly population.

Currently, there is a nine-month gap for booster doses that benefits 70 per cent of the population who can retain enough antibody levels beyond six months.

"However, considering the scale of our country, the 30 per cent people especially those with co-morbid conditions like hypertension, diabetes, etc., who are more prone to develop an infection after six months of getting fully vaccinated should also be considered for the prevention dose," Reddy added.
---
More News
Telangana BJP aims big to poach on leaders of other parties
7 minutes ago
Venu Thottempudi's first look from Ravi Teja-starrer 'Ramarao On Duty' is out now
10 minutes ago
Mukhtar Naqvi steps down as union minister, submits resignation to PM
24 minutes ago
Punjab CM to tie the knot for second time
49 minutes ago
'Godfather' team's blunder causes social media chaos
53 minutes ago
'Thar' filmmaker Raj Singh Chaudhary shot ad film with Virat Kohli
56 minutes ago
Admit Jai Maha Bharath Party chief in Erragadda hospital, VHP demands TS govt
1 hour ago
Consultative Committee of Defence Ministry to meet on Agnipath on July 8
1 hour ago
Car driven by minor runs amok in Andhra, 3 injured
1 hour ago
Bandi Sanjay submits 60 RTI applications seeking info on KCR salary & schemes
1 hour ago
India's squad for ODI series against West Indies announced, Dhawan to lead
1 hour ago
Shruti Haasan clarifies she is perfectly fine!
2 hours ago
Revathy on her 'Modern Love Hyderabad' role: She's someone I've played all my life
2 hours ago
SC declines urgent listing of plea seeking Nupur Sharma's arrest
2 hours ago
Assembly panel confirms TDP govt tried to remove 40 lakh votes using app
3 hours ago
Akhil Akkineni's 'Agent' release postponed again
4 hours ago
Jr. NTR consoles mother of fan died during treatment after road accident
4 hours ago
Aishwarya Rai's Queen Nandini look in Mani Ratnam's 'Ponniyin Selvan' released
4 hours ago
I-T raids Dolo-650 manufacturer Micro Lab office in Bengaluru
4 hours ago
Five civilians killed in Russian shelling in Ukraine's Donetsk Oblast
4 hours ago