Covid spurt in Telangana police department, secretariat
18-01-2022 Tue 18:48 IST | IANS |
Local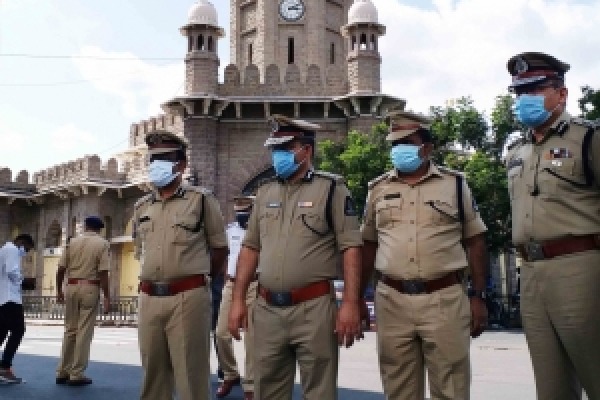 Hyderabad, Jan 18: Telangana police and state secretariat saw a big spurt in Covid-19 cases on Tuesday while state director of public health and family welfare has also tested positive.

While over 70 police personnel, mostly in Greater Hyderabad, were found infected, about 20 employees in the state secretariat have also tested positive.

State's director of public health and family welfare Dr G. Srinivasa Rao has also tested positive for Covid. The official said he has mild symptoms. "I am getting hospitalised for isolation and necessary symptomatic treatment," the director of public health tweeted.

He, however, said there was no cause for any worry or anxiety about his health and he would be back in action shortly.

He requested all to take good care against Covid by following Covid appropriate behaviour strictly.

About 20 Covid cases have been detected among employees at BRKR Bhavan, the temporary state secretariat in Hyderabad. Officials in general administration and education departments were found infected.

Sources said some IAS officers and senior officials were among those who tested positive.

The spread of Covid-19 pandemic is continuing unabated in the police department with over 70 cases being detected in a single day on Tuesday.

Majority of these cases were reported from various wings of police in Greater Hyderabad. At least 20 police personnel were found infected in Central Crime Station (CCS) and Cyber Crime wings.

A team of officials from Cyber Crime had recently visited Rajasthan. A sub-inspector reportedly tested positive on return but the virus already spread to some other officials working in the wing. Those tested positive were in home isolation.

Several police stations in and around Hyderabad have also reported multiple Covid cases. Narsingi police station on the outskirts reported 20 Covid cases. All the personnel who tested positive have quarantined themselves at home.

With a large number of cases being detected, special arrangements were made at Narsingi police station. The officials have erected a special tent in front of the police station building to receive complaints from the public.

Fifteen policemen were found infected in Hayathnagar police station. A sub-inspector and 14 constables have tested positive and they were all in home isolation.

Eight constables have tested positive for Covid at Chaitanyapuri police station. The officials have made special arrangements to check further spread. The visitors were asked to compulsorily wear masks and adhere to other precautionary measures.



---
More News
ICMR launches app for inflammatory bowel disease
4 hours ago
Telangana CM congratulates Nikhat Zareen
4 hours ago
'Tarbooz politics' in Pak: Politician distributes watermelons with his name carved on them
4 hours ago
RCB fans create Guinness World Record for Most Cricket Runs between the wickets in an hour
4 hours ago
Aishwarya Rai Bachchan dazzles in D&G
4 hours ago
PM Modi to visit Tokyo to attend Quad Summit
4 hours ago
Women's World Boxing: Nikhat strikes gold, becomes 5th Indian woman to bag yellow metal at Worlds
5 hours ago
'F3' producer Dil Raju to go with low ticket prices for his film
6 hours ago
'SVP' director's defence of controversial scene faces backlash
7 hours ago
'Hand can also be weapon': SC on 1-year rigorous imprisonment for Navjot Singh Sidhu
7 hours ago
Sequel to Nandamuri Balakrisha-Boypati Sreenu 'Akhanda' is on the cards
8 hours ago
Natural Star Nani likely to team up with Super Star Mahesh Babu in Trivikam's movie
8 hours ago
Bindhu Madhavi, Akhil Sarthak in the race to bag Big Boss OTT trophy
9 hours ago
Andhra Pradesh CM flags off 175 veterinary ambulances
9 hours ago
BCs in TDP only for photo-op: Beeda Mastan Rao
9 hours ago
Jr NTR, Koratala Siva pre-look poster out, film to be an action mass entertainer
9 hours ago
Putin's daughter Katerina's lover is called Zelensky
10 hours ago
206 kidney stones removed from man in Hyderabad
10 hours ago
Will submit to majesty of law, says Sidhu on one-year jail term
10 hours ago
PM's Hyderabad visit to rev up Telangana BJP
10 hours ago