Lata Mangeshkar's health worsens, nobody allowed to meet her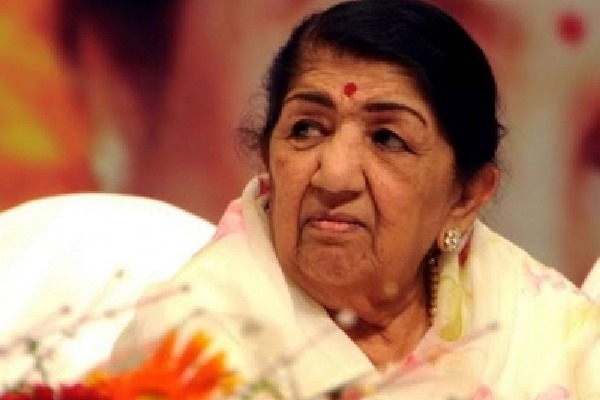 Mumbai, Jan 16: The health condition of India's singing icon Lata Mangeshkar, who was admitted to Mumbai's Breach Candy Hospital after she tested positive for Covid-19, has worsened.

The 92-year-old Bharat Ratna awardee has developed pneumonia in addition to Covid and has been admitted to the ICU, where a team of doctors is taking care of her.

At this point, nobody is allowed to meet the singer as she continues to be under the supervision of doctors, who have said that it will take some more time for her to show signs of recovery. The doctors did not wish to comment on how long she needs to be in the ICU.

'India's Nightingale' had tested positive on Tuesday, January 11, after reportedly contracting the virus from one the house helps.
---
More News
Parents proud as Nikhat Zareen braves all odds to attain glory
33 minutes ago
Australia name cricket squad for CWG; to face India in opening fixture
35 minutes ago
Lalu, daughter Misa raided by CBI in 'land for job' scam
44 minutes ago
Global Covid caseload tops 523.9 mn
46 minutes ago
These elephants are smarter than humans!
1 hour ago
Twitter's new policy to hide tweets with false information during crisis
1 hour ago
India to introduce indigenous TB infection skin test 'c-TB'
3 hours ago
IPL 2022: Kohli blitz takes Bangalore to fourth place with 8-wicket win over Gujarat
4 hours ago
KCR to embark on nation-wide tour from Friday
4 hours ago
ICMR launches app for inflammatory bowel disease
11 hours ago
Telangana CM congratulates Nikhat Zareen
11 hours ago
'Tarbooz politics' in Pak: Politician distributes watermelons with his name carved on them
11 hours ago
RCB fans create Guinness World Record for Most Cricket Runs between the wickets in an hour
11 hours ago
Aishwarya Rai Bachchan dazzles in D&G
11 hours ago
PM Modi to visit Tokyo to attend Quad Summit
11 hours ago
Women's World Boxing: Nikhat strikes gold, becomes 5th Indian woman to bag yellow metal at Worlds
12 hours ago
'F3' producer Dil Raju to go with low ticket prices for his film
13 hours ago
'SVP' director's defence of controversial scene faces backlash
14 hours ago
'Hand can also be weapon': SC on 1-year rigorous imprisonment for Navjot Singh Sidhu
14 hours ago
Sequel to Nandamuri Balakrisha-Boypati Sreenu 'Akhanda' is on the cards
15 hours ago