KTR taunts PM over lunch with workers in Varanasi
19-12-2021 Sun 19:10 IST | IANS |
Local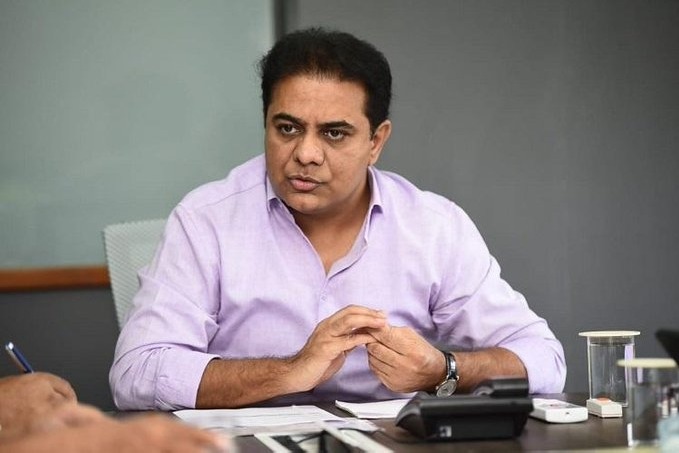 Hyderabad, Dec 19: Telangana Rashtra Samithi (TRS) Working President K. T. Rama Rao has taunted Prime Minister Narendra Modi over dining with construction workers of Kashi Vishwanath Dham Corridor.

"Wonder where this love & empathy was when millions of migrant workers were walking hundreds of kilometres," Rama Rao tweeted along with a picture of Modi dining with construction workers and six pictures of migrant workers walking during Covid-19 induced pandemic.

"In fact Govt of India coerced the states for train fares for shramik rails," added Rama Rao referring to the special trains operated to help workers reach their homes.

KTR, as Rama Rao is popularly known, also wrote in Telugu that whenever there are elections, the BJP dines with workers while at other times, migrant workers are left to fend for themselves.

During his visit to Varanasi on December 13, Prime Minister Modi had lunch with construction workers who worked on the Kashi Vishwanath Corridor project.

Assembly elections in Uttar Pradesh are due in February-March next year.
---
More News
DGCA warns airlines against offering unserviceable seats
4 hours ago
Aishwarya Rai's modelling bill from '92 surfaces; she was paid Rs 1,500!
4 hours ago
BFI, SAI felicitate World Championships medallists Nikhat, Parveen and Manisha
4 hours ago
Violence in Andhra town over renaming district after Ambedkar
5 hours ago
Hyderabad youth jailed for 15 days for sending obscene photos
6 hours ago
India-Japan agree to enhance bilateral security & defence cooperation
6 hours ago
Public confidence must for using facial recognition with AI: KTR
6 hours ago
Will fight attempts of Centre to target my father through me: Karti Chidambaram
6 hours ago
KCR to avoid meeting PM Modi again
8 hours ago
TDP, Jana Sena behind violence in Amalapuram over district renaming row: Minister Viswarup
8 hours ago
Modi meets chairperson of Japan-India Association in Tokyo
9 hours ago
Proposed GPS to govt staff after assessing state's financial position: Sajjala
10 hours ago
Drones prohibited around ISB Hyderabad for PM's visit
10 hours ago
PM to visit Hyderabad, Chennai on May 26 for various programmes
10 hours ago
AI to make roads in India safer to drive
10 hours ago
KTR meets Andhra CM Jagan, Aaditya Thackeray
10 hours ago
Gudur: Gang war between B. Tech & polytechnic students of Audisankara Engg College
11 hours ago
Why YSRCP, TDP, Jana Sena scared of BJP, asks Vundavalli
11 hours ago
TPCC chief Revanth is blackmailer, alleges Minister Malla Reddy
12 hours ago
I look forward to further strengthening Olympic Movement in India: Nita Ambani on launch of OVEP in Odisha
12 hours ago