Delhi Police removing barricades at Tikri, Ghazipur borders
29-10-2021 Fri 11:50 IST | IANS |
National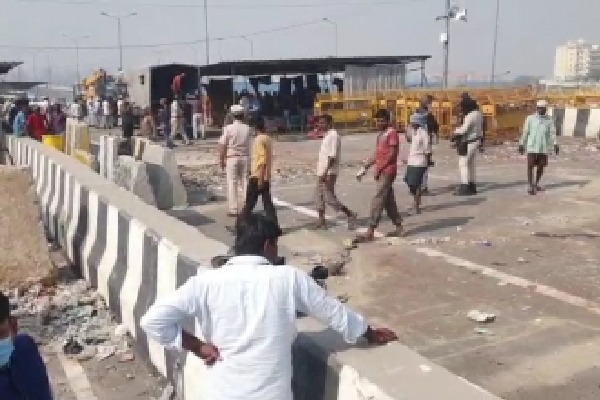 New Delhi, Oct 29: In a big relief to commuters, the Delhi Police have started removing barricades along the Tikri and Ghazipur borders, 11 months after these were installed to stop the farmers from Haryana and Uttar Pradesh entering the national capital.

After starting the action at the Tikri border on Thursday, the police reached the Ghazipur border on Friday morning to remove the barricades there also.

Besides, Delhi Police personnel were seen removing the concrete wall and sharp nails, which were part of the barricading. Bhartiya Kisan Union (BKU) Uttar Pradesh unit president Rajveer Singh Jadaun told IANS: "We have not closed any road, Delhi Police have put up barricades and are now removing them."

"As soon as the road is cleared, we will leave for the national capital as going there is our first right," he said. The Supreme Court, in its recent order, said that farmers have the right to protest against the Centre's farm laws, but they cannot block roads indefinitely.

After the Apex Court's remarks, the farmers had started clearing a part of the road at the Ghazipur border on the Delhi-Meerut Expressway. On Thursday, while speaking to IANS, a senior Delhi Police official said: "There is no traffic movement at Tikri border as it is still closed. We have just removed a few obstacles, the rest are still there."

Delhi Police removed the concrete and cement barricades with the help of JCB machines. It is expected that in the next two to three days, barricades will be totally removed and roads will be cleared for traffic. Recently, the Haryana government officials inspected the border and reviewed whether the roads have been closed by the Delhi Police or protesters.

Thousands of farmers have been protesting at the Delhi borders for the past 11 months demanding the repeal of the three agricultural farm laws, which they dub as "black laws".
---
More News
After two years, India-Myanmar border trade to resume soon
13 minutes ago
Woman stabbed by stalker on busy road in Hyderabad
49 minutes ago
Kamal Haasan's production house warns websites against pirating 'Vikram'
1 hour ago
PM's attack on KCR triggers war of words
1 hour ago
Vijay Devarakonda to team up with Indraganti Mohana Krishna for his next
1 hour ago
BJP likely to rope in influencers, filmstars to highlight Modi achievements
1 hour ago
Telanagana Cong chief's remarks on Reddys-Velamas trigger row
1 hour ago
Honour killing in Adilabad district, parents kill daughter for marrying against their will
2 hours ago
KTR wraps up Davos tour, Telangana attracts Rs 4,200 crore investments
2 hours ago
Karate Kalyani complains to police against vulgar prank YouTube videos
3 hours ago
SC Collegium recommends transfer of six high court judges
3 hours ago
Hollywood writer Patton Oswalt all praise for RRR and director Rajamouli
3 hours ago
Udit Narayan shares his experience watching Anuradha Paudwal sing for the first time
3 hours ago
Akshay Kumar-starrer 'Prithviraj' name changed to 'Samrat Prithviraj'
3 hours ago
Akshay Kumar: I have done almost 650 songs in my career, and I don't ever want to retire
3 hours ago
Rana Daggubati, uncle spotted at Mumbai cafe
3 hours ago
Rajamouli releases glimpse of 'Brahmastra's first song
3 hours ago
I will consider myself lucky to die alone: Samantha in response to a troll
3 hours ago
80% people in AP ready to defeat TDP in 2024 elections: Kodali Nani
3 hours ago
Tech Mahindra inaugurates 5G innovation lab in US
4 hours ago