Did Sameer Wankhede use fake caste certificate for government job?
25-10-2021 Mon 13:15 IST | IANS |
National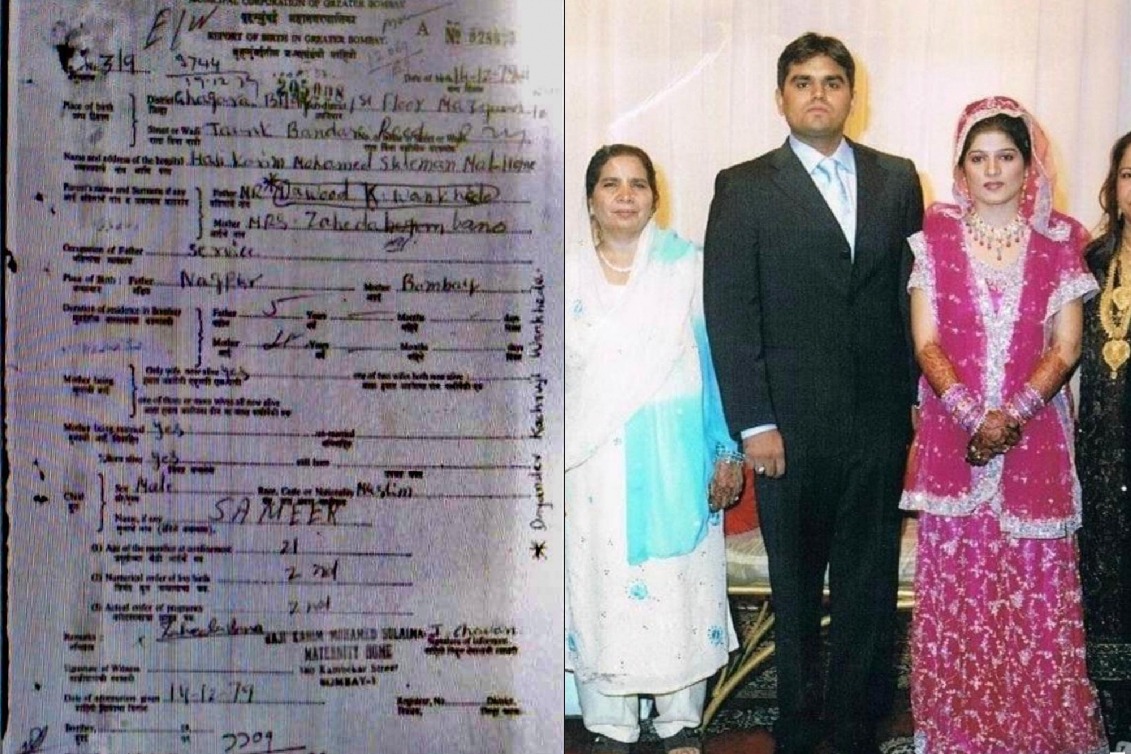 Mumbai, Oct 25: In another salvo, NCP Minister Nawab Malik on Monday questioned whether the Narcotics Control Bureau Zonal Director Sameer Wankhede submitted a fake caste certificate to get a government job.

The Nationalist Congress Party's National Spokesperson Malik tweeted a purported birth certificate and marriage photo of the embattled Wankhede with telling captions: "Yahanse shuru hua farziwada (the fraud started here) and Pehchan Kaun (guess who)".

The birth certificate shows the NCB chief's name as 'Sameer Dawood Wankhede', and the picture is from his (Wankhede's) first wedding with one Dr. Shabana Qureshi, and he later divorced her to get married with Marathi actress Kranti Redkar.

The NCP minister claimed that as per the birth certificate, Wankhede is a born Muslim but allegedly appeared for the civic services (UPSC) exams through a reserved category and became an Indian Revenue Service (IRS) officer. "He has forged the documents to get reservations in the (civil services) examinations and job," Malik contended.

Vowing to reveal more dope with evidence, the NCP Minister reiterated that the entire cruise party raid is a fake and everything is being done to malign the Maharashtra government and terrorise Bollywood.

Wankhede has not yet reacted to the fresh revelations by Malik, but it is reliably learnt that he has been summoned to New Delhi by the NCB Director-General to provide an explanation into the stunning allegations levelled by a cruiser ship raid's 'panch-witness' Prabhakar Sail on Sunday.
---
More News
There will be major changes at national level, says KCR
5 hours ago
Gautam Adani says PM Modi's Aatmanirbhar Bharat best way forward in new global conditions
5 hours ago
Police complaints filed against Telangana BJP chief for hate speech
5 hours ago
Nice to be back in Tamil Nadu, the land of Thiruvalluvar and Bharathi: Modi
6 hours ago
Centre is focused on infrastructure development: Modi
6 hours ago
'Dravidian Model': TN is state of inclusive growth, says Stalin
7 hours ago
PM Modi lays foundation stone for 11 projects worth Rs 31,500 cr in Chennai
7 hours ago
India women's cricket team to tour Sri Lanka in June for white-ball series
9 hours ago
PM Modi arrives in Chennai
9 hours ago
TRS banners with 17 questions greet Modi in Hyderabad
9 hours ago
IPL 2022: Security man lifts a fan who sneaks into field; Kohli reaction goes viral
9 hours ago
Kia to launch electric car with amazing features soon, bookings start
10 hours ago
Rajat Patidar postponed his marriage to take part in IPL 2022 after surprise RCB call-up
10 hours ago
CM Jagan accepted Chandrababu's proposal of renaming Konaseema district: GVL
10 hours ago
Reform, perform, transform define today's governance: PM Modi
10 hours ago
Vijay Devarakonda, Rashmika sizzle with style at Karan Johar's birthday bash
10 hours ago
Germany approves Bharat Biotech's Covaxin
10 hours ago
KCR, Deve Gowda discuss 'topics of national importance'
10 hours ago
Nation will hear sensational news within 2 to 3 months, says KCR
11 hours ago
Janhvi Kapoor to mark her debut in South with Jr NTR-Koratala film?
11 hours ago