BJP candidate in Huzurabad distributing money: TRS to EC
22-10-2021 Fri 19:04 IST | IANS |
Local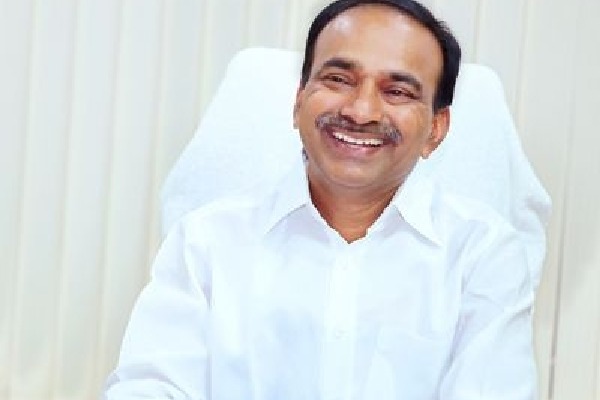 Hyderabad, Oct 22: The Telangana Rashtra Samithi (TRS) on Friday complained to the Election Commission that the BJP candidate in Huzurabad by-election and his supporters are distributing money to voters.

A delegation of TRS leaders led by party General Secretary M. Sreenivas Reddy met Chief Electoral Officer Shashank Goel and submitted a memorandum. They claimed that "strange" accounts are being opened in various banks in Huzurabad and BJP candidate Eatala Rajender and his men are parking illegal money in these accounts for the purpose of distributing the money to the voters.

The TRS leaders said they have reliable information that Rajender and his supporters particularly Bhadrayya are opening bank accounts in various banks in different names and transferring huge money into them in a very organised manner with the purpose of utilising the same amounts for distribution to voters on the eve of the by-election, scheduled on October 30.

"This activity is a grave offence and out and out corrupt practice under the provisions of various penal laws as well as in contravention of model code of conduct," they said, demanding a thorough investigation to find out how many such bank accounts are opened in Huzurabad.

"The pattern in which the amounts are put into the accounts for distribution among the voters clearly establishes that BJP and its candidate Eatala Rajender resorting to corrupt practices to buy the voters in order to win the election illegally," it said.

The TRS delegation said though they brought to the notice of the Election Commission several illegalities of BJP and its candidate, no action was taken.

"Unless you direct the appropriate investigating agencies to investigate the issue, it is going to cause irreparable loss to our party's legitimate prospects in the election. If no meaningful action is taken, it would cause immense damage to the democratic process and fair play in the election," the TRS memorandum said.


---
More News
Woman stabbed by stalker on busy road in Hyderabad
13 minutes ago
Kamal Haasan's production house warns websites against pirating 'Vikram'
1 hour ago
PM's attack on KCR triggers war of words
1 hour ago
Vijay Devarakonda to team up with Indraganti Mohana Krishna for his next
1 hour ago
BJP likely to rope in influencers, filmstars to highlight Modi achievements
1 hour ago
Telanagana Cong chief's remarks on Reddys-Velamas trigger row
1 hour ago
Honour killing in Adilabad district, parents kill daughter for marrying against their will
1 hour ago
KTR wraps up Davos tour, Telangana attracts Rs 4,200 crore investments
2 hours ago
Karate Kalyani complains to police against vulgar prank YouTube videos
2 hours ago
SC Collegium recommends transfer of six high court judges
2 hours ago
Hollywood writer Patton Oswalt all praise for RRR and director Rajamouli
2 hours ago
Udit Narayan shares his experience watching Anuradha Paudwal sing for the first time
2 hours ago
Akshay Kumar-starrer 'Prithviraj' name changed to 'Samrat Prithviraj'
2 hours ago
Akshay Kumar: I have done almost 650 songs in my career, and I don't ever want to retire
2 hours ago
Rana Daggubati, uncle spotted at Mumbai cafe
2 hours ago
Rajamouli releases glimpse of 'Brahmastra's first song
2 hours ago
I will consider myself lucky to die alone: Samantha in response to a troll
2 hours ago
80% people in AP ready to defeat TDP in 2024 elections: Kodali Nani
3 hours ago
Tech Mahindra inaugurates 5G innovation lab in US
3 hours ago
Nick Jonas loves serenading his daughter Malti with 'old classics'
3 hours ago