Scindia assures support for expansion of Hyderabad Airport
11-09-2021 Sat 21:56 IST | IANS |
Local
Hyderabad, Sep 11 : Union Minister for Civil Aviation Jyotiraditya Scindia on Saturday assured that the Centre would extend full support to Hyderabad International Airport for its expansion.

Scindia, who was on a visit to Telangana to launch state government's 'Medicine from the Sky' project, called on Chief Minister K. Chandrasekhar Rao.

Scindia had written to the chief minister on September 2 to re-examine the request of Hyderabad International Airport Limited (HIAL) for extending concession agreement for another 30 years.

The central minister had requested the state government to re-examine HIAL's request and submit its recommendations to the Ministry of Civil Aviation.

Concession Agreement (CA) dated December 20, 2004 was executed between Ministry of Civil Aviation, Government of India and HIAL for development, construction, operation and maintenance of Hyderabad International Airport.

HIAL has requested for extension of its concession period for another 30 years beyond the initial 30 years, i.e beyond March 23, 2038 and till 23.03.2068.

HIAL is a joint venture company promoted by the GMR Group (63%) in partnership with Airports Authority of India (13%), Government of Telangana (13%) and Malaysia Airports Holdings Berhad (MAHB) (11%).

During the meeting with the chief minister on Saturday, the union minister said adequate measures would be taken for the formation of six new airports as requested by the state government.

The chief minister requested that since Telangana is growing as an economic growth centre and Hyderabad is fast becoming the international city, more facilities should be developed to operate flights from the International Airport in Hyderabad to other countries.

He brought to the notice of the union minister that since Hyderabad is fast becoming a business, IT, health, tourism and business hub and the Telangana state is expanding, people are visiting from other places in the country and from several international cities, direct flight connectivity should be increased for countries in South East Asia, Europe and the United States from Hyderabad.

The CM also requested Scindia to take immediate measures, extend support for setting up and development of six airports and make them operational. He also urged him to ensure Metro rail connectivity to the Hyderabad International Airport.

Responding to this, Scindia said all the support would be extended for the Hyderabad International Airport, as Hyderabad is developing as an international city.

He said immediate measures would be taken for ATR operations soon at Mamunnoor in Warangal, which is part of the proposals for six airports. He said technical clearance would be given for the proposed Airport at Jakranpally in Nizamabad district.

Scindia also said that his ministry would examine and monitor to set up an airport at Adilabad with support from the Air Force. He assured the CM that for the landing and take-off of small aircraft at Peddapalli (Basanth Nagar), Kothagudem, Devarakadra (Mahabubnagar), the matter would be re-examined and necessary action would be taken.

State ministers K.T. Rama Rao, Mahmood Ali, V. Prashanth Reddy, Chief Secretary Somesh Kumar, senior officials of the state government, Union Civil Aviation secretary Pradeep Karola and GMR Group Chairman Grandhi Mallikarjuna Rao were also present during the meeting.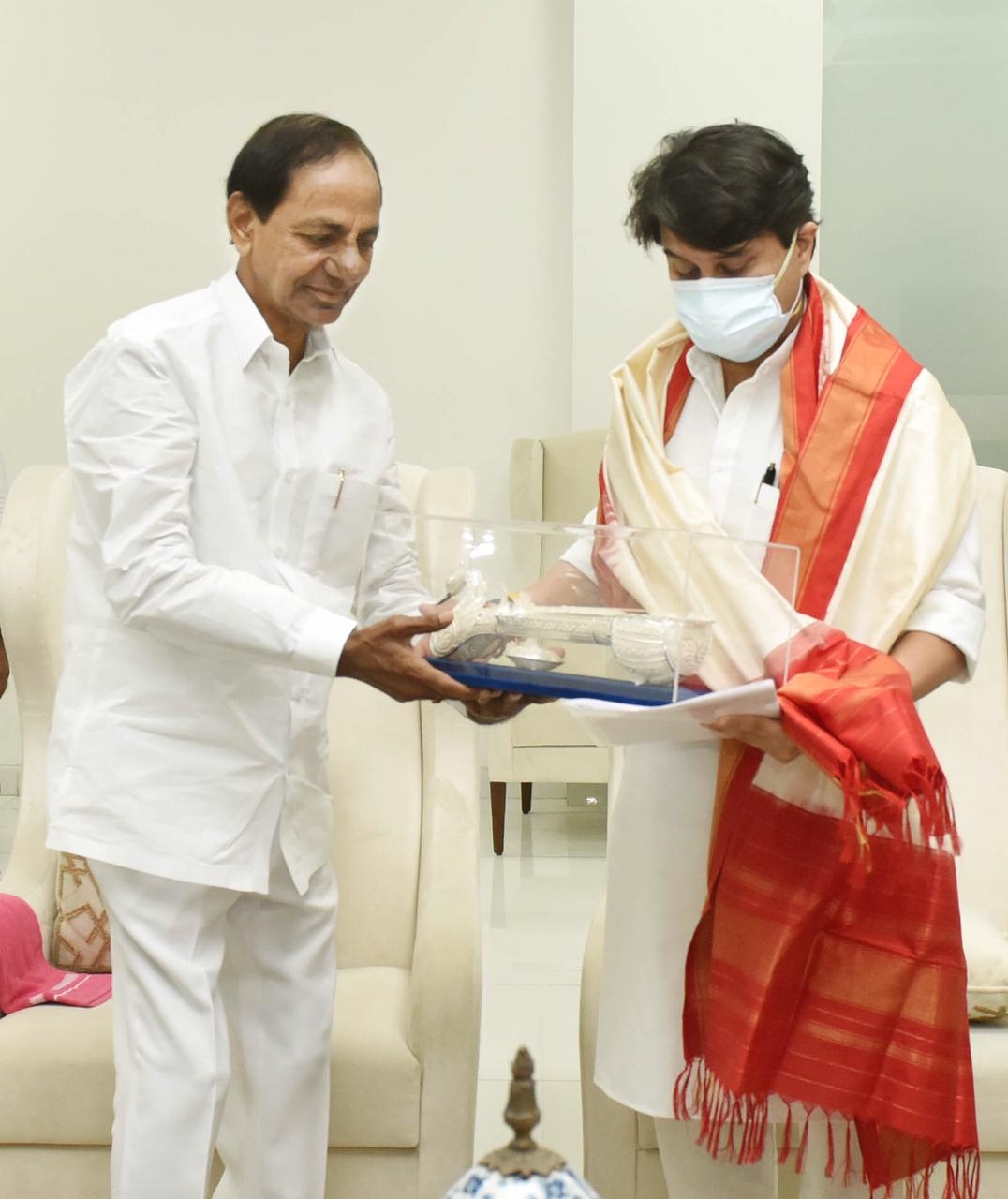 ---
More News

India sets record of over 2 cr vaccinations in a day
4 hours ago

Change in Afghanistan was not inclusive, sans negotiation: Modi
5 hours ago

Majority of Council opposed bringing petroleum products under GST: Sitharaman
5 hours ago

No abetment conviction without positive act to instigate/aid suicide: SC
5 hours ago

Woman Maoist leader surrenders before Telangana DGP
5 hours ago

YSRCP protest at Chandrababu Naidu's house leads to tension, clash
6 hours ago

Parties in commercial litigation should avoid filing mindless appeals, says SC
6 hours ago

GST Council extends levy of compensation cess till March 2026
6 hours ago

Andhra to seek Centre's support to develop infra in tribal areas
7 hours ago

Telangana attracts Rs 887 crore investment in jute sector
8 hours ago

Millets in daily diet will fight malnutrition: Agriculture Minister
8 hours ago

Mumbai Police book actor, others for driving ex-Mr India to suicide
9 hours ago

'Punjipati Pujan Diwas', Congress takes jibe at PM's birthday
9 hours ago

PM Modi biopic starring Vivek Oberoi to be released on OTT
10 hours ago

MNM chief Kamal Haasan to campaign extensively for rural local body polls
10 hours ago

Telangana HC orders judicial probe into death of rape-murder accused
10 hours ago

Indian cricketers could take part in upcoming Women's Big Bash League
10 hours ago

Ajay Devgn to Anand Mahindra: It was great shooting the truck stunt
10 hours ago

Telangana DGP dismisses doubts over death of rape-murder accused
11 hours ago

SC collegium recommends elevation of 8 CJs to various High Courts
11 hours ago

At 84, this man enrolls to study law in UP varsity
11 hours ago

Political parties celebrate Telangana Merger Day
13 hours ago

Inspiration4: All-civilian team healthy, happy in orbit, says SpaceX
13 hours ago

President, V-P, Rahul, KCR, Jagan and others greet Modi on 71st b'day
14 hours ago

Apple opens pre-orders for iPhone 13 series in India from Friday
14 hours ago

Work-load still not resolved: Will Kohli step down as RCB captain too?
15 hours ago

Afghan economy in despair following Taliban takeover
15 hours ago

Tollywood drugs case: Actor Tanish appears before ED
15 hours ago

Youth attempts 'filmy(Geetha Govindam) style kiss' in bus, girl files complaint
16 hours ago

After dad Mammootty, Dulquer Salmaan also gets UAE Golden Visa
16 hours ago