Residents of Hyderabad's flood-hit Osman Nagar feel abandoned
09-09-2021 Thu 20:07 IST | IANS |
Local
Hyderabad, Sep 9 : A year after facing the deluge, the residents of Hyderabad's Osman Nagar have again been rendered homeless with water from adjoining lake inundating the colony following heavy rains.

Though located on the fringes of the state capital, Osman Nagar's plight has failed to evoke any reaction from authorities.

Even before they could completely come out of the impact of last year's unprecedented floods, the recent rains have again forced them to leave their houses and move to other places. They feel they have been abandoned by authorities.

Incessant rains over last few days led to rise in water level in the lake and inundated adjoining residential area, rendering over 1,500 people homeless.

The rains added to the miseries of people, who had suffered huge losses following the deluge in October last year. Affected families were seen moving out with whatever they could salvage from their flooded houses.

While some shifted to the houses of their relatives in other areas, those who had none to support were struggling to take houses on rent.

"Fridge and other household items were damaged as the house had knee deep water. We could only collect cooking ware and some other essential items," Farzana Begum, a resident, told IANS.

The woman, along with her visually challenged husband and four children, were living in their relative's house in Osman Nagar and had recently shifted to adjoining Bismillah Colony. After the last year's floods, the water had not completely receded from the area and the residents' repeated appeals to pump out the water fell on deaf ears.

"We had to shift because our house remained under water and there was threat from snakes," said Farzana, who like many others in Osman Nagar, feel that authorities are deliberately not taking any steps to divert the flow of water. They believe that some land sharks and powerful politicians may be eyeing the land and waiting for local residents to shift by selling their houses at low prices.

Most of the families residing in Osman Nagar are from working class. They feel that authorities have left them to fend for themselves.

Even the recent visit by Education Minister P. Sabitha Indra Reddy, who is the local MLA, could not help the residents. "She gave assurance of help but nothing has happened," said Asha, a widow who has three children including a mentally challenged girl. The heavy rains two days ago forced Asha to shift to another place.

The conditions are pathetic for those who have no or meagre sources of livelihood. Dozens of families are depending on the monthly ration provided by some philanthropists. Moved by the plight of widows, elderly and sick, a businessman came forward to provide monthly ration to 24 families.

The residents claim that they were living in the area for last 15-20 years but never faced floods till last year. Though officials of Jalpally municipality, under which the area falls, claim that the houses were built in the lake's Full Tank Level (FTL) area, residents pointed out that they had been paying electricity, drinking water charges, and taxes.

An official said since the issue is pending in the court, they can't provide any permanent solution till the court delivers its judgment.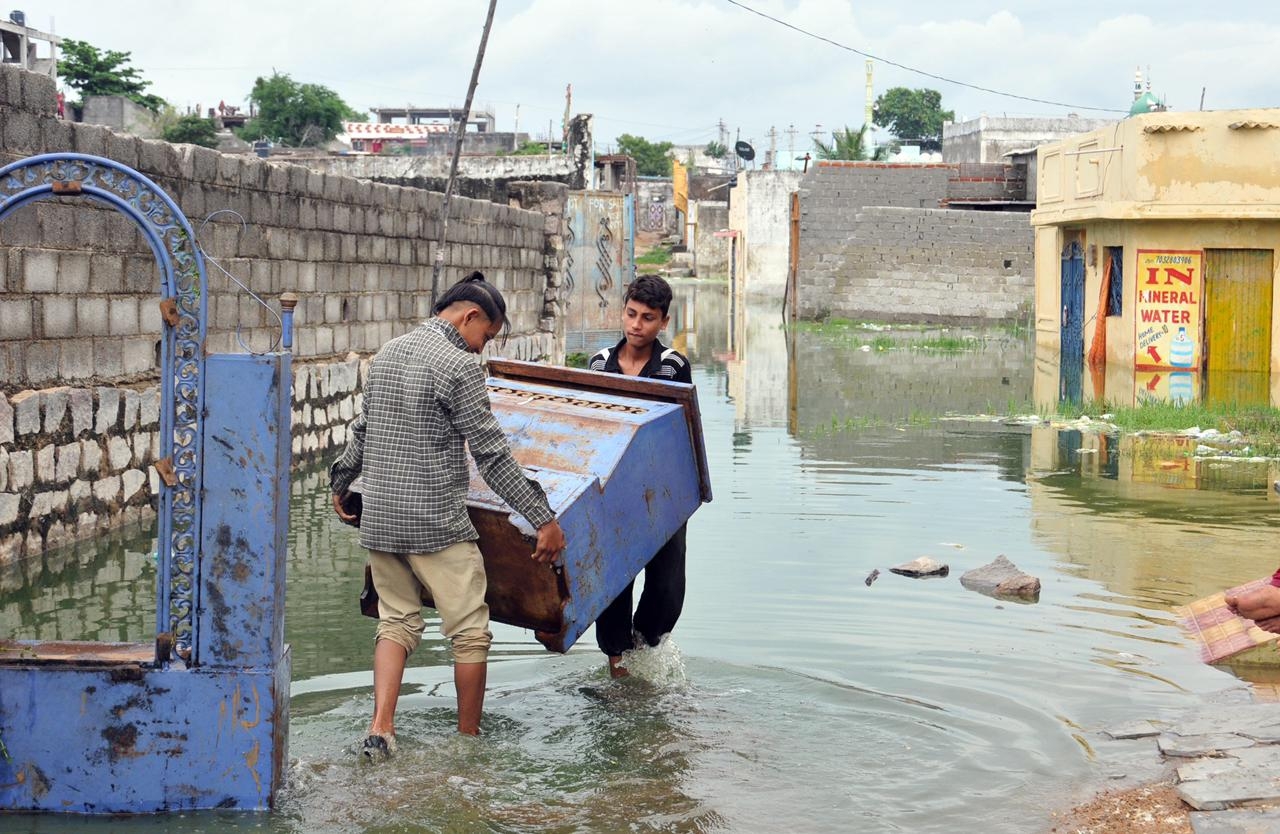 ---
More News

India sets record of over 2 cr vaccinations in a day
5 hours ago

Change in Afghanistan was not inclusive, sans negotiation: Modi
5 hours ago

Majority of Council opposed bringing petroleum products under GST: Sitharaman
5 hours ago

No abetment conviction without positive act to instigate/aid suicide: SC
5 hours ago

Woman Maoist leader surrenders before Telangana DGP
5 hours ago

YSRCP protest at Chandrababu Naidu's house leads to tension, clash
6 hours ago

Parties in commercial litigation should avoid filing mindless appeals, says SC
7 hours ago

GST Council extends levy of compensation cess till March 2026
7 hours ago

Andhra to seek Centre's support to develop infra in tribal areas
7 hours ago

Telangana attracts Rs 887 crore investment in jute sector
8 hours ago

Millets in daily diet will fight malnutrition: Agriculture Minister
9 hours ago

Mumbai Police book actor, others for driving ex-Mr India to suicide
9 hours ago

'Punjipati Pujan Diwas', Congress takes jibe at PM's birthday
9 hours ago

PM Modi biopic starring Vivek Oberoi to be released on OTT
10 hours ago

MNM chief Kamal Haasan to campaign extensively for rural local body polls
10 hours ago

Telangana HC orders judicial probe into death of rape-murder accused
10 hours ago

Indian cricketers could take part in upcoming Women's Big Bash League
11 hours ago

Ajay Devgn to Anand Mahindra: It was great shooting the truck stunt
11 hours ago

Telangana DGP dismisses doubts over death of rape-murder accused
12 hours ago

SC collegium recommends elevation of 8 CJs to various High Courts
12 hours ago

At 84, this man enrolls to study law in UP varsity
12 hours ago

Political parties celebrate Telangana Merger Day
14 hours ago

Inspiration4: All-civilian team healthy, happy in orbit, says SpaceX
14 hours ago

President, V-P, Rahul, KCR, Jagan and others greet Modi on 71st b'day
15 hours ago

Apple opens pre-orders for iPhone 13 series in India from Friday
15 hours ago

Work-load still not resolved: Will Kohli step down as RCB captain too?
15 hours ago

Afghan economy in despair following Taliban takeover
15 hours ago

Tollywood drugs case: Actor Tanish appears before ED
15 hours ago

Youth attempts 'filmy(Geetha Govindam) style kiss' in bus, girl files complaint
16 hours ago

After dad Mammootty, Dulquer Salmaan also gets UAE Golden Visa
17 hours ago