Government trying to convert India into Hindu rashtra: Owaisi
20-10-2016 Thu 13:28 IST | IANS |
Local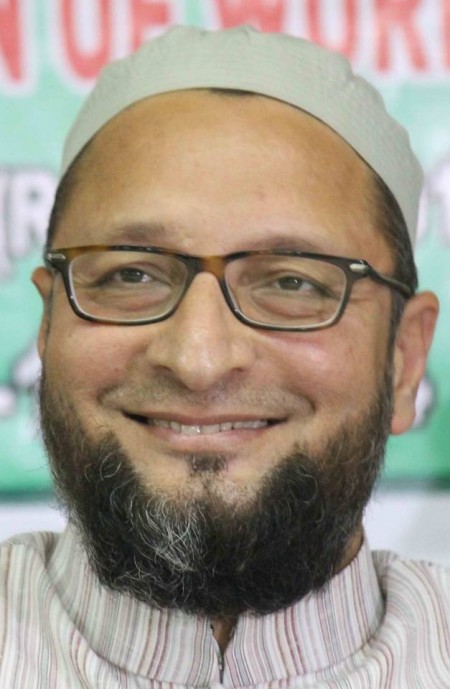 Hyderabad, Oct 20: AIMIM chief Asaduddin Owaisi has alleged that the Modi government is trying to convert India into "Hindu rashtra" with its attempt to impose a Uniform Civil Code (UCC).The MP from Hyderabad said that by interfering in the Muslim Personal Law, the government was trying to show that Muslims were second class citizens.Stating that pluralism and diversity were the strengths and beauty of India, he said any attempt to destroy secularism would weaken the country.Owaisi was addressing a public meeting organized by All India Muslim Personal Law Board (AIMPLB) to oppose UCC. The meeting began at 8 p.m. on Wednesday and continued well past midnight.Leaders of all sects of Muslims and various schools of Islamic thought addressed the meeting attended by thousands of people including women.The speakers made it clear that Muslims would never tolerate any attempt to interfere in Muslim Personal Law.Owaisi ridiculed the affidavit filed by the central government in the Supreme Court and said that by comparing Indian Muslims with the Muslims of Pakistan and other countries, the government had insulted not just Indian Muslims but the entire country.He pointed out that Pakistan was not a functional democracy while other countries mentioned in the affidavit have either monarchies or were no comparison to India.The MP dared the government to scrap the special status enjoyed by states like Mizoram and Nagaland and abolish the marriage laws of Goa. He wanted to know if the government, by bringing the UCC, would extend tax rebate enjoyed by Hindu undivided families to Muslims.Criticising Prime Minister Narendra Modi for raising religious slogans during the Dussehra programme, the MP said no Indian Prime Minister in the past had raised such a slogan.Stating that there were 16 Directive Principles of the Constitution, he wondered why the government was bothered only about the UCC and cow slaughter.
---
More News
DGCA warns airlines against offering unserviceable seats
3 hours ago
Aishwarya Rai's modelling bill from '92 surfaces; she was paid Rs 1,500!
3 hours ago
BFI, SAI felicitate World Championships medallists Nikhat, Parveen and Manisha
3 hours ago
Violence in Andhra town over renaming district after Ambedkar
4 hours ago
Hyderabad youth jailed for 15 days for sending obscene photos
4 hours ago
India-Japan agree to enhance bilateral security & defence cooperation
4 hours ago
Public confidence must for using facial recognition with AI: KTR
4 hours ago
Will fight attempts of Centre to target my father through me: Karti Chidambaram
4 hours ago
KCR to avoid meeting PM Modi again
6 hours ago
TDP, Jana Sena behind violence in Amalapuram over district renaming row: Minister Viswarup
7 hours ago
Modi meets chairperson of Japan-India Association in Tokyo
8 hours ago
Proposed GPS to govt staff after assessing state's financial position: Sajjala
8 hours ago
Drones prohibited around ISB Hyderabad for PM's visit
9 hours ago
PM to visit Hyderabad, Chennai on May 26 for various programmes
9 hours ago
AI to make roads in India safer to drive
9 hours ago
KTR meets Andhra CM Jagan, Aaditya Thackeray
9 hours ago
Gudur: Gang war between B. Tech & polytechnic students of Audisankara Engg College
9 hours ago
Why YSRCP, TDP, Jana Sena scared of BJP, asks Vundavalli
10 hours ago
TPCC chief Revanth is blackmailer, alleges Minister Malla Reddy
11 hours ago
I look forward to further strengthening Olympic Movement in India: Nita Ambani on launch of OVEP in Odisha
11 hours ago