Corrupt face of AAP stands exposed in excise policy case: Delhi BJP chief Sachdeva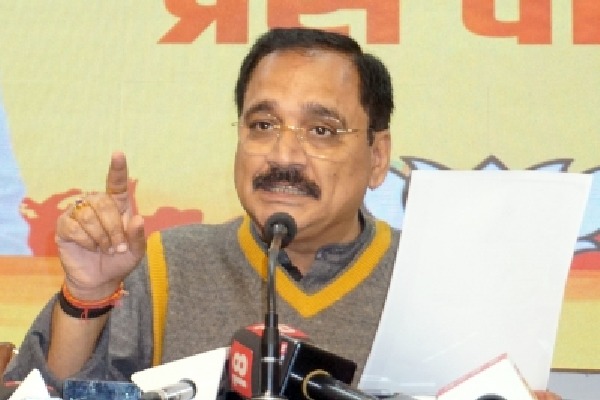 New Delhi, Oct 4: Delhi BJP chief Virender Sachdeva on Wednesday said the corrupt face of the Arvind Kejriwal-led Aam Aadmi Party (AAP) government has been exposed in the excise policy case.

He was reacting to Enforcement Directorate (ED) searches on the premises of AAP Rajya Sabha MP Sanjay Singh this morning.

In a video statement, Sachdeva said, "The ED has carried out searches at the residence of AAP MP Sanjay Singh in the excise policy case. In this liquor policy scam case, Arvind Kejriwal and all their faces have been exposed."

The Delhi BJP unit chief said that right from the start, his party has been saying that in the name of excise policy, the ruling AAP was robbing Delhi and making crores of rupees.

"Now that YSRCP MP's son Raghav Magunta Reddy and businessman Dinesh Arora have turned approvers in the excise policy case, Kejriwal and his men, who are behind this scam, will stand exposed and they will find new addresses soon," Sachdeva added.

The fresh attack from BJP came after the ED carried out searches at premises of Singh ahead of the crucial bail plea hearing of arrested AAP leader and former Delhi Deputy Chief Minister Manish Sisodia in the Supreme Court on Wednesday.

Meanwhile, a Delhi court on Tuesday allowed Raghav Magunta, son of YSR Congress Party Lok Sabha MP Magunta Srinivasulu Reddy and businessman Dinesh Arora to turn approver in connection with a money laundering case related to the alleged excise policy scam.

Both Arora and Magunta were arrested by the Enforcement Directorate and are currently out on bail.

After hearing the matter at length by the Special Public Prosecutor N. K. Matta for ED and the accused's counsel, the judge issued a directive to them to cooperate with the investigation and disclose all information they have about the case to the investigators.

In August, Magunta was granted bail by the high court since the ED did not take any objection with his application for grant of relief.

The ED had submitted that the accused was cooperating in the investigation. The ED case is based on the CBI FIR filed in August last year on the allegations of irregularities in the now-scrapped excise policy scam case.

It had filed four charge sheets in connection with the case. The central agency had earlier mentioned Singh's name in its charge sheet.
(The content of this article is sourced from a news agency and has not been edited by the ap7am team.)