PM Modi launches 9 Vande Bharat trains, says stations to be developed in next 25 yrs to be called Amrit Bharat stations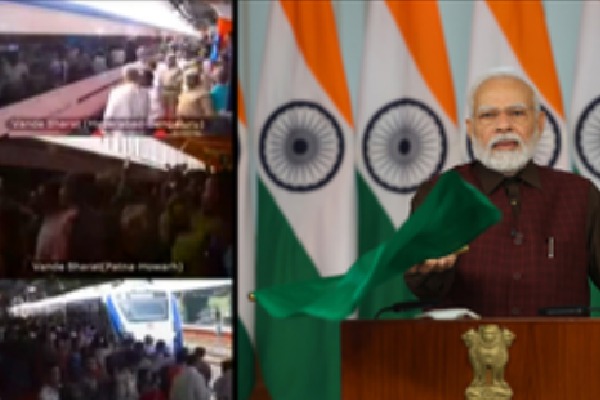 New Delhi, Sep 24: Prime Minister Narendra Modi on Sunday virtually flagged off nine Vande Bharat trains, which will boost connectivity across 11 states, namely Rajasthan, Tamil Nadu, Telangana, Andhra Pradesh, Karnataka, Bihar, West Bengal, Kerala, Odisha, Jharkhand and Gujarat.
"We all know that there are several railway stations which have not been developed for the past several years. Works to develop these stations are underway. All the stations which will be developed in the next 25 years (what the government claims as Amrit Kaal) will be called Amrit Bharat stations," PM Modi said on the occasion.
"The nine Vande Bharat Express trains being launched today will significantly improve connectivity as well as boost tourism across India," said the Prime Minister.
He added that 25 Vande Bharat trains are already running, now nine more will be added to them. The popularity of Vande Bharat trains is constantly rising. Over 1,11,00,000 passengers have already travelled on them.
The Prime Minister claimed that the current speed and scale of infrastructure development in the country is exactly matching the aspirations of 140 crore Indians.
He added that the day is not far when Vande Bharat will connect every part of the country.
PM Modi said there is an atmosphere of hope and confidence in the country, as every citizen is feeling proud of the achievements of the country.
He referred to the successes of Chandrayaan-3 and Aditya-L1 missions.
Similarly, G20 Summit's success has showcased India's strength of democracy, demography and diversity, said PM Modi.
The new trains that were flagged off are: Udaipur - Jaipur Vande Bharat Express, Tirunelveli - Madurai - Chennai Vande Bharat Express, Hyderabad - Bengaluru Vande Bharat Express, Vijayawada - Chennai (via Renigunta) Vande Bharat Express, Patna - Howrah Vande Bharat Express, Kasaragod - Thiruvananthapuram Vande Bharat Express, Rourkela - Bhubaneswar - Puri Vande Bharat Express, Ranchi - Howrah Vande Bharat Express and Jamnagar - Ahmedabad Vande Bharat Express.
These Vande Bharat trains will be the fastest train along the routes of their operation and will help save considerable time of the passengers, official sources said.
(The content of this article is sourced from a news agency and has not been edited by the ap7am team.)