IT cities Hyderabad, Bengaluru connected by Vande Bharat Express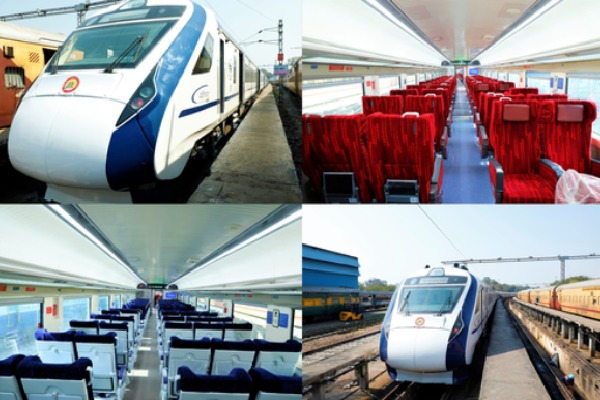 Hyderabad, Sep 24: Telangana and Andhra Pradesh got their third Vande Bharat Express with the launch of Hyderabad-Bengaluru and Vijayawada-Chennai trains on Sunday.
These two were among nine Vande Bharat trains flagged off by Prime Minister Narendra Modi in various states virtually from Delhi.
Union Minister for tourism and culture G. Kishan Reddy and senior officials of South Central Railway (SCR) attended the programme held at Kacheguda Station.
Tech cities Hyderabad and Bengaluru will now be connected by Vande Bharat Express. This is the third semi-high speed Vande Bharat Express for Telangana after Secunderabad-Visakhapatnam and Secunderabad-Tirupati trains.
Hyderabad-Bengaluru is the first Vande Bharat train connecting both Telangana and Andhra Pradesh with Karnataka. It will traverse through 12 districts and four major cities.
The train, which will depart from Kacheguda station in Hyderabad, will arrive in Yesvantpur station in Bengaluru.
The distance of 610 km between the two tech hubs will be completed in eight hours and 30 minutes, about three hours less than the existing fast train on the section.
The train will be operated on all days except Wednesdays. The regular service will commence from Yesvantpur from September 25 and from Kacheguda from September 26.
The train is composed of eight coaches (7 AC Chair car coaches and one executive Chair car coach) with the carrying capacity of 530 passengers.
Train no. 20703 Kacheguda - Yesvantpur will depart from Kacheguda at 5.30 a.m. and will reach Yesvantpur at 2 p.m. with stoppages at Mahabubnagar, Kurnool, Anantapur and Dharmavaram.
On the return journey Train no. 20704 Yesvantpur - Kacheguda, will depart from Yesvantpur at 2:45 p.m. and arrive at Kacheguda at 11:15 p.m.
Andhra Pradesh also got its third Vande Bharat train with the launch of Vijayawada-Chennai express. The eight-car rake will operate six days a week, except Tuesday
It will depart from Vijayawada at 5.30 a.m. and reach Chennai at 12.10 p.m. with stoppages at Tenali, Ongole, Nellore and Renigunta. In the return direction, the train will depart from Chennai at 3.20 p.m. and reach Vijayawada at 10 p.m.
(The content of this article is sourced from a news agency and has not been edited by the ap7am team.)