Ragneeti: Priyanka's mother, Harbhajan, FDCI chief among early arrivals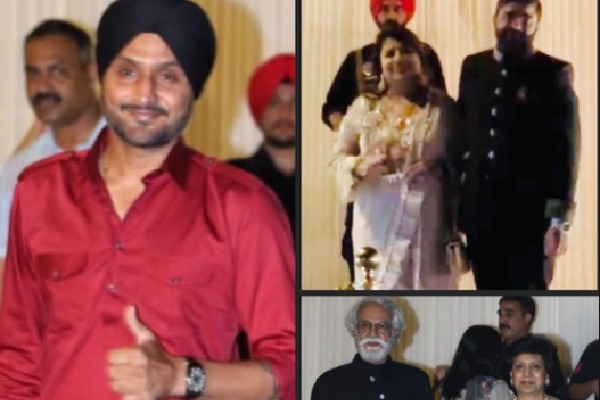 New Delhi, Sep 20: As the evening progressed on Wednesday, Priyanka Chopra's mother, Dr Madhu Chopra, and brother, Siddharth Chopra, arrived at the brightly lit official residence of Aam Aadmi Party (AAP) leader and "suspended parliamentarian" Raghav Chadha on Pandara Road in Lutyens's Delhi.

They had come for the mehndi ceremony and what promised to be a late Sufi night as the countdown began in earnest for the marriage of Raghav with Parineeta Chopra in Udaipur on September 23-24.

Earlier in the day, the couple's picture went viral on social media. They were seen attending the ardaas ceremony and kirtan at a Delhi gurudwara.

On Tuesday, a 'paath' was also held at Chadha's residence. His MP's residence was decorated with bright lights, and saw Punjab Police personnel keeping a hawk's eye on the tastefully manicured entrance, keeping photographers on the other side of the busy road.

The family and friends of the bride and groom were also seen arriving for the celebrations. Among them were former Test cricketer and AAP Rajya Sabha MP Harbhajan Singh, Fashion Design Council of India Chairman Sunil Sethi and Chadha's fashion designer maternal uncle, Pawan Sachdeva.

Talking to the paps, Sethi said: "Har shaadi ke tyohaar mein celebrations bahut jyada jaruri hai. Parineeti and Raghav make a beautiful couple. It's the pride of Delhi, and they are the most 'made for each other' couple."

Sethi also shared that Raghav, as he did during his engagement, was wearing an outfit designed by Sachdeva.

The couple's wedding card, which had gone viral on social media, read: "Divine Promises: A pearl white Indian wedding .... Leela Palace. Jaimala: 3:30 p.m. Pheras: 4:00 p.m. Vidai: 6:30 p.m."

The card has sketches of the landscape of Udaipur. The festivities will start from September 23 with Parineeti's 'choora' ceremony at 10 a.m. in the hotel's Maharaja Suite.

A 'Fresco Afternoon' will be held on the terrace near the ballroom on September 23 from 10 a.m. to 1 p.m. On September 24, Raghav's 'Sehrabandi' will take place at the iconic Taj Lake Palace at 1 p.m.

The 'baraat' will then move from Taj Lake Palace at 2 p.m.

The reception, with the theme of 'A Night of Amore', will be held at 8:30 p.m. at The Leela Palace Courtyard overlooking Lake Pichola.

It is most likely to be attended by a galaxy of political and Bollywood personalities, and of course, Priyanka Chopra and her husband Nick Jonas.
(The content of this article is sourced from a news agency and has not been edited by the ap7am team.)