Nadda slams YSRCP for 'corruption, lawlessness in Andhra'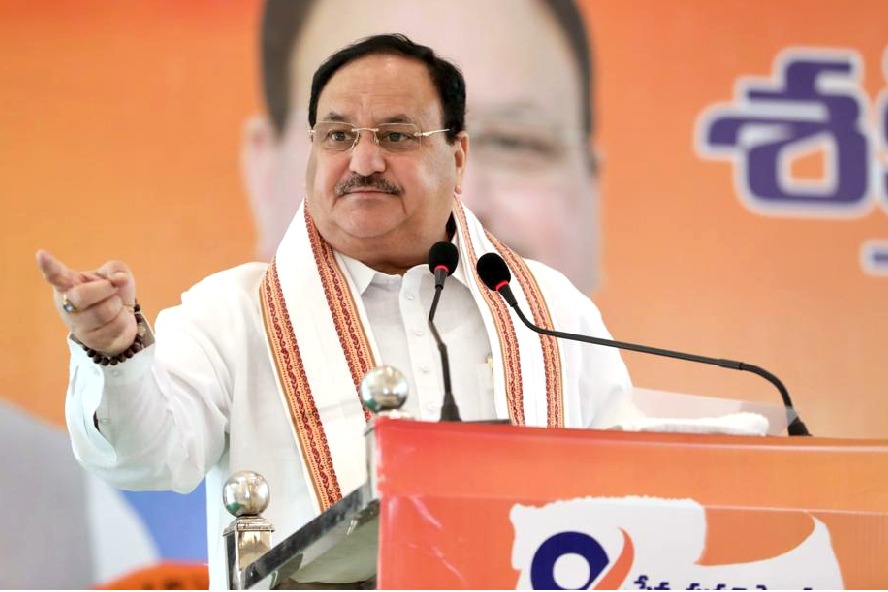 Tirupati (Andhra Pradesh), June 10: BJP national President J.P. Nadda on Saturday slammed the YSR Congress Party (YSRCP) government in Andhra Pradesh over what he called rampant corruption and lawlessness in the state.

Addressing a public meeting at Srikalahasti in Tirupati district, he termed YSRCP as one of the most corrupt governments.

"I am sorry to say that YSRCP is one of the most corrupt governments I have ever seen. There is no end to scams. There is mining scam, sand scam, liquor scam, land scam and education scam. Which type of scam is not taking place," he said.

Nadda also lashed out at YSRCP for turning the state economy into an 'alcohol economy'.

The BJP president also alleged that lawlessness is at extreme.

"There is no law and no law enforcing agency ," he remarked.

He also targetted the Jagan Mohan Reddy-led government over not building Amaravati as the state capital for which Prime Minister Narendra Modi had laid the foundation stone.

"It is a matter of shame that Andhra Pradesh is a capital less state. I don't understand what is going on," he said, adding that all the development works in Amaravati had come to a halt.

He also alleged that the state government is not giving its share for implementation of the Central schemes which resulted in development activities in the state coming to a standstill.

Stating that the Narendra Modi government supports state governments for development, Nadda said BJP believes in constructive opposition.

Nadda appealed to people to support BJP so that it can provide a corruption-free and transparent government in the state. "Lotus should bloom in Andhra Pradesh in the coming days," said the BJP leader.

He listed out various projects undertaken by the Modi government for Andhra Pradesh. He also explained how the schemes being implemented by the Centre were benefiting people in the state.

Nadda claimed that in the last nine years there was a shift in perception of politics in the country thanks to Prime Minister Narendra Modi.

"There has been a shift from vote bank politics to report card politics, development politics, accountable politics and responsive government politics. There was a shift in the political culture of the country."

He said the Modi government implemented several schemes for the welfare of poor and all marginalised sections of the society and provided good governance.

Former Andhra Pradesh Chief Minister N. Kiran Kumar Reddy, who recently joined the BJP, said that regional parties were harming the interests of states.

The former Congress leader believes that only national parties can do justice to states.

He said when regional parties come to power they only mobilise resources for themselves and do not do anything for the development of states.

Kiran Kumar Reddy said Andhra Pradesh will develop only if BJP comes to power in the state.

The former chief minister of undivided Andhra Pradesh, who was politically inactive since bifurcation of the state in 2014, said he took a long time to think whether he should remain in public life or not.

Kiran Kumar Reddy said when was the chief minister, he allocated Rs 7,400 crore for the drinking water scheme in Chittoor district.

He said Harish Rao (now minister for finance in Telangana) had argued with him how he can spend such a huge amount for drinking water in just one district.

He alleged that TDP and YSRCP which came to power later neglected the drinking water project.
(The content of this article is sourced from a news agency and has not been edited by the ap7am team.)