PM Modi congratulates Indian shooters for impressive show at Junior World Cup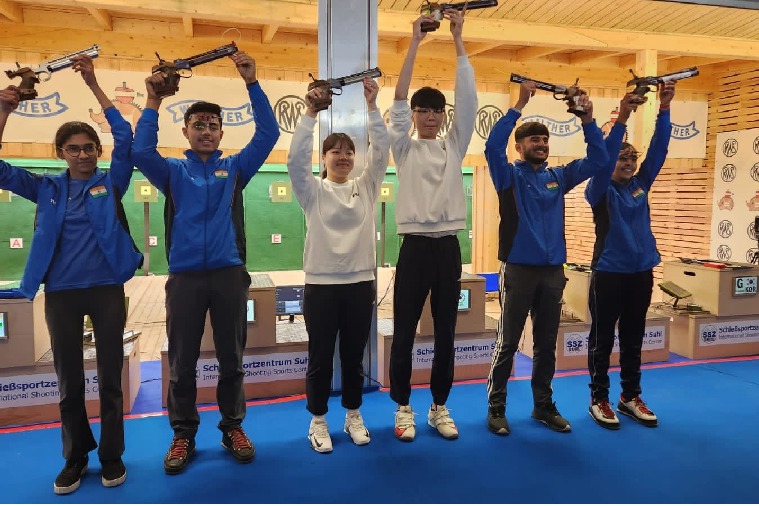 New Delhi, June 10: Prime Minister Narendra Modi on Saturday congratulated Indian shooters for their impressive performance at the recently concluded ISSF Junior World Cup 2023.
India on Thursday finished on top of the table at the Junior World Cup with an overhaul haul of 15 medals, including six gold, six silver and three bronze medals in Suhl, Germany.
"Our shooters continue to make us proud! Incredible performance by India at ISSF Junior World Cup 2023 with a tally of 15 medals and emerging on top of the medals table. Each victory is a testament to our young athletes' passion, dedication, and spirit. Best wishes to them," said PM Modi in a tweet.
In a commendable achievement, India finished on top of all the ISSF Junior World Cups and World Championships held since 2019.
Gold medal winners in the 2023 edition for India included Sainyam in the women's 10m air pistol, Dhanush Srikanth in the men's 10m air rifle, Amanpreet Singh in the men's 25m pistol, Abhinav Shaw and Gautami Bhanot in the 10m air rifle mixed team, Gautami, Swati Chowdhury and Sonam Maskar in the women's 10m air rifle team and Megana Sadula, Payal Khatri and Simranpreet Kaur Brar in the women's 25m pistol team events respectively.
(The content of this article is sourced from a news agency and has not been edited by the ap7am team.)