J.P. Nadda offers prayers at Tirumala temple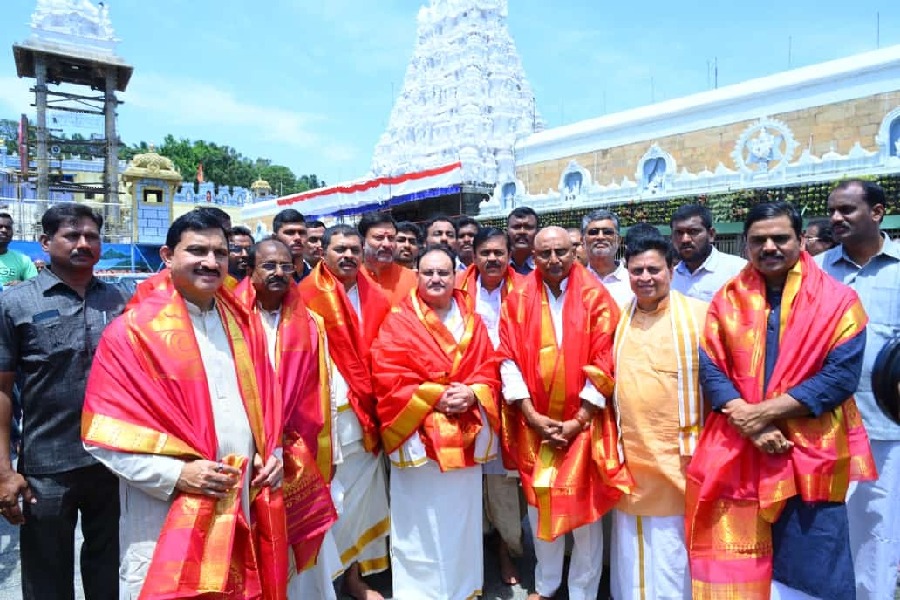 Tirupati (Andhra Pradesh), June 10: BJP national president J.P. Nadda began his day-long visit to Andhra Pradesh on Saturday by offering prayers at the Sri Venkateswara temple in Tirumala.
He was accompanied by state BJP leaders to the hill shrine.
Later, he told media persons that he prayed for the wellbeing of the society.
He will visit the Srikalahasti temple later in the day before addressing a public meeting in the evening.
Nadda's visit is being seen as part of BJP's efforts to reach out to masses and gain a foothold in Andhra Pradesh
A day after Nadda's visit, Union Home Minister Amit Shah will arrive in the state and is scheduled to address a public meeting in Visakhapatnam on Sunday.
This is Nadda's first visit to Andhra Pradesh after his recent meeting with Telugu Desam Party (TDP) president and former Chief Minister N. Chandrababu Naidu in Delhi.
Naidu met Shah and Nadda on June 3 and they reportedly discussed a TDP-JSP-BJP alliance for the Assembly elections in both Andhra Pradesh and Telangana.
This was also Naidu's first meeting with Shah after the TDP pulled out of the BJP-led NDA in 2018 over the issue of special category status to Andhra Pradesh.
Assembly elections in Telangana are due in November-December 2023, while in Andhra Pradesh it will take place next year along with the Lok Sabha polls.
Pawan Kalyan, leader of the Jana Sena Party (JSP) -- an ally of the saffron party -- has been urging the BJP leadership to ensure a greater opposition alliance to defeat the ruling YSR Congress Party (YSRCP) in Andhra Pradesh.
However, The BJP has not invited Pawan Kalyan for the public meetings at Tirupati and Visakhapatnam.
The BJP had contested the 2019 Assembly and Lok Sabha elections in Andhra Pradesh on its own but had drawn a blank.
TDP, which also went alone, lost power to YSRCP.
JSP, which contested in alliance with BSP and the Left parties, won just one seat in the 175-member Assembly.
(The content of this article is sourced from a news agency and has not been edited by the ap7am team.)