'Visit any household to see benefits of KCR's schemes', Kavitha dares Cong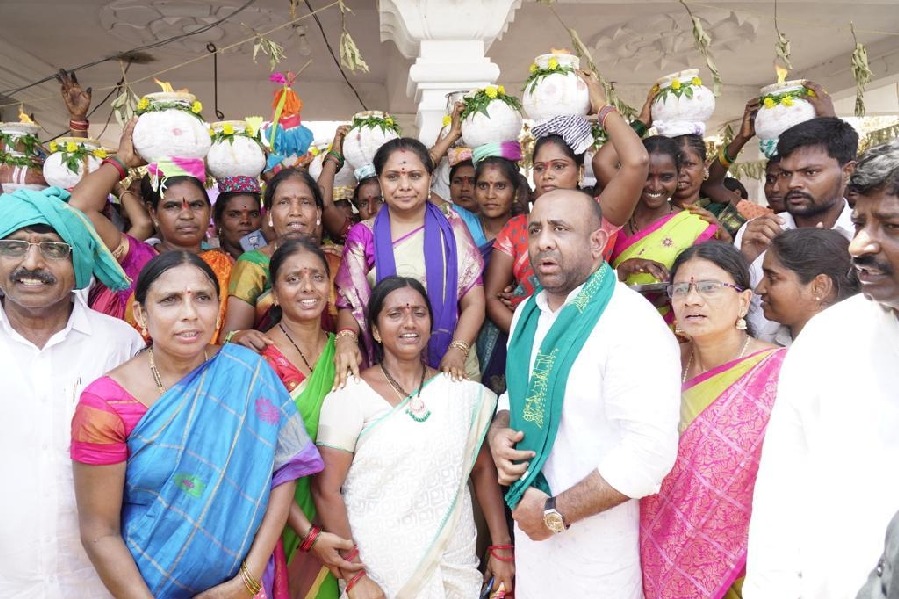 Hyderabad, June 8: Bharat Rashtra Samithi (BRS) leader K. Kavitha has dared the Congress party to visit any household in Telangana and enquire about the schemes being implemented by the state government.

Addressing a meeting at Bodhan on Thursday, she hailed the leadership of Chief Minister KCR and spoke about the benefits that the state is reaping under his leadership.

The BRS MLC slammed the opposition parties for accusing KCR government of not doing anything for the people of the state and challenged them to visit any household in entire Telangana and check for themselves if the people or the family is enrolled as beneficiary in some scheme or the other of the BRS government.

The former Member of Parliament from Nizamabad said that, there is no household in whole Telangana which is not receiving any benefit of schemes introduced by CM KCR.

Kavitha, who is daughter of CM KCR, challenged former minister Sudarshan Reddy to do a fact check in any village of Telangana. She said every household is benefiting from at least one scheme of KCR government, be it pension scheme, Rythu Beema, Rythu Bandhu and many others.

She claimed that governments at both the Centre and in other states are replicating the schemes envisioned and implemented by CM KCR.

She said that the Centre's Amrit Sarovar is a copy of Mission Kakatiya, with Mission Kakatiya being the better project.

Centre's 'Har Ghar Jal' is a copy of Telangana's Mission Bhagiratha.

She said that CM KCR's brainchild project Mission Kakatiya has significantly restored water bodies in the state.

MLC Kavitha criticised the Congress and said that during Congress era, pension was Rs 200 that too for only 20 people of a village and a new pensioner had to wait for someone's death to claim their due share. Today, the pension is for Rs 2,000 and is extended to all those who are eligible.

She said that CM KCR's attention towards every single section of the society in the state has enabled pension for Beedi workers despite hindrances from the Centre.

She claimed that upliftment of minorities and providing them a life of dignity is also a vertical that CM KCR has excelled in.

She pointed out that Nizamabad has the second largest number of schools for minorities after Hyderabad.
(The content of this article is sourced from a news agency and has not been edited by the ap7am team.)