Trump indicted with 37 charges in classified documents case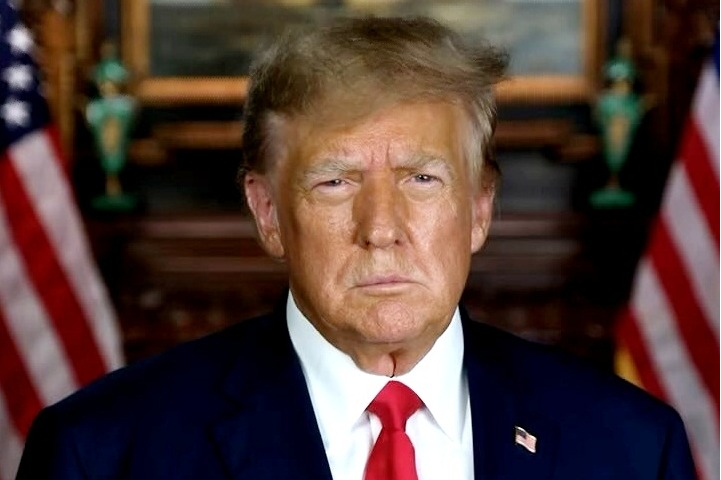 Washington, June 10: The US Justice Department has charged former President Donald Trump with 37 counts in connection with his handling of classified documents from his presidency that he carried with him while leaving the White House at the end of his term in January 2021, according to an indictment unsealed on Friday.
The department plans to seek a "speedy trial" of the case.
Trump is the first former American President to face federal charges. He has been indicted by New York state in a case of paying hush money to an adult film star.
The charges include willful retention of national defence information that ranges from the country's nuclear weapons to attack plans for foreign countries, conspiracy to obstruct justice, withholding a document or record, corruptly concealing a document or a record, concealing a document in a federal investigation, scheme to conceal, and making false statements and representations.
Walter Nauta, Trump's valet, is co-accused in some of these charges and the sole accused in the 38th, that is, making false statements and representations.
The 49-page indictment details the former President's "reckless" treatment of classified documents — he showed them to people without the necessary security clearance on two occasions, and his attempts to withhold them from FBI investigators despite grand jury subpoenas.
"The men and women of the United States intelligence community in our Armed Forces dedicate their lives to protecting our nation and its people. Our laws that protect National Defense Information are critical to the safety and security of the United States. And they must be enforced," said Jack Smith, the Justice Department's special counsel for this case.
The indictment shows — with photographs — these boxes were stored in publicly accessible places in Trump's Mar-a-Lago club, which has been his home — in the ballroom, bathrooms, and the business centre. The document also contains transcriptions of audio recordings of the former President's remarks in which he acknowledges that the documents he is showing to people are classified and that he cannot and should not be doing that.
He further said: "Violations of those laws put our country at risk adherence to the rule of law is a bedrock principle in the Department of Justice. And our nation's commitment to the rule of law sets an example for the world. We have one set of laws in this country, and they apply to everyone."
"It's very important for me to note that the defendants, in this case, must be presumed innocent until proven guilty beyond a reasonable doubt in a court of law," Smith said in conclusion, adding, "To that end, my office will seek a speedy trial on this matter consistent with the public interest and the rights of the accused."
Trump is expected to appear in a Miami court in connection with this case on Tuesday. "I have been indicted, seemingly over the Boxes Hoax," Trump wrote on Truth Social, referring to the boxes of documents that he had carried with him from the White House at the end of this presidency to his Mar-a-Lago home in Florida, which contained many that were described as "classified".
"I AM AN INNOCENT MAN!" he wrote in a subsequent post and said in a video, using capital letters that he is known to use for rhetorical flourish.
Trump is running for a second term and is the frontrunner for the Republican presidential nomination in a field that has grown every day, and now includes his former Vice President Mike Pence and former Ambassador to the UN Nikki Haley and the current governor of Florida Ron DeSantis, who is second in the polls.
(The content of this article is sourced from a news agency and has not been edited by the ap7am team.)