Steelcase further expands in India, opening a flagship dealer showroom in Hyderabad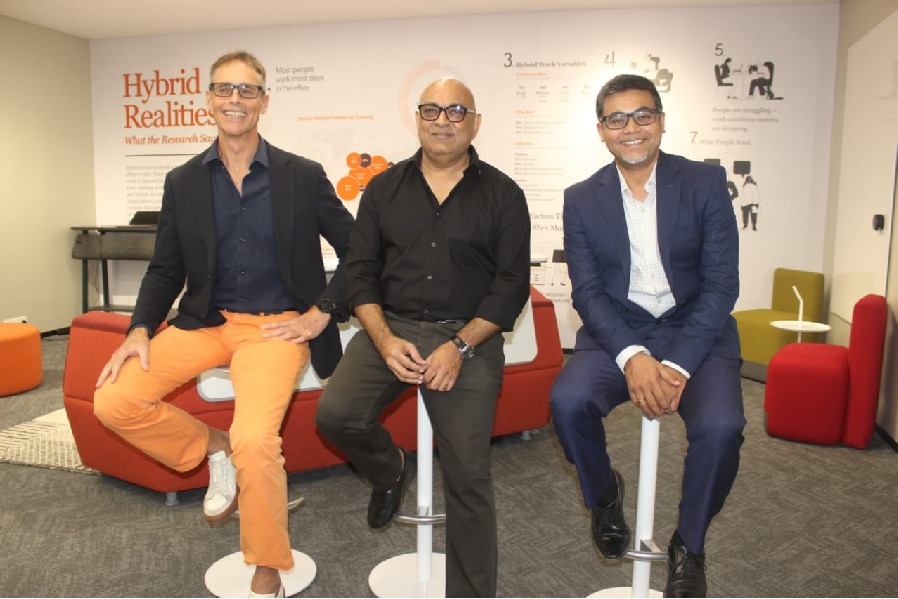 The world's largest office furniture manufacturer launches in Hyderabad, bringing an expansive range of furnishings and solutions to help create places that work better.

(Friday, 26 May 2023, Hyderabad) Steelcase, the global design and thought leader in the world of work, announced today the opening of its flagship dealer showroom in Hyderabad. In partnership with Seating World, the expansive Steelcase multi-level showroom in Hyderabad further solidifies Steelcase's presence in India and Asia Pacific cities, with showrooms in Bangalore, Mumbai, Delhi, Tokyo, Shanghai, Beijing, Hong Kong, Singapore and Sydney.
The showroom opening highlights Steelcase commitment to the growth in business opportunities it sees in India, as well as in Hyderabad as a growing economic hub of the country. The inaugural event also celebrates the company's commitment to supporting the local economy with a major focus on Made in India Steelcase furniture and brand including Orangebox, a UK-based designer and manufacturer of furniture that focuses on "Smartworking" solutions.

The new 4-storey showroom displays the latest and widest range of Steelcase office seating and furnitures, as well as Steelcase ancillary collection – the company's community of industry-leading furnishings brands with classic, modern and innovative works by renowned designers around the world including as Orangebox, Viccarbe, Segis, m.a.d and Grado.
Flying in to Hyderabad specifically for the opening, Uli Gwinner, Steelcase Asia Pacific President, celebrates the launch of Hyderabad showroom along with Seating World said, "It is such great pleasure and pride that Steelcase is here today in Hyderabad. Creating places where people can do their best work is a complex effort and we are pleased to be working with Seating World who is an engaged local expert and partner. Together, we look forward to help create places that work better."

Rajesh Manghnani, Founder of Seating World welcomes its partnership with Steelcase said, "We are pleased to be partner with a global powerhouse, bringing in exceptional furnishings and solutions to businesses in Hyderabad. Our partnership with Steelcase, along with their Made in India portfolio will contribute to more seamless choices and boundless possibilities in workplaces across India. We look forward to hosting our current and new clients in our new space and helping them find the best solution that works for their needs."

About Steelcase
Established in 1912, Steelcase is a global design and thought leader in the world of work. We help people do their best work by creating places that work better. Along with more than 35 creative and technology partner brands, we design and manufacture innovative furnishings and solutions for the many places where work happens — including learning, health and work from home. Our solutions come to life through our community of expert Steelcase dealers in approximately 770 locations, as well as our online Steelcase store and other retail partners. Founded in Grand Rapids, Michigan, Steelcase is a publicly traded company with fiscal year 2023 revenue of $3.2 billion. With our 12,000 global employees and dealer community, we come together for people and the planet — using our business to help the world work better.

About Seating World
Having 22 years of experience in providing highly professional and aesthetic decor furniture solutions to workspaces with masterpieces sourced from globally renowned brands, Seating World design spaces to help companies evolve and grow. We have a deep-seated admiration for workspaces and the holistic approach to transform them into a lively environment. We have been working with 10 globally acclaimed brands throughout our tenure and the response have always been overwhelming. Based out of Hyderabad, we serve multiple locations across India, including Mumbai, Hyderabad, Bengaluru, Delhi, Chennai, and more. We have seamlessly executed projects across the country with utmost priority to timelines and customer satisfaction.